5 Things to Consider When Buying A Baby Gym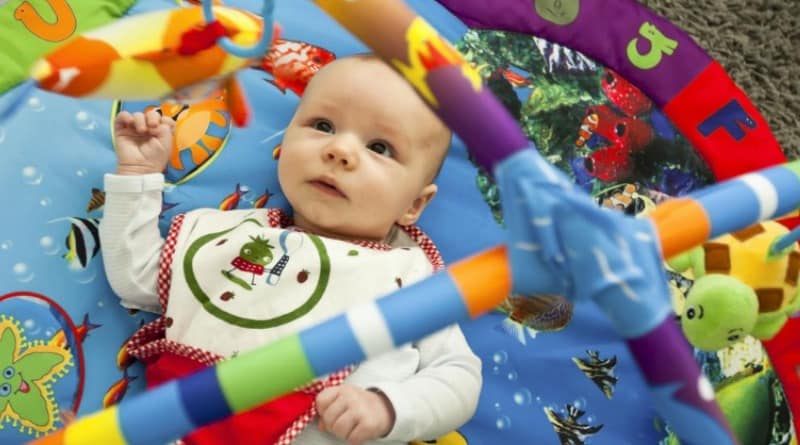 Becky
Newly middle-aged wife of 1, Mom of 3, Grandma of…
A baby gym is useful for baby's development and comes in umpteen varieties. There are a few important things to consider when buying a baby gym. With a baby's gym, your infant gets more floor time. You have to pick from a list of features as a few baby's gyms come with fancy features. These fancy features like pillows or activity chair might not be ideal for the development of the baby. You must buy a baby's gym where the baby can fully move its body and its movements are not restricted in any way. These are the features to consider when buying a baby gym.
Features to look for when buying a baby gym
A baby gym must have a range to hang toys



A baby gym must come with multiple options to hang toys. When you are able to hang toys in multiple positions inside the baby gym you are helping the baby develop motor skills and the pressure is not concentrated on their head or skull. When buying a baby gym consider the wide range of options it has to hang toys so that you are not hanging toys only above the baby's head. This is essential to avoid putting pressure on the baby's back and head. You must be able to place toys in various positions so that the baby they can move around and not just stay stationary in a single position playing with toys.

Must come with removable toys

As the infant keeps growing, they might want to grab the toys and play with them instead of just looking at them. Strategically place these toys so that it helps in developing the movements and perspective in the baby. When you place removable toys, you can change the type of toys that let the baby learn about different shapes, colors, and grasp it. Keep the activity center inside the gym as simple as possible. Keeping the design of the baby gym visually simple makes them distribute their attention and get a grasp of the surroundings instead of just focusing their concentration only at one place.

Placement for tummy time

Choose the colors, patterns, and toy placement in such a way that the baby is able to get some tummy time rolling on their tummy and moving their body in various directions to grab the toys. This is essentially important in the development of the baby's body as well as developing the shape of the baby's head. The baby gym must also be easy to assemble and the toys must have removable parts so that the baby can keep itself engaged in learning different skills in the early stage of development.

Multiple activities and sensory toys

Choose a baby gym that comes with multiple activities and sensory toys that help in developing sensory abilities like color, touch, and understanding colors, developing muscles, and skills to recognize toys and objects inside the baby gym. They will be able to develop their visual and imaginary skills apart from multiple motor skills. Ensure that the fabric and other material inside the baby gym is machine washable. Avoid baby gyms that come with bright lights as your baby must be able to move its head in several positions while inside the gym.

Add a mirror

The baby will be able to develop self-awareness when you place a mirror inside the baby gym. They will be able to play with swinging toys and also look at themselves when you place a mirror inside the baby gym. Choose a thematic baby gym such as nature, music, animals, etc so that the baby recognizes the animals and develops awareness about its surroundings. These are the things to consider when buying a baby gym that helps them develop their body and multiple skills in the early stage of development.
It is essential to look into these 5 important factors when buying a baby gym. Developing muscles, motor skills, and self-awareness are essentially important in the early development of the baby. It also gives the baby a good time moving their body and head to grab different toys placed in different positions. When you choose the right baby gym their gross motor skills develop stronger as they keep playing inside the baby gym.
Becky
Newly middle-aged wife of 1, Mom of 3, Grandma of 2. A professional blogger who has lived in 3 places since losing her home to a house fire in October 2018 with her husband. Becky appreciates being self-employed which has allowed her to work from 'anywhere'. Life is better when you can laugh. As you can tell by her Facebook page where she keeps the humor memes going daily. Becky looks forward to the upcoming new year. It will be fun to see what 2020 holds.