7 Groom's Party Ideas for Entertainment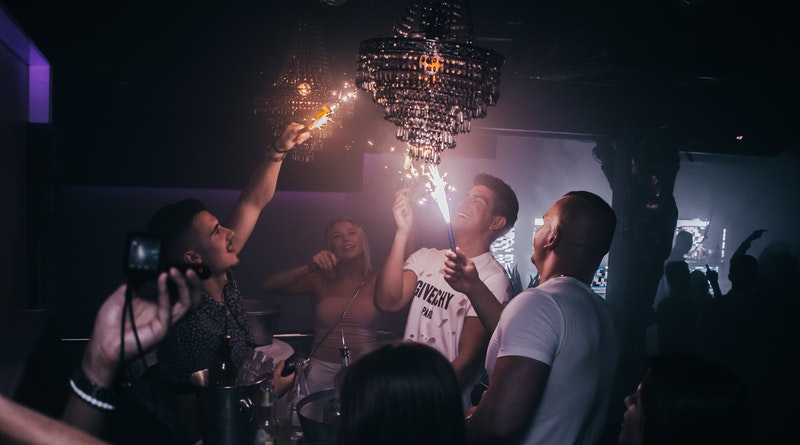 Becky
Newly middle-aged wife of 1, Mom of 3, Grandma of…
Your best friend is getting married soon, and you have to plan his groom's party. Or it could be your wedding, and you are planning it with your groomsman. The bachelor's party must be top-notch because the mood could easily carry on into the wedding party. A popular saying suggests that there's a curse that comes with a bad groom party. A terrific stag party could mean a bad marriage. Some even say the curse would start from the wedding ceremony, and anything may fail to go on right. True or not true? Who knows? Regardless of whether a bachelor's eve is bad luck or not, isn't it best to give it your best? Do it in style and make it a day to remember. 
Now let's go into details of how you would create the unforgettable bachelor's night. There will be many men at the party, and satisfying them could be tasking. You could be friends with virtually all attendees, but you may not have the same taste as to what a groom's party should be. Nobody wants to stay at a boring party. The secret to making things go as expected is in the planning. You have to plan appropriately – don't leave anything to chance or it could ruin everything. Are you out of ideas on what to do? Here are seven buck's party Ideas for Entertainment. With these tips, you'll surely blow everyone away, and your guys will be happy with you. 
Pick an excellent location for the party
Perhaps, some of your best friends stay in different corners around the world. If they must be all present for the party, then you should be looking at a central location with minimal travel times. But if you all stay a few miles away from one other, then you can decide to book a trip to another state or country. Your preferred location could easily determine how much fun you would have. There are usually a lot of activities to engage in and places to go for a buck's party. Hence, why it's vital to pick a location with easy access and functional mobility. Traveling long hours to get to the party venue, or back to the hotel can be exhausting.
Pick your guests wisely
It's essential to bring all the energy to a groom party, and anyone who wouldn't fit in should be left out. Your groomsmen are notable attendees, and all of them have to be able to get their groove on and keep the mood high. Try to be ruthless when choosing your groomsmen and anyone that would be at the party. Keep the conservative folks and party poopers away and invite people who are acquainted with having fun. The Bucks party is all about keeping things as enjoyable as possible and anything else is unacceptable.
Set some "naughty" rules
It's a Grooms Party, and you have to get everyone to loosen up. Set some rules to take the guy's off their comfort zone. The groom is going for a marriage filled with rules, and one last lawless night will do him a lot of good. These rules should be set early, and everyone who would be at this party should be informed beforehand of what will be expected of them. Anyone not ready to comply with them isn't welcome, and it could be a tactic to help you narrow the list of attendees. 
Hire Professional Strippers
Inviting a professional stripper to entertain is a great way to get all of the guys to loosen up. Consider this as adding spice to the party.
Unless the groom or bride is from a conservative family, hiring strippers is recommended. The bride and groom may have to talk about this beforehand. Now don't just hire any stripper. Find the pros! There are trusted firms and academies that would provide you with a professional male stripper. You can look up Male Stripper Academy or google "Male Strippers around me."
Pay a visit to the Shooting Range
The goal is to have as much fun as possible, and you can't beat the adrenaline effect at a shooting range. This is one of the activities to try out in the evening before all the partying starts. Yes, it requires some skill, but any of the guys would be glad to try out their hands at shooting some targets. This is not a regular Buck Party activity, and you can expect the guys to enjoy the experience. They'll also be able to gain some bragging rights on their way back home. 
Play some private poker at the casino
A lot of casinos now have private poker rooms that are available for hire at the right price. This would allow you to play a good poker game in a controlled environment; with individual dealers and waiters at your beck and call. It's safe to try to keep a lid on things here, or you may end up gambling with all your money. But overall, poker would be a great way to get the guys back in the college mood. 
Do something special for the groom  
The groom is the man of the moment and its essential to get him to relax before the d-day. Doing something special for him could be a confidence boost ahead of the wedding. It's an excellent idea for the guys to get him a gift, but that isn't the only thing that can be done. If you can't conclude on what to get for him, here's a tip – get his favorite boyhood band to play for him. 
There are lots and lots of Groom's Party ideas. You can get creative around the listed ones. We hope that you have the best Groom's Party ever!
Becky
Newly middle-aged wife of 1, Mom of 3, Grandma of 2. A professional blogger who has lived in 3 places since losing her home to a house fire in October 2018 with her husband. Becky appreciates being self-employed which has allowed her to work from 'anywhere'. Life is better when you can laugh. As you can tell by her Facebook page where she keeps the humor memes going daily. Becky looks forward to the upcoming new year. It will be fun to see what 2020 holds.