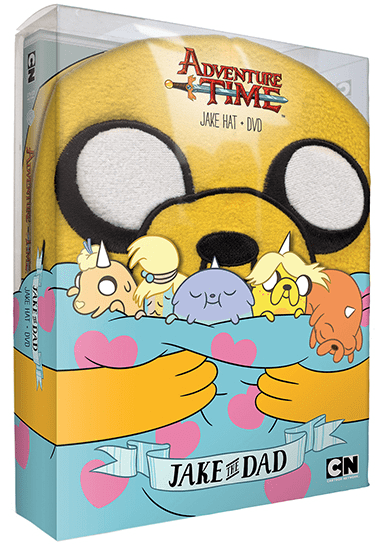 Becky
Newly middle-aged wife of 1, Mom of 3, Grandma of…


Adventure Time: Jake the Dad DVD with Jake Hat Review
*DISCLAIMER – I received 1 copy of Jake the Dad DVD with Jake Hat for this post! All opinions are 100% mine, receiving this DVD provided byClickComm did not influence my review in any way.*
Adventure Time: Jake the Dad DVD is releasing today September 17, 2013! Along with this DVD is a Jake the Dad HAT! It is so cute and is a great bonus with this cool DVD.
September will not only be Cartoon Network's introduction to the newest DVD release in its top-selling franchise from its huge hit series, but is also tossing in a Jake hat!
This all new compilation DVD release features 16 great (most popular) episodes from seasons four and five of the series, and in addition a must have Jake hat included as a one-pack bundle, which is a perfect pairing to the Finn hat that fans received with last year's release of Jake vs. Me-Mow. This DVD has nearly 3 hours of episodes and an awesome hat-which is worth $20 all on its own! The Adventure Time: Jake the Dad DVD release will be available today 9/17/2013 and is expected to be priced to own for only $24.98.
I have to admit this series is more geared toward the teen-age audience in my opinion. The Adventure Time home video series has been a huge hit since its debut. This DVD will continue to feed the demand for all thing Adventure Time!
This video is a great addition to an ever growing and popular line of Adventure Time consumer products which is made for all fans of all ages. Items range from video games to comic books, toys and apparel to great collaborations and much more, it's always Adventure Time for fans looking to get a hold of great items!
My favorite episodes of this DVD were Jake the Dad, I Remember You, All Your Fault plus a few more of the 16 episodes in this DVD. I did find myself laughing which surprised my 17-year old daughter; but I know a funny when I hear it! I really enjoyed the opportunity to review this DVD.
Episodes Included:
1. Jake the Dad 9. Mystery Dungeon
2. Burning Low 10. All Your Fault
3. Gotcha! 11. Five More Short Graybles
4. Sons of Mars 12. Vault of Bones
5. BMO Noire 13. Simon & Marcy
6. The Hard Easy 14. Puhoy
7. I Remember You 15. One Last Job
8. All the Little People 16. BMO Lost
More Information:
Created by Pendleton Ward and produced by Cartoon Network Studios, Adventure Time leads viewers on the fantastical adventures of unlikely heroes, Finn & Jake, buddies who traverse the mystical Land of Ooo and encounter its colorful inhabitants. New episodes from the fifth season of Adventure Time premiere on Monday nights at 7:30 p.m. (ET/PT) on Cartoon Network with replays throughout the week.
BASICS
SRP: $24.98
Street Date: September 17, 2013
Order Date: August 13, 2013
Run Time: 176 minutes
UPC: 883929343102
Languages: English
Subtitles: English
About Cartoon Network
Cartoon Network Enterprises (CNE) is responsible for building consumer products and merchandising programs for a wide range of brands by securing and supporting long-term licensing partnerships across all categories. As the global branding and merchandising arm of Cartoon Network and Adult Swim, the division manages the consumer product programs for the networks' award-winning original programming, brands and characters including Ben 10, Adventure Time, Regular Show, The Amazing World of Gumball, The Powerpuff Girls,Adult Swim and more. CNE also serves as the exclusive global licensing agent for LazyTown Entertainment and the PGA of America for the youth marketplace.
Cartoon Network (CartoonNetwork.com) is the #1 U.S. television network among boys 6-11. Currently seen in 99 million U.S. homes and 194 countries around the world, Cartoon Network is Turner Broadcasting System, Inc.'s ad-supported cable service now available in HD offering the best in original, acquired and classic entertainment for kids and families. In addition to Emmy-winning original programming and industry-leading digital apps and online games, Cartoon Network embraces key social issues affecting families with solution-oriented initiatives such as Stop Bullying: Speak Up and the Move It Movement.
Turner Broadcasting System, Inc., a Time Warner company, creates and programs branded news; entertainment; animation and young adult; and sports media environments on television and other platforms for consumers around the world. Turner brands and businesses include CNN/U.S., CNN International, CNN.com and HLN; TBS, TNT, truTV and Turner Classic Movies; Cartoon Network, Boomerang and Adult Swim; and Turner Sports.
About Warner Bros. Home Entertainment Group
Warner Bros. Home Entertainment Group brings together Warner Bros. Entertainment's home video, digital distribution, interactive entertainment/videogames, direct-to-DVD production, technical operations and anti-piracy businesses in order to maximize current and next-generation distribution scenarios. WBHEG is responsible for the global distribution of content through DVD, electronic sell-through and VOD, and delivery of theatrical content to wireless and online channels, and is also a significant worldwide publisher for both internal and third party videogame titles
For more information on this and other titles distributed by Warner Bros Home Entertainment Group, visit www.whvdirect.com
Becky
Newly middle-aged wife of 1, Mom of 3, Grandma of 2. A professional blogger who has lived in 3 places since losing her home to a house fire in October 2018 with her husband. Becky appreciates being self-employed which has allowed her to work from 'anywhere'. Life is better when you can laugh. As you can tell by her Facebook page where she keeps the humor memes going daily. Becky looks forward to the upcoming new year. It will be fun to see what 2020 holds.