Albert Brooks (Marlin) and Hayden Rolence (Nemo) at Our #FindingDoryEvent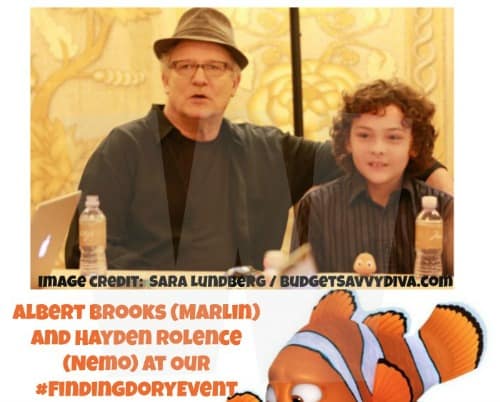 Becky
Newly middle-aged wife of 1, Mom of 3, Grandma of…
14 Fun things I learned from Albert Brooks and Hayden Rolence
One of the enjoyable parts of our trips to LA for the movie events is the opportunities we get to interview actors. This trip was no different. Two of the actors we were able to interview were Albert Brooks (voice of Marlin) and Hayden Rolence (voice of Nemo).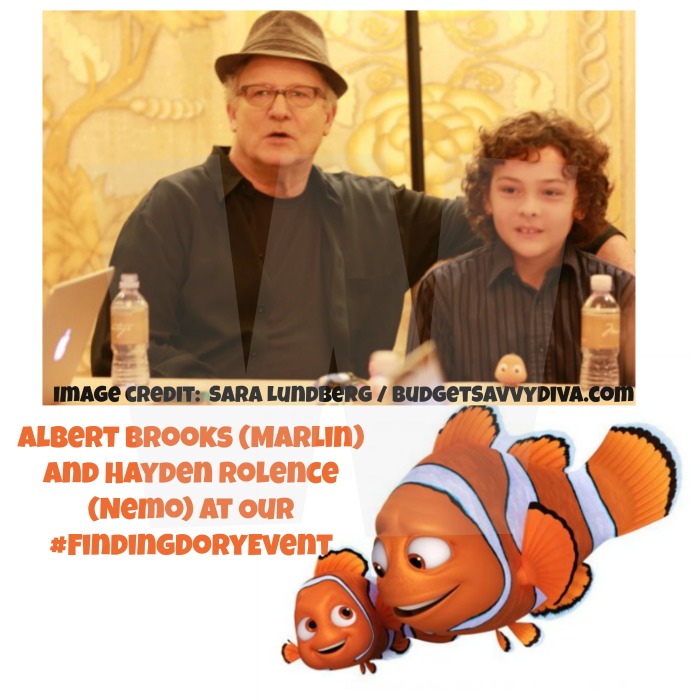 I had spotted Albert Brooks during our Blue Carpet Premiere after party. He mingled with his fans, took selfie pictures and just seemed like any other person. I liked this about him and our interview was no different than what I saw the night before.
Albert was able to reprise his role even after 13 years but said if they do a third one he most likely will not be Marlin in that one, especially if it takes another 10-13 years. He is currently 68 years old so I can see why he would feel that way.
The father of 2 children he said, "when they were younger he worried more, now that they are older, he pays more."
Albert said it didn't take much time to get back into Marlin, even after 13 years.
The path of the shells he felt was the best thing ever.
Albert shared that the movie was the ultimate heartwarming movie without being 'schmaltzy'(aka-corny) as he put it.
He also had more emotions come out than he thought he would when he watched it at the premiere.
Albert also worried about the whole movie being based on 'her short term memory'.
Albert had really given up on a sequel since it had been 10 years at the time of being contacted at reprising his role as Marlin.
Hayden Rolence wasn't even born when Finding Nemo came out in the theatres. The original Nemo was Alexander Gould who is now 22 years old. Due to his voice changing they had to find a new Nemo. Enter Hayden Rolence. Hayden has been a fan of Nemo his whole life (he is 12 years old). To do Nemo the best he could he watched "Finding Nemo" over and over again this helped him be familiar with his part.
Hayden's biggest challenge was could he sound/live up to the original Nemo.
Since the character was already established he felt more pressure "not to mess it up".
This was the first premiere for Hayden. He was so nervous to see it because all of the hard work that went into it.
He was excited and astonished at the outcome while he was watching it.
He learned that an octopus has 3 hearts which he did not know before watching the movie the first time.
Hayden never taped with Albert Brooks, but they would meet at the donut shop to get to know each other at the donut shop.
Hayden was at school when he got the call. He felt they were just kidding. He couldn't believe it.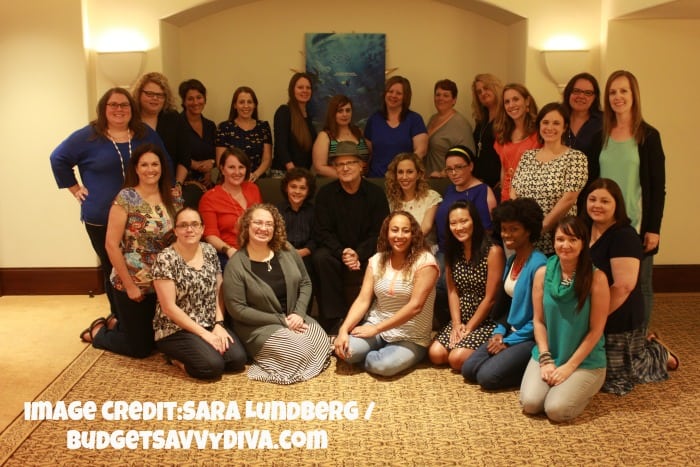 The review was very enjoyable as you had the voice of Marlin and Nemo. Since Albert Brooks is 68 years old and Hayden only 12 it felt like a 'father and son' relationship much like it did in the movie. It was great to see how they interacted with one another although they never taped together.
Finding Dory came out on June 17. It has already brought in an estimated $136.1 million, making it the highest opening weekend for an animated film ever.
Once you have seen it stop back and let me know what your favorite part was.
You can follow the hashtags: #FindingDory and #HaveYouSeenHer.
Disney•Pixar's "Finding Dory" reunites everyone's favorite forgetful blue tang, Dory, with her friends Nemo and Marlin on a search for answers about her past.
You can read about our interview with Ellen DeGeneres & Ed O'Neill here.
Visit on Facebook
Follow on Twitter
Follow on Instagram
Follow Disney Studios Finding Dory Board on Pinterest
Visit Disney/Pixar on Tumblr
Visit their official website
Voice Cast: Ellen DeGeneres, Albert Brooks, Ed O'Neill, Kaitlin Olson, Ty Burrell, Eugene Levy, Diane Keaton
Director: Andrew Stanton
Co-Director: Angus MacLane
Producer: Lindsey Collins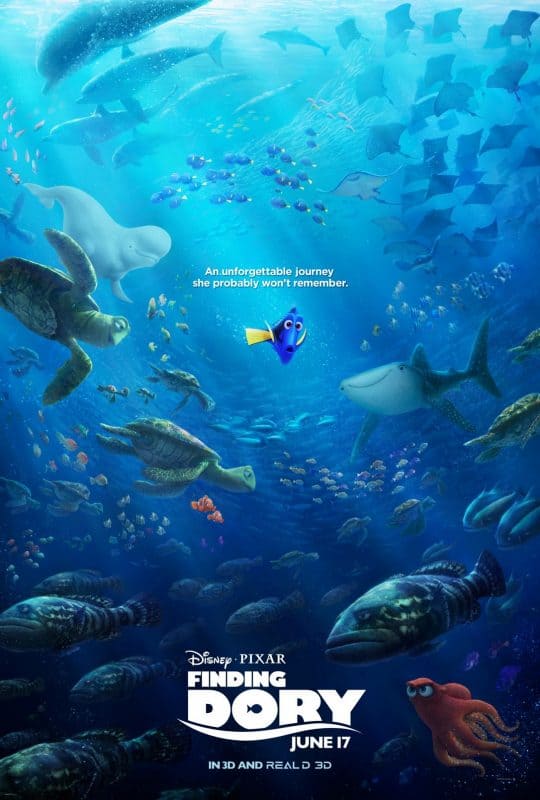 **Disney sent me to Los Angeles for the #FindingDoryEvent #BizaardvarkEvent and #LEGOFreemakerEvent for an all expenses paid trip to cover press with 24 other bloggers. All opinions are mine.**
Becky
Newly middle-aged wife of 1, Mom of 3, Grandma of 2. A professional blogger who has lived in 3 places since losing her home to a house fire in October 2018 with her husband. Becky appreciates being self-employed which has allowed her to work from 'anywhere'. Life is better when you can laugh. As you can tell by her Facebook page where she keeps the humor memes going daily. Becky looks forward to the upcoming new year. It will be fun to see what 2020 holds.