This Android Spying App Is Your Best Bet to Know of Your Kids' Digital Lives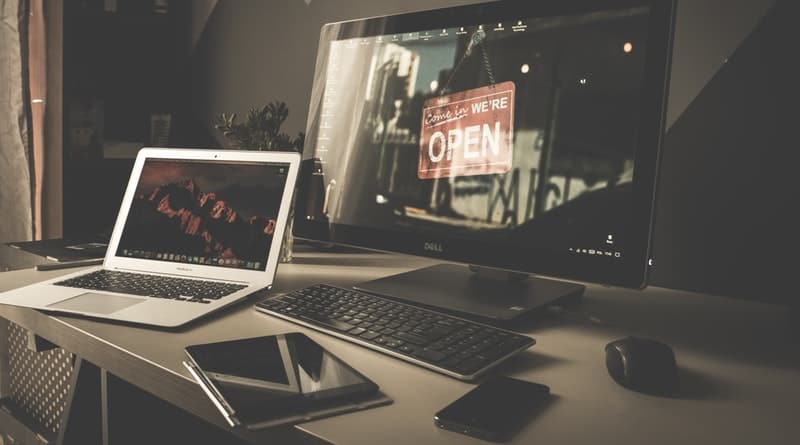 Becky
Newly middle-aged wife of 1, Mom of 3, Grandma of…
With hundreds of apps claiming themselves to be the best Android monitoring apps, it gets difficult to make a buying decision. When you wish to invest in an Android spying app, you would want to have an app that actually works and is not a total rip off of your money. A thorough research led us to Xnspy with its amazing monitoring and tracking features.
Xnspy is definitely worth trying on your child's Android phone so that you can monitor their activities.
Xnspy – Overview:
Xnspy android spying app has been designed for parents so that they can monitor their children. There is no denying that with the abundance of digital threats out there, children need digital monitoring. Equipped with a mix of basic and advanced features, Xnspy has made it easier for parents to monitor their children even from a distance. Now you can know where your child is and what they are up to just about from anywhere.
Read on below to know more about one of the best Android monitoring apps out there:
Getting Started:
It is fairly easy to get started with Xnspy Android spying app. All you need to do is visit xnspy.com and subscribe to one of the packages by clicking Buy Now. The app offers two editions: Basic and Premium. After you have subscribed to the app, you will receive an email containing a download link to the app with the instructions regarding the installation process of the app. You will also get an activation code and login credentials to your online web account.
Xnspy – Price:
As mentioned above, Xnspy Android spying app comes in basic and premium editions; the app also offers its users with monthly, quarterly, and yearly packages:
| | | |
| --- | --- | --- |
| Monthly | Quarterly | Yearly |
| $49.99 / month | $23.33 / month | $8.33 / month |
| | | |
| --- | --- | --- |
| Monthly | Quarterly | Yearly |
| $59.99/ month | $33.33 / month | $12.49 / month |
Xnspy – Features:
The reasons Xnspy has been able to get its place among the best Android spying apps is its remarkable set of features: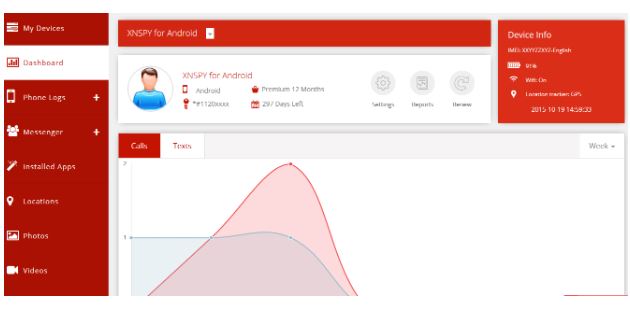 Monitor Text messages and Phone calls:
Most of the teenagers communicate via text messages nowadays. The app lets you view both the incoming and outgoing text messages along with their date and time stamps remotely through the app's dashboard which you can view on your online web account. Adding certain words or phrases in Xnspy's Watchlist will notify you whenever that word or contact appears in the conversations.
The app also provides you with a call analysis so you can see the frequent callers and the duration of the calls.
Calls and Ambient Recording:
You can record calls and even listen to the phone surroundings. The ambient recording feature lets you switch on the microphone of the target phone by sending a remote command. You can also see a call log analysis that gets you the "Top 5 Callers" and "Top 5 Caller Duration."
If you think your child is hanging out with a rowdy crowd, turning on the microphone remotely could let you know where do they hang out and the kind of conversations they indulge in.


Tweens and teens want to try out places you would not approve of just for fun. Even if that is not the case, you would want to know where your children are. GPS location tracking lets you know the location of your child. It tracks the location in real time and also gets you their location history. This feature proves to be beneficial in the event of missing children or a lost phone.
Xnspy offers a geo-fencing feature, too. You can add certain locations in the app's Watchlist so that you get an alert whenever the user enters or exit those places.
Xnspy is a lot more than just an Android spying app. If you have reason to believe that your child is acting off or tense, you can access their emails, too. Nowadays, cyberbullies also slide in your email's inbox and send harassing or threatening messages and images. Bullying and harassment can wreak havoc with your child's mental and emotional health. They might not even tell you about it.
Having access to their email could help you with timely intervention and action in case someone is bullying or harassing your child via disturbing emails.  
Access Apps and Multimedia:
You can read the chat and view the images and videos which your child sends or receives via these apps. Xnspy lets you monitor Facebook, Facebook Messenger, Kik, Viber, WhatsApp, Tinder, and Skype. A great feature for parental control, so you can know the kind of videos and images your children and their friends are sharing amongst themselves. It is important to monitor the apps your children are using and to see whether they are age-appropriate or not.
With the abundance of instant messaging apps, there are multiple modes of conversation. Therefore, it gets difficult to keep track of all the chats and messages. Xnspy lets you access all the apps and if you add certain words in the Watchlist that hint any wrong, suspicious or harmful activity, the app will notify you right away. You can even block inappropriate apps on the phone.
Monitor Web Browsing History:
You can also view the websites your child accesses. Xnspy lets you monitor the web browsing history. The app gives you "Top 10 Websites," so you can know the kind of content your child is accessing. There is tons of information on the internet which you would not want your children to access. Xnspy lets you enforce the right filters.
Teenagers get attracted to the Dark Web just because of its name. You would certainly want to make sure that none of your child's friends or your child is accessing it. There is sexual, hateful, racist, and disturbing content on the Dark Web. Children are vulnerable and need protection against such content.
Xnspy's keylogger feature can record keystrokes on an Android device. You can record keystrokes on Facebook, Facebook Messenger, Skype, WhatsApp, and Viber. So, even if the phone user deletes the messages, you can know the keystrokes made on the target phone.
During the teenage, children want to try out outrageous and even risky things. If you do not find chats in the apps, that means your child is deleting them. There is a possibility that they are hiding something from you. The keylogger feature records the keystrokes so you can know what is going on.
You can remotely control your child's phone with Xnspy. You can:
Wipe the data from the device
Xnspy – Compatibility:
Xnspy's Android version supports OS 4.x, 5.x, 6.x, 7.x & 8.x and Android Oreo as well.
Last Words:
All in all, Xnspy packs quite the package and caters to you every possible monitoring need. Also, the app has great customer support with 24/7 online chat service. The site also provides comprehensives how-to guides. Xnspy has great features and it is one of those apps that deliver value for its price; therefore, it is one of the best android monitoring apps out there.
Becky
Newly middle-aged wife of 1, Mom of 3, Grandma of 2. A professional blogger who has lived in 3 places since losing her home to a house fire in October 2018 with her husband. Becky appreciates being self-employed which has allowed her to work from 'anywhere'. Life is better when you can laugh. As you can tell by her Facebook page where she keeps the humor memes going daily. Becky looks forward to the upcoming new year. It will be fun to see what 2020 holds.