Why Berlin Should Be Next On Your Travel Bucket List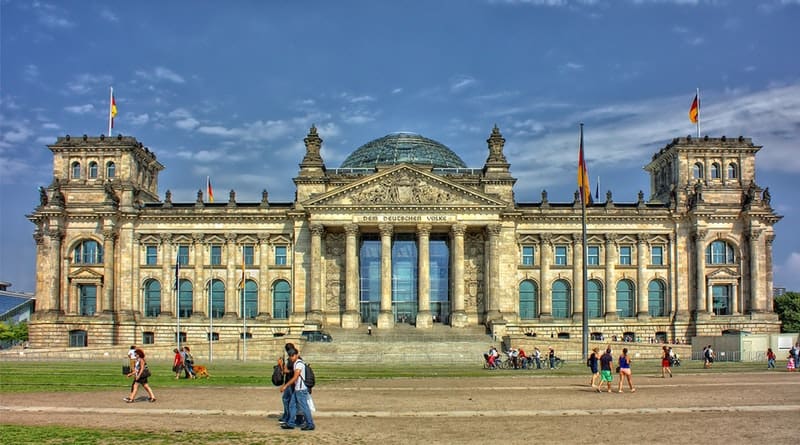 Becky
Newly middle-aged wife of 1, Mom of 3, Grandma of…
Berlin, the capital of Germany is one of the 'must visit' places in Europe. Rich in history, bustling with creativity and lots more, Berlin has a lot to offer you. The rich history of Germany, especially Berlin, is enticing enough to get your passports stamped with a German visa. Whether you're planning a family trip or a reunion with friends, Berlin is a great choice for your next travel plans.
As is common knowledge, Berlin has a very deep and intense history, owing to the Holocaust, the division during the Cold War and then the reunification. It's a very interesting time to visit Berlin when it is bustling with good economic growth, great art, and a metropolitan lifestyle. You will surely have an incredible experience visiting Berlin and here are some of the major reasons why.
History
There is a lot to see, learn and absorb in Berlin. Starting from the Holocaust Memorial, also called as the Memorial to the Murdered Jews of Europe, it is dedicated to all the Jews who died as a result of the Holocaust, not just in Germany, but all of Europe. You can check out some great graffiti on the Berlin Wall Memorial, which is, one of the many remarkable historical structures, that was erected to divide Berlin from 1961 to 1989. The wall came down in 1990 and that marked the downfall of the Soviet Union and the end of the Cold War. The Brandenburg Gate, which was a symbol of the German divide, now signifies unity and peace and was commissioned in the year 1788.
Other places that need to be on your list are Prussian Palaces and Gardens Foundation Berlin- Brandenburg, which was founded in 1994 to mark the reunification of Germany. You should also check out the Reichstag Building, now called Bundestag. It dates back to 1894, but was ruined in a fire in 1993 and then was reconstructed after the reunification of Germany and finally opened in the year 1999 as the parliament of Germany, now called Bundestag.
Nightlife
Berlin's nightlife is thriving at all hours, on all days of the year. People love their beer and music. The techno music scene of Berlin is quite happening and there is no official closing time in Berlin, so it's but obvious that the nightlife of Berlin is a major attraction. Berlin is also one of the top destination and choice for stag parties. Men love to have a Berlin stag do and find a lot of activities here to celebrate their stag weekends. There are a lot of activities related to beer in a Berlin stag weekend, like a beer bike or a horse coach with beer etc. Germany is known for its beer and the people are known for their love for beer, so you will find some great breweries, bars, pubs etc. that will be open all night, so you can go anytime, anywhere and be sure that you'll have a good time. Apart from hen and stag parties in Berlin, it is also a great place for a reunion with friends where you want to fuse partying with some exploration of the city.
Culture and Art
Berlin is a very free-spirited and creative city. Berlin has a lot of galleries, museums and street festivals going on, all year round. The Pergamon Museum is one of the top museums in Berlin and you definitely shouldn't miss it. It houses three major galleries namely, the Middle East Museum, the Islamic Art Museum, and the Antiquity Museum. There are some amazing artifacts in this museum which were collected by German archaeologists from Egypt, the Middle East, and Asia during the 19th and 20th centuries. Some of these include Ishtar Gate of Babylon, Roman Market Gate of Miletus etc.
Berlin hosts the biggest pride parade in all of Europe called the Berlin Pride Celebration, every year. They celebrate the LGBT people and advocate equal rights for their community. Berlin also hosts the Karneval der Kulturen, which is a large, multicultural festival held in Kreuzberg. This festival celebrates peace, tolerance, and multiculturalism with lots of theatre, music, dance and other performances.
Conclusion
Berlin has a little bit of everything for everyone. So whether you're a young group of friends looking to celebrate a special occasion or have a good time, Berlin has some great experiences to give you. Even if you're a family looking to explore a new place or just a traveler ticking off different countries and cities on your travel bucket list, Berlin is definitely a must see. Having gone through a traumatic past, the country is now flourishing with a great, new age and vibe that is definitely worth experiencing.
Becky
Newly middle-aged wife of 1, Mom of 3, Grandma of 2. A professional blogger who has lived in 3 places since losing her home to a house fire in October 2018 with her husband. Becky appreciates being self-employed which has allowed her to work from 'anywhere'. Life is better when you can laugh. As you can tell by her Facebook page where she keeps the humor memes going daily. Becky looks forward to the upcoming new year. It will be fun to see what 2020 holds.