Christmas Eve Secret: Time Travel Novel by Elyse Douglas + Giveaway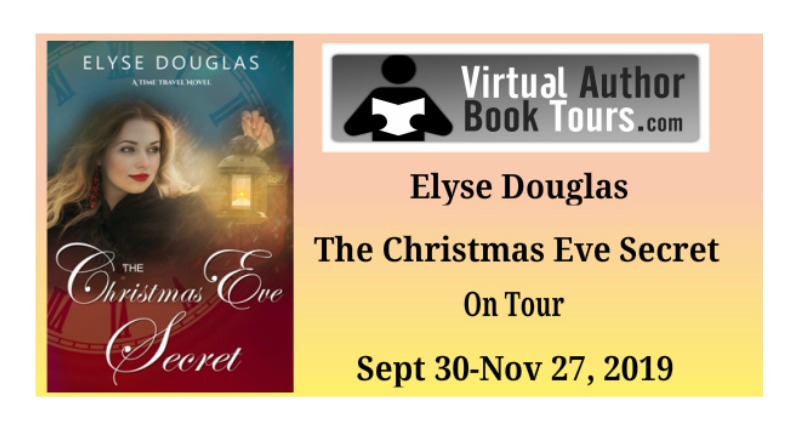 Becky
Newly middle-aged wife of 1, Mom of 3, Grandma of…
Disclosure: I received the book below in order to facilitate my review. All opinions are my own.
The Christmas Eve Secret is the third book in a series.  You don't have to read the first two to enjoy this third one.  I would start with the first two then read this one.  They are titled The Christmas Eve Letter first and  The Christmas Eve Daughter.
Elyse Douglas is an author that writes in a way that you don't want to put the book down.  If you have to put it down, then you are wondering what the characters are doing while you aren't reading the book.  Crazy, I know!  If you enjoy stories based on time travel, this book will fit right in with that enjoyment.
The author weaves a story that fuses the past and the present mercilessly. Eve ends up back in the late 1800s with her best friend Joni, and while Eve knows what to do to fit in, Joni has a harder time doing so.  She then quickly finds herself enjoying this period, especially when she meets a handsome doctor.
This story is about Eve and Patrick and not having to live without him. although there are more characters, you will focus on them.  She bears the brunt of the period where women are not well regarded, but she can bring hope to some people she comes into contact with.  I am not one to do spoilers, but I will say this story is full of time travel, history, and a love the spans a lifetime. It is definitely worth the time that it takes to read it.
Christmas Eve Secret: Time Travel Novel by Elyse Douglas
Publisher: Broadback (September 16, 2019)
Category: Time Travel, Historical Fiction, Romance, Christmas
Tour Dates: October-November, 2019
ISBN: TBD
Available in Print and ebook, 440 pages


Description Christmas Eve Secret: Time Travel Novel by Elyse Douglas
A mysterious man from the past steals the time travel lantern.
When Eve and Patrick find it, they destroy it.
Eve's life is shattered.
She must return to the past, where secrets await.
In the third novel of THE CHRISTMAS EVE series, Eve and Patrick Gantly are living a normal life in 2019 New York, preparing to celebrate the Christmas season. Patrick is taking courses in forensic psychology and Eve continues to work as a nurse practitioner. To their delight, she is three months pregnant.
Despite their happiness, Eve is having premonitions that something dreadful is about to occur. Concerned about the future and the safety of their child, she insists that they destroy the time travel lantern. Patrick is more cautious.
One afternoon when Patrick is out, a sinister man breaks into the apartment and forces Eve to give him the lantern. In many ways, Eve is relieved the lantern is gone. She hopes they can now live a more normal life.
A day later, Patrick shadows a woman who has been staking out the Gantly's brownstone apartment, and he confronts her. To his and Eve's utter shock, they learn that Lucy Rose is from 1924 and that she time-traveled with the man who took the lantern. He returned to 1924, but she chose to stay behind. She offers to sell the lantern back to Eve and Patrick, and they reluctantly agree, hoping to keep it out of unscrupulous hands.
Convinced that the lantern is a threat to their future happiness, Eve and Patrick decide to destroy it.
But the lantern has more power than they could have ever imagined. Once the lantern is destroyed, Eve's life is completely changed. She must set off on an adventure, in a struggle that will return her to the past, where she will learn the secret of the lantern's origin and delve into the farthest reaches of her heart.
Praise Christmas Eve Letter: Time Travel Novel by Elyse Douglas
"If you are a fan of authors such as Nicholas Sparks and Marybeth Whalen, or H.G. Wells or Jack Finney, you need to add this book to your shelves.
This is a romantic suspense novel with many dangerous and tense moments. As always, when one travels in time, the concern of consequences and potential changes to history and the future weigh heavily on both the traveler's and readers' minds. Those worries added to the atmosphere but were also handled skillfully. I smiled at a certain twist of color. It is a perfect bookclub read."-Laura's Interests
"The Christmas Eve Letter is a beautiful, poignant story. It is well written and will have you turning the pages eagerly.
All of the characters are well thought out and believably written, together with the well-constructed scenery, that has you feeling as if you yourself have just stepped into the past.
The story is unique and moving. It will hold you long after you turn the last page. A perfect Christmas tale of love and hope."-Whispering Stories
"The Christmas Eve Letter is a wonderful time travel book and one of my favorite books of the year."–The Book Return Blog
Praise Christmas Eve Daughter: Time Travel Novel by Elyse Douglas
"This book is the perfect vehicle for a movie, and I can only hope that there will be more in the series. This novel is truly as close to perfection as the reader could imagine! 5 Stars!"–My Devotional Thoughts Blog and Reviews
"I enjoyed the new characters, an update on characters from the first book, and the possibility for more books. If you enjoy time travel-themed novels you will love these books!"–StoreyBook Reviews
"I am most impressed that this book did so well as a stand-alone novel. Kudos to the author! If you are looking for a good Christmas book with time travel, give this a go!"–Carole's Bookshelves
About Elyse Douglas
Elyse Douglas is the pen name for the married writing team Elyse Parmentier and Douglas Pennington. Elyse grew up near the sea, roaming the beaches, reading and writing stories and poetry, receiving a master's degree in English Literature. She has enjoyed careers as an English teacher, an actress, and a speech-language pathologist.
Douglas has worked as a graphic designer, a corporate manager, and an equities trader. He attended the Cincinnati College-Conservatory of Music and played the piano professionally for many years.
Website: www.elysedouglas.com
Twitter: https://twitter.com/douglaselyse
Facebook: www.facebook.com/elyse.authorsdouglas
Pre-Order Christmas Eve Secret: Time Travel Novel by Elyse Douglas
Giveaway Christmas Eve Secret: Time Travel Novel by Elyse Douglas
This giveaway is for the winner's choice of one print or ebook copy of the book. Print is open to the U.S. only and ebook is available worldwide. There will be 3 winners. This giveaway ends November 29, 2019, midnight pacific time.
Follow Christmas Eve Secret: Time Travel Novel by Elyse Douglas Tour
Teddy Rose Book Reviews Plus Sept 30 Kickoff
Ruth My Devotional Thoughts Oct 1 Review & Guest Post
Maria FLY HIGH! Oct 2 Guest Review & Excerpt
Lu Ann Rockin' Book Reviews Oct 3 Review & Excerpt
Katy Amazon Oct 7 Review
Leslie StoreyBook Reviews Oct 9 Review
Dennis Amazon Oct 10 Review
Shalini's Books & Reviews Oct 11 Review
Becky What U Talking Bout Willis Oct 15 Review
Catherine Cuzinlogic Oct 16 Guest Review & Excerpt
Carole Rae's Random Rambling Oct 18 Review
Carole's Book Corner Oct 21 Guest Review
Kathleen Celticlady's Reviews Oct 22 Guest Review & Excerpt
Kim Amazon Oct 24 Review
Teddy Rose Book Reviews Plus Oct 25 Review
Dawn Bound 4 Escape Oct 28, Guest Review
Jas International Book Reviews Oct 29 Guest Review & Interview
Dee Donadees Nov 1 Review
Donna Amazon Nov 20 Review
Mindy A Room Without Books is Empty Nov 25 Review
Wendy Wall-to-wall books Nov 26 Review
Amy Locks, Hooks and Books Nov 27 Review & Excerpt
John Arond the Corner Amazon Nov 27 Review
Becky
Newly middle-aged wife of 1, Mom of 3, Grandma of 2. A professional blogger who has lived in 3 places since losing her home to a house fire in October 2018 with her husband. Becky appreciates being self-employed which has allowed her to work from 'anywhere'. Life is better when you can laugh. As you can tell by her Facebook page where she keeps the humor memes going daily. Becky looks forward to the upcoming new year. It will be fun to see what 2020 holds.