Director Josh Cooley and Producer Mark Nielsen The Dads Behind 'Riley's First Date' #InsideOutBloggers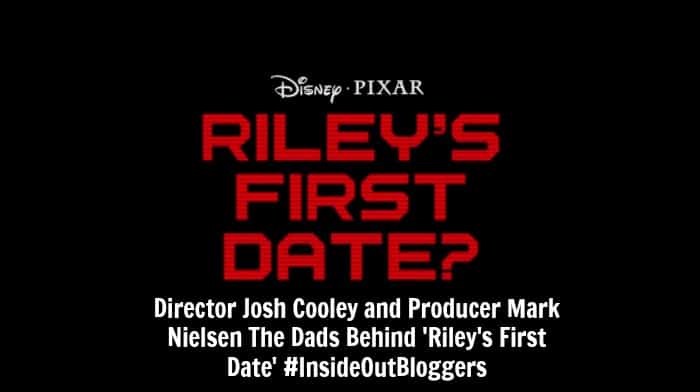 Becky
Newly middle-aged wife of 1, Mom of 3, Grandma of…
Disclosure:**Disney provided Me With A Full Expense Paid Trip To San Francisco For The #MilesEvent, #GoodDinoEvent, #InsideOutBloggers & #Waltagram Press Trip. No Other Compensation was Given. The Opinions In My Posts Are 100% my Own.**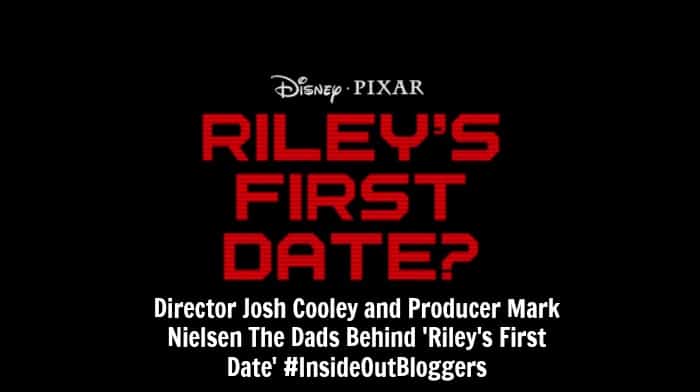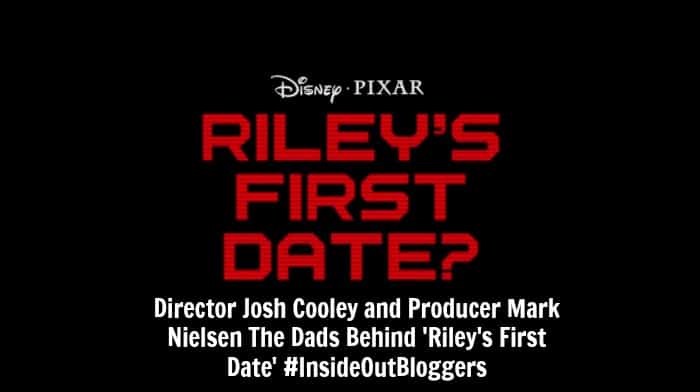 Inside Out came out on Blu-ray on November 3, 2015, and included with this awesome movie is the short "Riley's First Date". We had the pleasure to sit down with Director Josh Cooley and Producer Mark Nielsen to hear about where their ideas for this short came from and how their ideas came from being Dads themselves.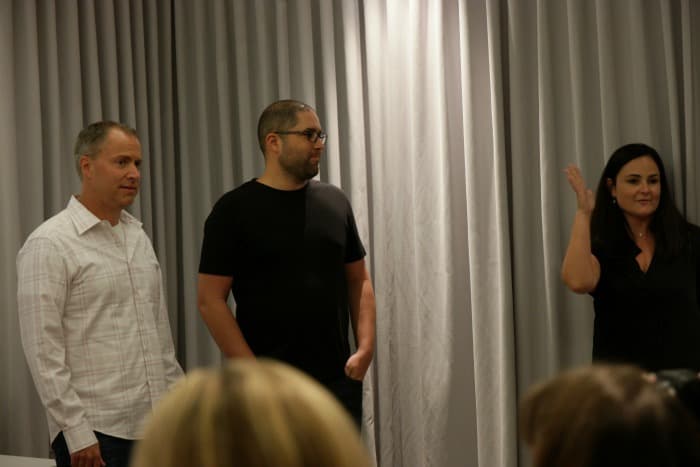 What Went into the Making of 'Riley's First Date'.
While working on Inside Out, Josh came up with the idea of making "Riley's First Date". Since 4 years is a long time to work on the movie it gave way to ideas for more possibilities. Then Pete Jonas came to them and said to really start thinking about some ideas, so then Josh pitched a few ideas and this was the one that Pete Jonas picked.
The time it took from the idea being approved by Pete as well as John Lassiter and the finish of the production took about 10 months.
Josh and Mark both have daughters, so the ideas came from a father's point of view of being their protectors. They also wanted to introduce a boy's point of view to the whole Riley getting older. Also, Josh wanted to see more of the boy's character.
While they were tryin' to write a story about Riley, they just naturally started to talk about their own experiences. So Josh was talking about his daughter who is about 4 or 5 at the time workin' on Inside Out.
Then our editor who has daughters that are in college or actually out of college said, "Oh you have nothing to worry about until she brings home the first boy." Just the thought of that made Josh more or less shudder, at least that is how I felt when my daughter brought home her first "boyfriend". Then Josh said that he never even thought of that ever being a possibility. He knew it would eventually happen….so that is where he came up with the 'seeds' for this idea. It was more or less inside of Josh's head going, like, "Oh my God." (which I can totally relate to as a mother ).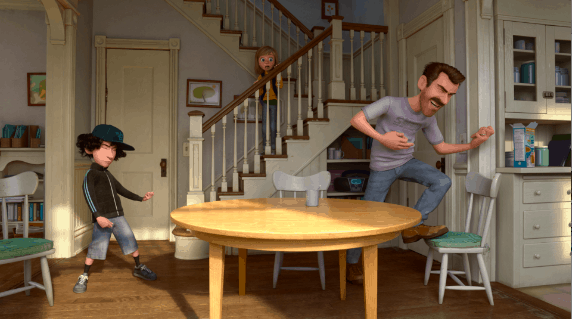 The reason behind them using AC/DC music was because they wanted something iconic that many parents could relate to. It also had to be something that both Jordan as, as a kid can be into and could be familiar with as well as, as the Dad.
Josh had also just seen AC/DC a few days ago and said they were still going at it, and it was good. Having Riley's Dad and the 'possible' boyfriend also came out of Josh meeting his father-in-law for the first time. Where he had the "I love your daughter, type of thing". So what Josh and his future father-in-law connected on was music. This is why it was important to Josh to include this in this short film. The reason behind the humor was when you are doing a 4 minute short you want to leave the audience laughing and not crying.
Also when they were doing the part where they are all at the dinner table and each of Riley's parents had the emotions inside of their head. This was playing out so well in earlier showings that they felt it would be fun to include that in the short.
Josh and Mark's children even can relate to the emotions. They have said today I felt fear, or sadness, or they would feel joy etc. They didn't realize how much the emotions would play an important part in kids lives. Which blew Josh away. So he thinks that's a great legacy to have for this film.
Also, Mark mentioned it wasn't what was intended from the start, they just happened to find it along the way.
Originally in the early plans of the movie they had 30 emotions which were way too many obviously. So they went with the basic emotions and took it from there. Mark and Josh both agreed that Joy is the emotion that describes both of them, although Josh enjoyed writing for Sadness. Without Sadness, there would be no Joy because we need one in order to have the other.
Interesting Facts in the short as well as the Movie: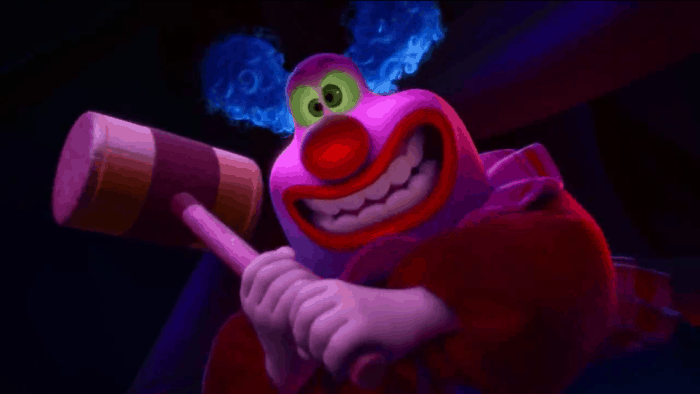 Josh Cooley did the voices for 'Jangles the Clown' as well as "Anger" in the part of the Dad's head when he said "Go Back to Jail".
Jordan didn't have any voice in the actual movie, so they had to have a voice for him in the short.

When the voice inside Jordan's voice said, "Dude what is he lookin' at?", that is Flea from 'The Red Hot Chili Peppers'.

Bill Hader (who plays Fear", just doing, doing the voice, "HOOO, HOOO, HOOO." is that voice in Jordan's head during the short.

The voice from the start that they knew they wanted was Lewis Black for the voice of Anger, without a doubt.

Bill Hader as Fear they felt they decided on him pretty early on too.

The Lava short took much longer because they had to start fresh. Where as the short for 'Riley's First Date' they already had all of the backgrounds, (house, characters etc).
The sex of Riley didn't 'matter' so much as boys and girls can go through the same emotions and relate just from their different points of view.
Making the scenes that were funny were easier because that is what Josh can have fun with, making the sad parts are more difficult when you are dealing with that emotion.

By the end of making Inside Out they had 225 people on the crew for Inside Out that last year of production.

Josh is working on Toy Story 4 at the moment with John Lasseter.
Mark is working on a future movie for Pixar which he isn't allowed to talk about at this time.
Josh has been at Pixar for 13 years and has worked with John Lasseter from day one. He doesn't feel intimidated by him, but just loves to work with him and feels no pressure at all.

Mark said that John Lasseter is incredibly inspirational with his crew. He had the chance to work on all of his earlier films and said he is warm and is just great.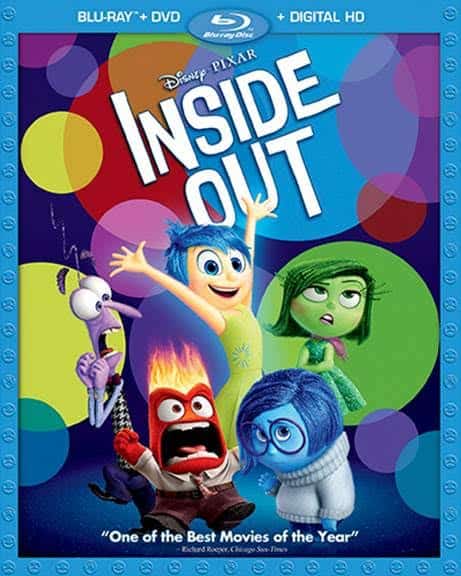 Do you ever look at someone and wonder what's going on inside their head? Disney-Pixar's "Inside Out" takes an exciting and hilarious journey into the mind to find the answer. Based in Headquarters, the control center of 11-year-old Riley's mind, five emotions are hard at work, led by lighthearted optimist Joy. She strives to make sure Riley stays happy as she operates alongside fellow emotions Fear, Anger, Disgust and Sadness. It's "an instant classic," raves Richard Roeper, Chicago Sun-Times. Experience it like never before on Disney Blu-ray!
CAST: Amy Poehler ("Freebirds," TV's "Parks and Recreation") as Joy; Bill Hader (Monsters University, TV's "Saturday Night Live") as Fear; Phyllis Smith ("Bad Teacher," TV's "The Office") as Sadness; Lewis Black ("The Aristocrats," TV's "The Daily Show with Jon Stewart") as Anger; Mindy Kaling ("Wreck-It Ralph," TV's "The Office") as Disgust; Richard Kind (A Bug's Life, TV's "Spin City") as Bing Bong; Kyle MacLachlan (TV's "The Good Wife," "Twin Peaks," "Marvel's Agents of S.H.I.E.L.D.") as the voice of Riley's Dad, Diane Lane (Batman vs. Superman: The Dawn of Justice, Under the Tuscan Sun, The Perfect Storm) as the voice of Riley's Mom & Kaitlyn Dias (voice cast debut) as the voice of Riley.
The Bonus Content includes:
The bonus content will be included on the Digital HD*, Blu-ray Combo Pack & Disney Movies Anywhere (DMA).
* Riley's First Date? (In-Home Exclusive Animated Short Film) – Riley, now 12, is hanging out at home with her parents in San Francisco when potential trouble comes knocking: a boy shows up at the door. Can Mom and Dad's emotions handle "Riley's First Date?"
* LAVA (Theatrical Short Film) – Inspired by the isolated beauty of tropical islands and the explosive allure of ocean volcanoes, LAVA is a musical love story that takes place over millions of years.
* Story of the Story – Director Pete Docter talks about the evolution of Inside Out, from the ideas and memories that inspired the story through the hurdles, explorations and experiences that helped shape it into the film it is today.
* Paths to Pixar: The Women of Inside Out – Inside Out filmmakers, from voice actors to animators to production crew, talk about their paths, their goals, the challenges they've faced and the lessons they've learned along the way
* Mixed Emotions – Inside Out's filmmakers talk about how they decided which emotions to focus on in the story and how they went about creating each one's distinct personality and visual identity
* Mapping the Mind – Inside Out's artists take you through the years-long process of designing and creating a world everyone knows, but no one has ever seen – the human mind.
* Our Dads, the Filmmakers – Elie Docter (daughter of director, Pete Docter) and Grace Giacchino (daughter of composer, Michael Giacchino) bring you behind the scenes for an inside look at the making of the film.
* Into the Unknown: The Sound of Inside Out – What is the sound of a memory forming? Sound designer Ren Klyce describes the challenges – and the unique solutions – involved in creating the aural world of Inside Out.
* The Misunderstood Art of Animation Film Editing – Learn more about the crucial role of an animation film editor, who helps take the story from its earliest, most exploratory versions, to the final, polished film you see onscreen.
You can order Inside Out on Blu-ray on Amazon (aff link) so you are sure to have your copy as soon as possible.
Becky
Newly middle-aged wife of 1, Mom of 3, Grandma of 2. A professional blogger who has lived in 3 places since losing her home to a house fire in October 2018 with her husband. Becky appreciates being self-employed which has allowed her to work from 'anywhere'. Life is better when you can laugh. As you can tell by her Facebook page where she keeps the humor memes going daily. Becky looks forward to the upcoming new year. It will be fun to see what 2020 holds.