10 TidBits 'You Might Not Know'@ Kyle MacLachlan and Kaitlyn Dias #InsideOutBloggers
Becky
Newly middle-aged wife of 1, Mom of 3, Grandma of…
**Disney provided Me With A Full Expense Paid Trip To San Francisco For The #MilesEvent, #GoodDinoEvent, #InsideOutBloggers & #Waltagram Press Trip. No Other Compensation was Given. The Opinions In My Posts Are 100% my Own.**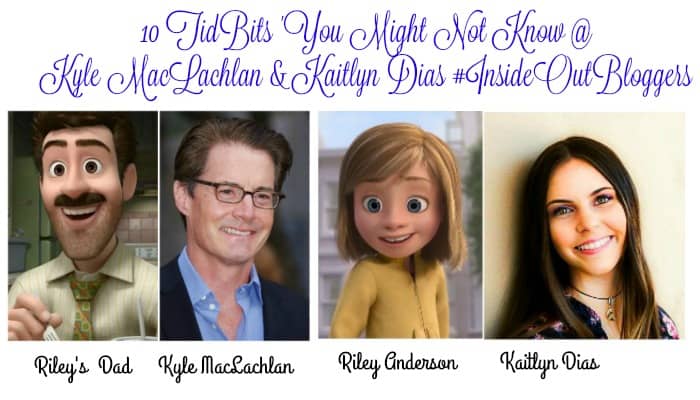 Inside Out is on Blu-ray today 11/3. Included on the Blu-ray is the film short "Riley's First Date". This is such a fun addition to the Blu-ray.
Riley has a friend that is coming over who happens to be a boy to go to the skate park with other friends. This starts a whole scenario of what is going on inside Riley's Dad's head, her Mom's head as well as the boy that shows up to take her on her "first date".
Everyone has either been through this themselves, have experienced it with their kids or will one day experience it. I am including a clip below to hold you over until you can get your hands on your own copy.
10 Things 'You Might Not Know' @ Kyle MacLachlan and Kaitlyn Dias
Kyle (Voice of Riley's Dad)
When Kyle MacLachlan's 7 year old son Kalum saw Inside Out he had a lot of questions. Like how the voices were in his head and why did he have a mustache. Since his Dad doesn't have one normally.
Online Disney Polls have said that Kyle's character (Dad of Riley)is the Number One Hottest Disney Dad. He did laugh about it. (He thought one of the bloggers saidy dizzy dads which he felt about summed it up.) He attributes it to the mustache.
Kyle MacLachlan's favorite band is Led Zeppelin, although he does like AC/DC.
Kyle says that Kaitlyn Dias is the better hockey player of the 2 of them.
Kyle brought himself to his character as Riley's Dad. Calm and collected, sometimes a little anger/frustration comes out. But mainly he just acts like he does with his son.
Kyle's favorite character is Joy.
Kyle enjoyed the voice over acting because he didn't have to dress up to go in or he could wear his PJs.
Kyle loved that this was a movie he was in that he could take his son to go see.
Kyle said that the movie reminds you that you're revisiting territory that you aren't gonna be able to experience, you know, except in a movie like this. 'cause you don't wanna go back into those worlds, because they're very painful.

You have to be present as a family.
Kaitlyn (Voice of Riley)
Kaitlyn was never in the same room with Kyle MacLachlan while doing her voice overs of Riley.
Kaitlyn was 11 years old when she started the voice over of Riley. By the time the movie was done she was 16. This made it so she had to try to make her voice sound more like it did when she was 11 to keep a constant in Riley's voice.
This movie was her first-time voice acting.
Kaitlyn as of our interview has not been on her first date yet.
Her favorite emotion in the movie was anger. Because of his facial expressions and when he was really mad you could do s'mores off of his head.
I think I'd just say to the parents watching this, try and make sure that you can recognize when your own child's going through this so that you can make sure that you're there for them and make sure that they know that you are supporting them.
Kaitlyn learned from the movie that it's definitely best to listen to your parents.
Kaitlyn had very supportive friends during this filming which lasted just about 5 years.
Did Riley ever change her perspective on broccoli? Kaitlyn said NO.
Kaitlyn went to regular school during her working on the movie so she did not need to be tutored or homeschooled.
See Also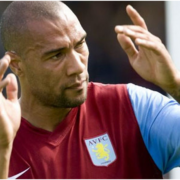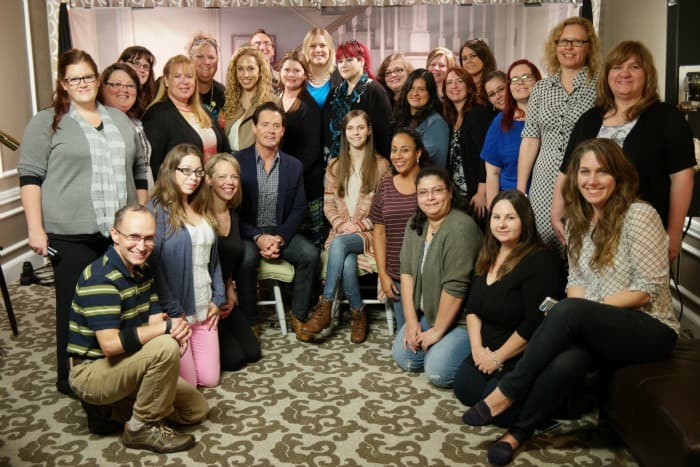 Do you ever look at someone and wonder what's going on inside their head? Disney-Pixar's "Inside Out" takes an exciting and hilarious journey into the mind to find the answer. Based in Headquarters, the control center of 11-year-old Riley's mind, five emotions are hard at work, led by lighthearted optimist Joy. She strives to make sure Riley stays happy as she operates alongside fellow emotions Fear, Anger, Disgust and Sadness. It's "an instant classic," raves Richard Roeper, Chicago Sun-Times. Experience it like never before on Disney Blu-ray!

CAST: Amy Poehler ("Freebirds," TV's "Parks and Recreation") as Joy; Bill Hader (Monsters University, TV's "Saturday Night Live") as Fear; Phyllis Smith ("Bad Teacher," TV's "The Office") as Sadness; Lewis Black ("The Aristocrats," TV's "The Daily Show with Jon Stewart") as Anger; Mindy Kaling ("Wreck-It Ralph," TV's "The Office") as Disgust; Richard Kind (A Bug's Life, TV's "Spin City") as Bing Bong; Kyle MacLachlan (TV's "The Good Wife," "Twin Peaks," "Marvel's Agents of S.H.I.E.L.D.") as the voice of Riley's Dad, Diane Lane (Batman vs. Superman: The Dawn of Justice, Under the Tuscan Sun, The Perfect Storm) as the voice of Riley's Mom & Kaitlyn Dias (voice cast debut) as the voice of Riley.
You can order Inside Out on Blu-ray on Amazon (aff link) so you are sure to have your copy as soon as possible.
To Keep an eye out on the information for INSIDE OUT you can connect with them on their Social Media Below.
Facebook | Twitter
Becky
Newly middle-aged wife of 1, Mom of 3, Grandma of 2. A professional blogger who has lived in 3 places since losing her home to a house fire in October 2018 with her husband. Becky appreciates being self-employed which has allowed her to work from 'anywhere'. Life is better when you can laugh. As you can tell by her Facebook page where she keeps the humor memes going daily. Becky looks forward to the upcoming new year. It will be fun to see what 2020 holds.