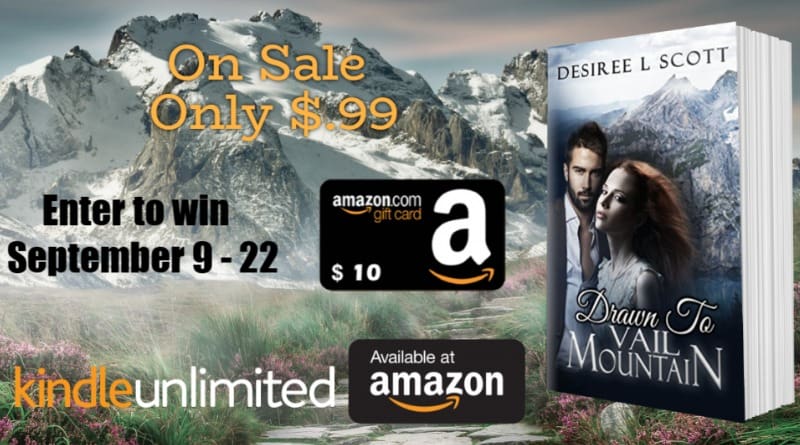 Becky
Wife, mother, grandma, blogger, all wrapped into one person, although…

Drawn to Vail Mountain (Vail
Mountain Trilogy Book 3)
Her dreams shattered, Connie Meyer just wants to be left alone to live
her life in peace. She finds that difficult to do when her estranged
husband's mother insists she returns to her son and a marriage she no
longer wants—a marriage that does more harm than good.
Desperate to escape, Connie returns to Vail Mountain, the one place she
had truly felt alive. However, her troubles soon follow her, and she
gets more than she bargained for as she fights not only her past but the
intense feelings that one newly elected sheriff arouses in her.
Jacob Tanner is weary of the city life and the never-ending stream of
criminals that plague New York City. He resigns from the police force
after a drug bust goes wrong, landing himself in the hospital to face
his mortality alone. Uncertain about the direction of his life, he
learns of the new sheriff position on Vail Mountain and takes a gigantic
leap of faith—faith that he isn't making a big mistake. Armed with
nothing but a few possessions, Jacob relocates, only to find himself
falling hard for a woman whose blue eyes speak of pain and loneliness.
As he battles his worst nightmare, can Jacob show her there is more to
life than what they have been dealt and convince her that with him,
nothing is impossible?
Buy on Amazon or Read
Kindle Unlimited

Enter to win a $10 Amazon GC. Must be 18+ Open INT where ever you can
accept an Amazon GC
Becky
Wife, mother, grandma, blogger, all wrapped into one person, although it does not define her these are roles that are important to her. From empty nesters to living with our oldest and 2 grandchildren while our house is rebuilt after a house fire in 10/2018 my life is something new each day.