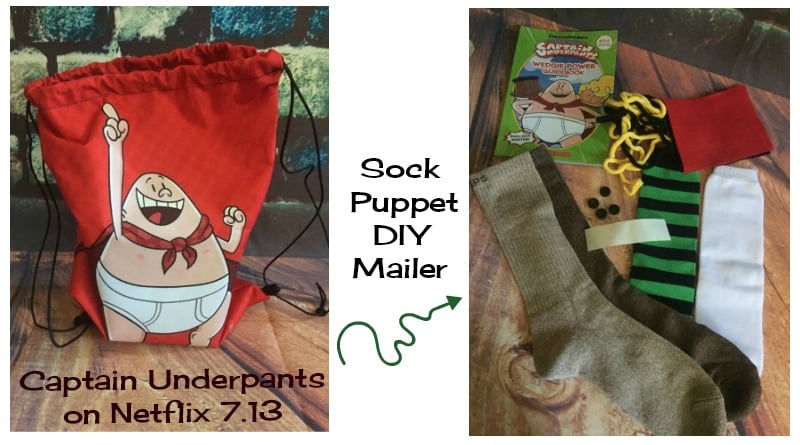 Becky
Wife, mother, grandma, blogger, all wrapped into one person, although…

Disclosure: Thanks DreamWorks for the free DreamWorks The Epic Tales of Captain Underpants DIY Mailer.
Hold on to your socks because The Epic Tales of Captain Underpants is coming to Netflix on July 13th! I love that I received a DIY kit to make our own sock puppets of Harold Hutchins and George Beard. I haven't had time to make mine yet but I wanted to share what came in the little box you see below.
In the top image you will see it came with:
2 Socks
2 legwarmers
4 buttons
2 pieces of felt (one black and one red)
Yellow blanket yarn
Black blanket yarn
Once I get mine put together (when the grandkids get back from vacation), I will post how ours turn out. I am sure the kids will enjoy putting these together as a project.
Do you have a favorite Captain Underpants book? Let me know in the comments!
Don't Forget! The Epic Tales of Captain Underpants is coming to Netflix on July 13th!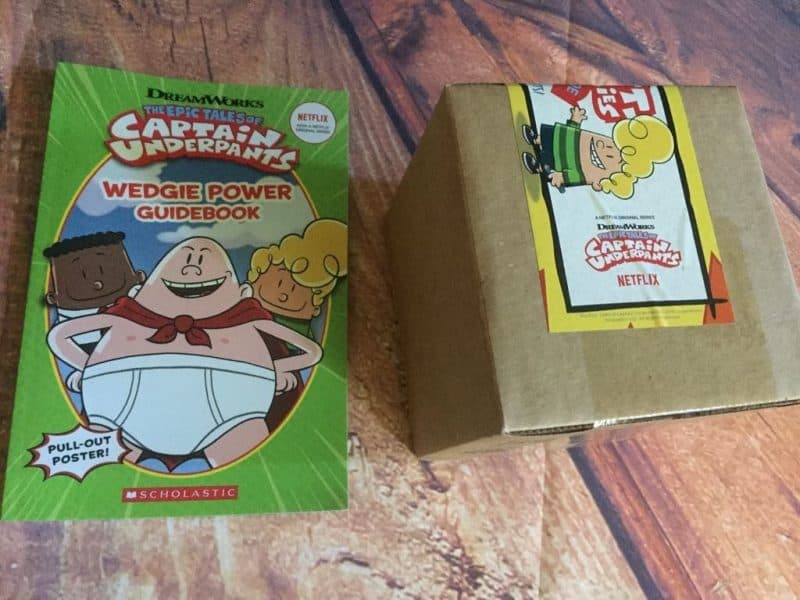 TRA-LA-LAAAA!
It's Captain Underpants! I remember reading these books to my son that is now 24 years old. I think it was more about him loving a book that had underpants in the title that made it fun for him. He loved other books, many books, but we always got quite a giggle when I read these to him. Now I hope to pass them down to his nephew (my grandson) until Ethan someday has his own kids.
Get ready for a world of pranks, supervillains, and your favorite underwear-wielding superhero in the Netflix original series DreamWorks The Epic Tales of Captain Underpants premiering July 13. George Beard and Harold Hutchins are two best buds who share a love of comic books and practical jokes – and a strong dislike for their cranky, fun-hating school principal, Mr. Krupp. When their over-the-top pranks get out of hand, the boys unleash their creative superpowers by transforming Krupp into the bumbling, briefs-baring superhero, Captain Underpants! The future of Jerome Horwitz Elementary is always in jeopardy, and it's up to two prank-loving fourth graders and one goofy caped crusader to save it. What could possibly go wrong?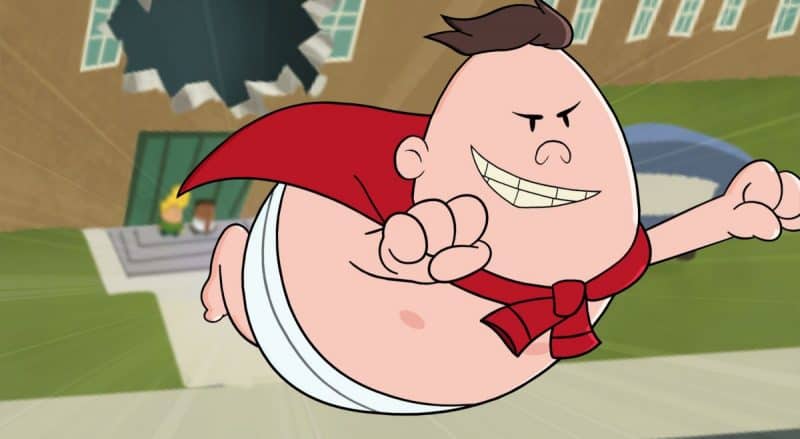 From Peabody Award and Emmy-winning executive producer Peter Hastings, the series is based on the epic novels by Dav Pilkey that have sold more than 70 million copies worldwide. Pilkey himself has praised the show saying "I binge-watched all of the episodes in one afternoon…I couldn't help myself. Peter Hastings has totally captured the craziness and heart of the Captain Underpants multiverse and I hope everybody will love the show as much as I do. Kids have been asking for more Captain Underpants books for years, and to me it feels like we are getting brand-new books— except they're animated!"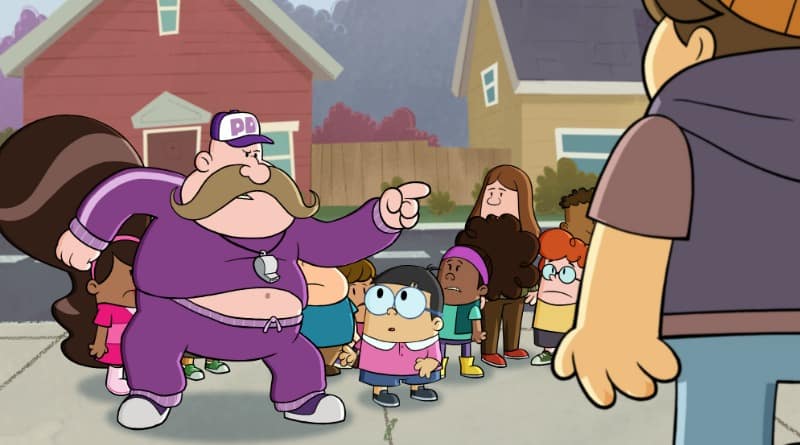 DreamWorks The Epic Tales of Captain Underpants stars both established and emerging voice talent including Sean Astin (Lord of the Rings, "Stranger Things", The Goonies) as the series' narrator, Nat Faxon ("Ben and Kate", "Married") as Captain Underpants/Mr. Krupp, as well as young actors Jay Gragnani and Ramone Hamilton who voice best pals, George Beard and Harold Hutchins. The lively cast comes together to bring Pilkey's classic, fun-filled creation to life. Below is a link to both opening credits and artwork for the release.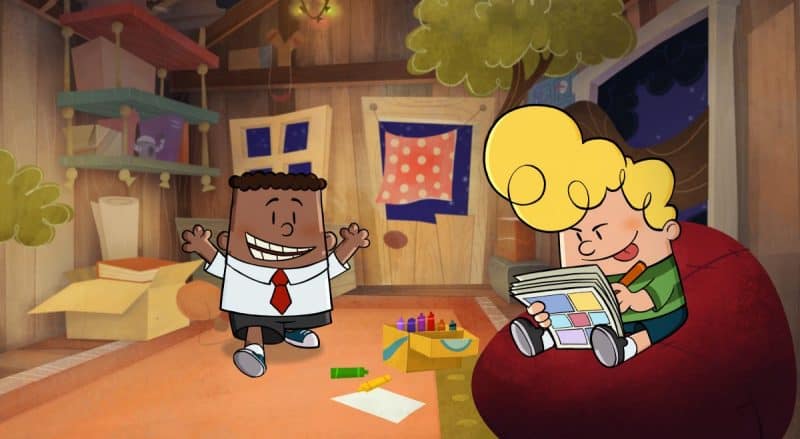 DREAMWORKS THE EPIC TALES OF CAPTAIN UNDERPANTS
From Executive Producer Peter Hastings
CAST:
Sean Astin (Lord of the Rings, "Stranger Things") as The Narrator
Nat Faxon ("Ben and Kate", "Married") as Captain Underpants/Mr. Krupp
Jay Gragnani ("Bubble Guppies") as George Beard
Ramone Hamilton ("Will & Grace") as Harold Hutchins
David Koechner (Anchorman) as Mr. Meaner
Tress MacNeille ("The Simpsons", "VeggieTales in the House") as Ms. Hurd
Laraine Newman ("DreamWorks Trollhunters")as Ms. Tara Ribble
Stephen Root ("Barry", "King of the Hill") as Mr. Morty Fyde
Jorge Diaz ("Elena of Avalor") as Melvin Sneedly
Mindy Sterling (Austin Powers) as Melvin's mom
Erica Lutrell ("Salvation", "Steven Universe") as Erica Wang
Dayci Brookshire ("Home Adventures with Tip & Oh") as Jessica Gordon
Evan Kishiyama ("Mickey and the Roadster Racers") as Steve "Gooch" Yamaguchi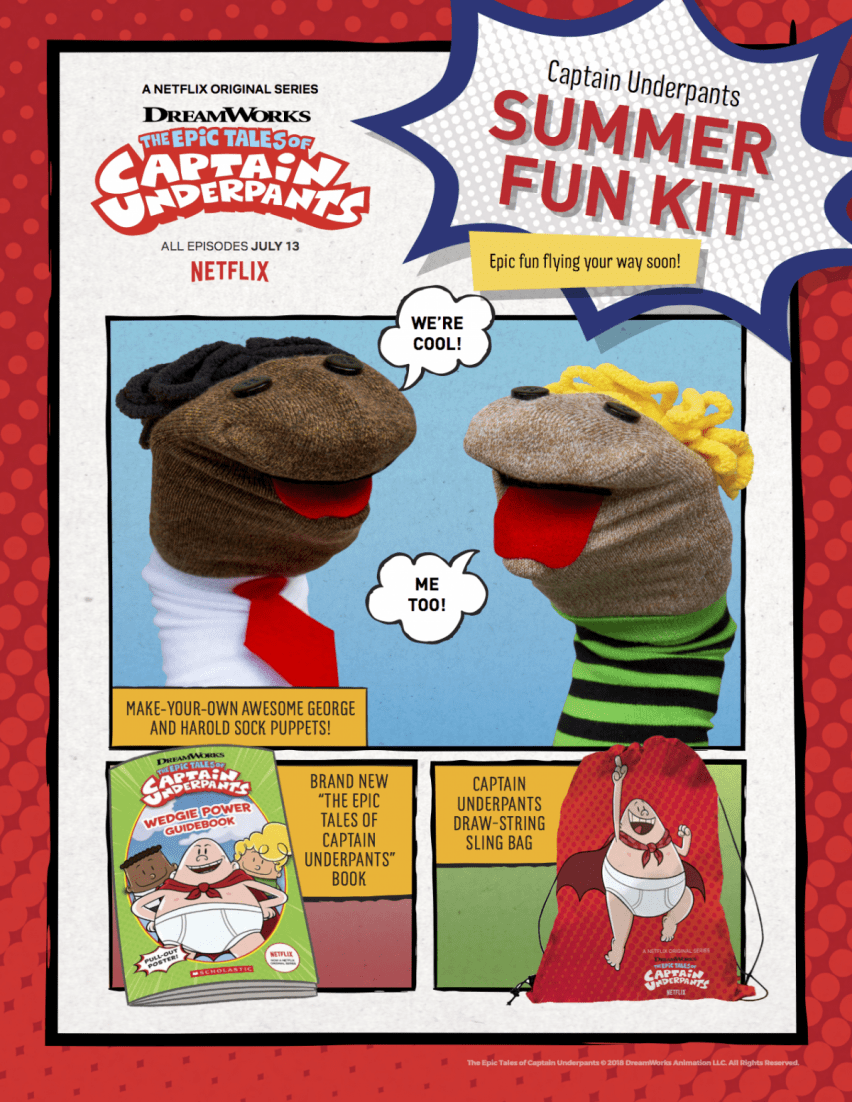 Becky
Wife, mother, grandma, blogger, all wrapped into one person, although it does not define her these are roles that are important to her. From empty nesters to living with our oldest and 2 grandchildren while our house is rebuilt after a house fire in 10/2018 my life is something new each day.