Everything You Need to Know About Styling a Lehenga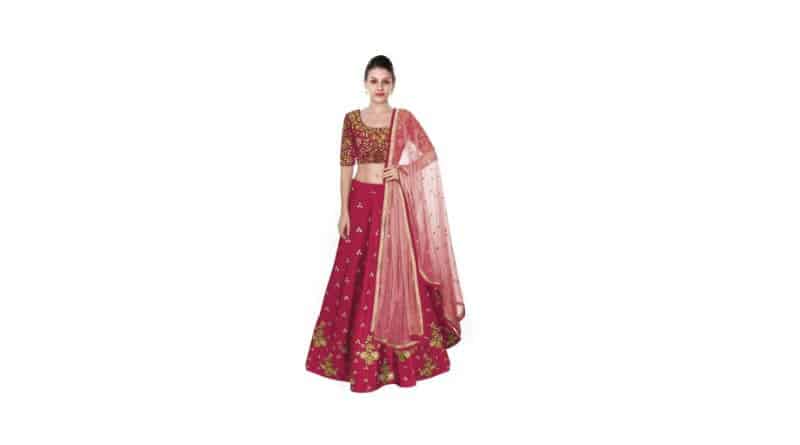 Becky
Newly middle-aged wife of 1, Mom of 3, Grandma of…
Traditionally, the lehenga was worn to weddings and religious festivals. The modern designers have changed this narrative by creating different lehenga style for every occasion. Lehenga skirts are now worn to school, work, festivals, dinner and cultural events.  The lehenga can be easy to style as long as you pair it with the right accessories
Before I let you know the best combinations of the lehenga, here are general rules when buying and styling a lehenga;
Be careful when choosing the lining
When you're buying your lehenga, check the lining to make sure it is the right color, fabric and length.  The color of the lining should complement that of your lehenga. If it happens the line shows at the hemline, a matching lining will be unnoticeable. Silk or cotton lining is good because it will feel soft on your skin. if the lining is not well stitch, it will be irritating and uncomfortable
Don't always color-match your lehenga with your top
Being matchy limits your lehenga to one style.  Switch up your style by wearing different color tops to your lehenga.  Your lehenga doesn't always have to be embroidered of have pattern. You can add some jewellery to a block lehenga and still look stylish.
Find the right -sized lehenga.
If your lehenga is too long, it will look oversized. A short lehenga will be completely different attire. Your lehenga should not be dusting the floor or floating above your ankle unless it's a festival or special occasion. It is important that you measure the size your lehenga or try it before you purchase it.
Choose the right colors and material.
A heavy lehenga can make the heat unbearable during the summer while a light one will freeze your legs. Choose cotton and wool lehenga for winter and silk, chiffon and linen to keep cool during the summer. Dark colors tend to absorb heat and can be uncomfortable during the summer.
Know when to wear jewelry
Be careful when choosing jewelry to match with your lehenga.  Dupatta is almost like jewelry when pairing it with a lehenga. Don't choose a dupatta that matches the color of the top of your lehenga. If you have jewelry or an embroidered top and lehenga, wear a block colored dupatta to keep your ensemble stylish. Avoid wearing too much jewelry with an embroidered dupatta. Wear a necklace when the top you are pairing with your lehenga is block colored.
Now that you can choose the perfect lehenga you can learn how to pair your lehenga with both ethnic and western style clothing for a sophisticated trendy look.
Lehenga kurta ensemble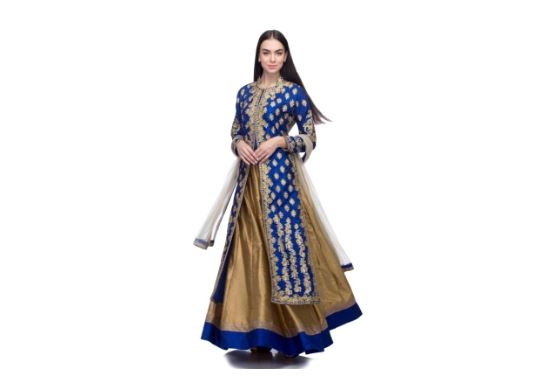 Are you looking for a modern, trendy and sophisticated look? Pair any long kurta design with your lehenga.  Center- slit cut kurta with long lehenga is good for fancy events, dinners and night parties. Keep in mind that one of the outfits should be block colored to avoid overdoing it.
Wearing a flaring kurta with the same color schemed lehenga will give your attire a classy double layer effect.  This look is traditional and can be worn to weddings and Indian festivals.
StyleCaret has the latest kurti designs that can be paired with lehenga skirts to create that modern chic look. You can style their tulip-shaped kurti with a lehenga for a stylish streetwear look.
Lehenga Choli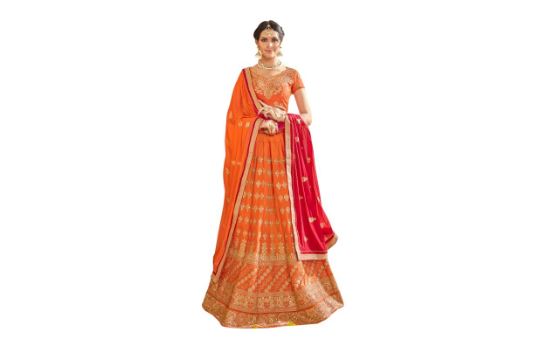 Lehenga choli is commonly worn to weddings and religious festivals. Modern times have changed the way this ensemble is designed, styles and worn. The lehenga choli can now be worn for casual, cultural and formal events.  For an old-school lehenga look, choose a heavily embroidered deep colored lehenga with a matching color choli, draped with a sheer Dupattas and some sandals.
For a modern trend, try a lehenga choli with minimal embroidery. You can find a modernly styled choli with fancy arms, cold shoulders and bare backs. This outfit is casual and can be worn to dates, festivals, dinner and social gatherings with friends. The lehenga choli ensemble has no limits. You can wear a light lehenga and long sleeved choli to work. To achieve this, you have to choose a lehenga choli with minimal embroidery and bright colors
Anarkali lehenga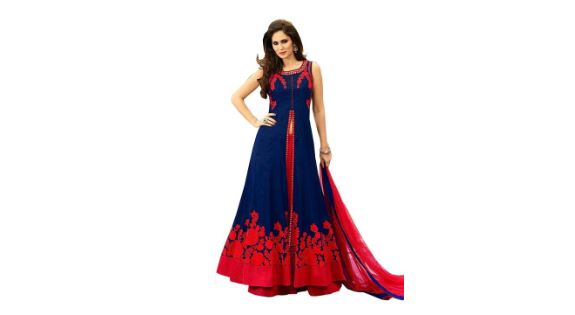 Have you tried pairing your Anarkali with a lehenga? This ensemble is really stylish and chic; you can wear it for several occasions. You can pair a long Anarkali with a wide central slit and a silk lehenga for a party look. When pairing the lehenga with Anarkali make sure the colors do not match or are not too contrasting. The best ensemble is when you pair a dull or block colored Anarkali with a bright colored lehenga. One of your outfits should be embroidered instead of both. An Anarkali lehenga pair where the Anarkali has floral patterns and embroideries is good for festivals and cultural celebrations. This outfit is respectful and trendy at the same time. Anarkali lehenga can be worn to work, college, festivals and casual events depending on the style and the colors
Crop top and lehenga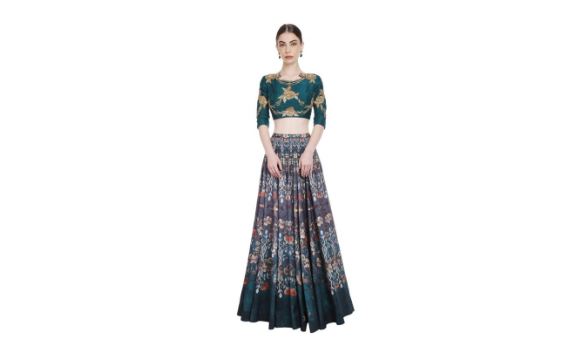 The crop top and lehenga is a western inspired ensemble. The lehenga crop top combination is popular among the young generation. A crop top is limited to occasions. You can wear it to social gatherings with your friends, dates or dinners. Crop tops are overly open and revealing compared to traditional tops for lehenga.
The cut of the crop top will determine whether the outfit is good to wear to traditional and festive events. You can wear a lehenga crop top ensemble and cover it with a poncho or cape for these kinds of events
Lehenga and fancy shoulders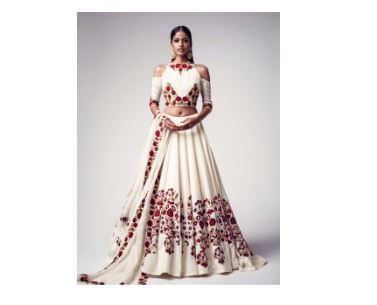 This is one combination every bold fashionista should have in their closet. Fancy shoulders are a western trend that has been in cooperated into Indian designs.
An off shoulder blouse goes well with a lehenga for social events, night outs, and dinners.  A strapless kurti with a chiffon lehenga is good for the beach, street fashion and a party night with your friends. For a fashion statement, wear a one-shoulder top with a lehenga and heels. This is a bold look you can wear to events, work parties, and modern events.
Becky
Newly middle-aged wife of 1, Mom of 3, Grandma of 2. A professional blogger who has lived in 3 places since losing her home to a house fire in October 2018 with her husband. Becky appreciates being self-employed which has allowed her to work from 'anywhere'. Life is better when you can laugh. As you can tell by her Facebook page where she keeps the humor memes going daily. Becky looks forward to the upcoming new year. It will be fun to see what 2020 holds.