Our Finding Dory Halloween Party + Movie Review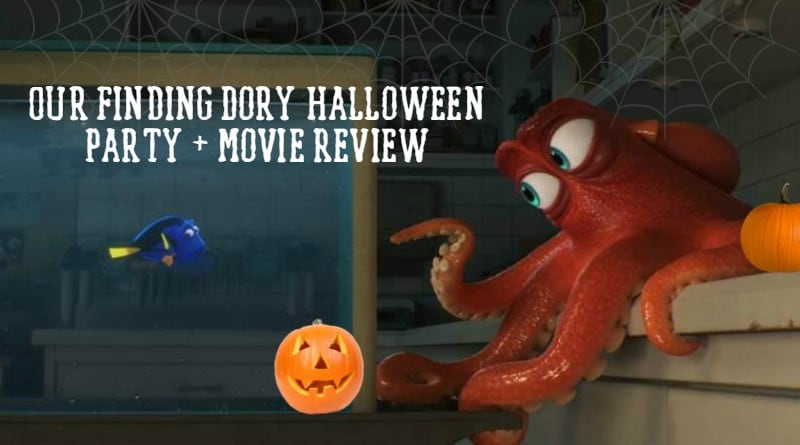 Becky
Newly middle-aged wife of 1, Mom of 3, Grandma of…
Emma, Zakary & my Finding Dory Halloween Party
Let me set the scene for you. 1 almost 6-year-old granddaughter that has waited since Finding Dory came to the theaters to see it.  Also, that same granddaughter asking Grandma Willis every time she sees her if it was out yet. Add in one busy 18-month-old grandson.  A pumpkin, snacks, a movie and then making homemade pizzas. Oh yes and only Grandma Willis is here to hold it all together and make for a fun party.
Disclosure:  I was not compensated for this post.  I did receive a copy of this DVD, party supplies and a gift card to cover my pumpkin and treats from the Disney,the opinions expressed in this post are 100% my own.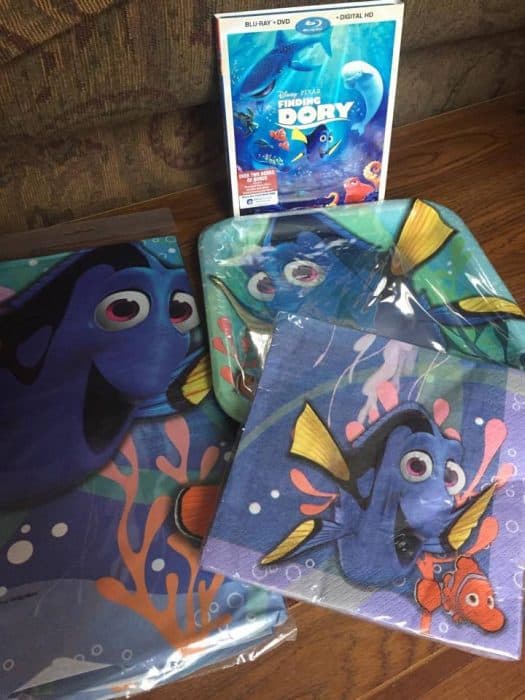 Now mind you I know parents, single parents do this all of the time, but I haven't done anything like this in a long time.  We started out our 'party' watching Finding Dory, Z did the best he could but was too busy throwing sharing his Kix cereal with our three dogs.  Emma was enjoying Pringles chips, and well Zak couldn't be left out.  Emma thought that baby Dory was ohh-so-cute.  To hear her would be cuter than me spelling it out but imagine a little high pitched voice. Zakary came in a football sleeper so we pretended he was a football player and Emma wore a dress with her "smart" Halloween glasses as she described them.
We all enjoyed the movie which I will outline more later in this post for my review.  Emma also liked Hank the Septopus, Becky the bird which she got a kick out of the fact that she has the same first name as I do. Really Emma had a love for each one of them for different reasons. So Finding Dory was most enjoyed by Emma and myself, and it did catch Zakary's eyes every so often and he would laugh when we did. Emma said that the saddest part of the movie for her was Dory being lost.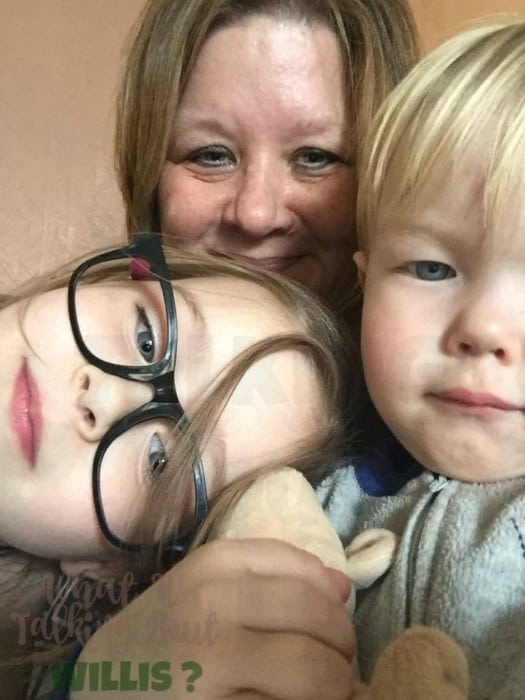 We enjoyed some selfies together after watching the movie, and Emma just loved our pumpkin.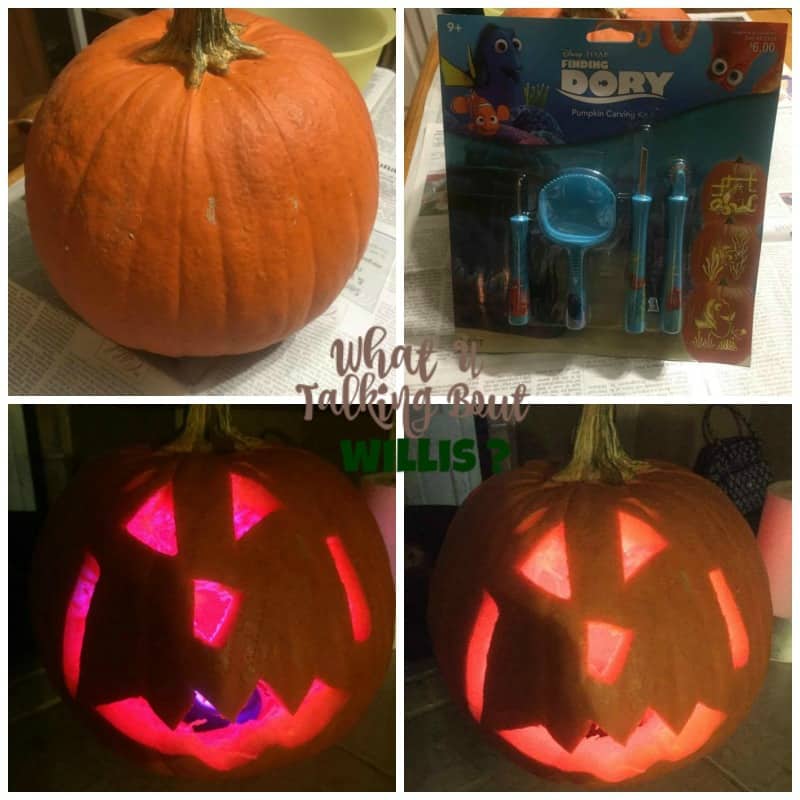 I call it my pumpkin fail because I was up until 11 the night before trying to get my Dory stencil just perfect.  I came to the realization that my pumpkin wasn't big enough before getting to all of her fins. So I went a bit out of control and just did my own  pumpkin face on the other side.  Next year I will get a larger pumpkin and try again. (stencils were included with the pumpkin utensils for carving).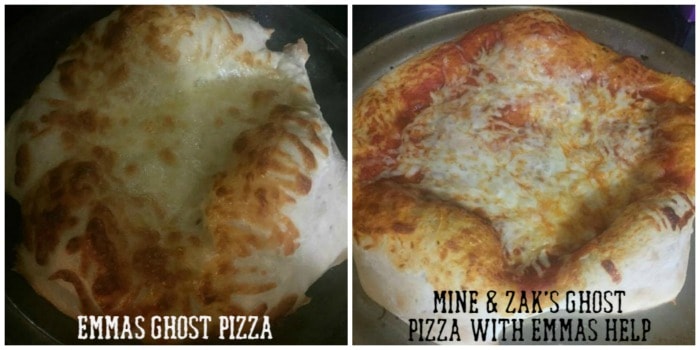 Then Emma, Zakary and I made homemade pizzas which although wasn't terrible was a little more of a challenge.  I wanted to include Zakary too so he was in charge of the shredded cheese.  Emma did a great job as she enjoys her in a pie plate and does just dough and shredded cheese. Then she helped me spread the other one out, she put the sauce on herself and then they (her and Zak) put the mozzarella cheese on.  I couldn't figure out where Zak's cheese was going until I realized it was going into his little Dorito bag.  We decided that the pizzas could be ghosts for Halloween so you can see that is how they turned out.
The pizza was yummy, Emma and Zakary as well as myself all enjoyed it.  I know possibly that isn't the best Halloween party you have ever heard of but in my defense I couldn't imagine having a Halloween Party with any other guests after enjoy it with my first two grandchildren.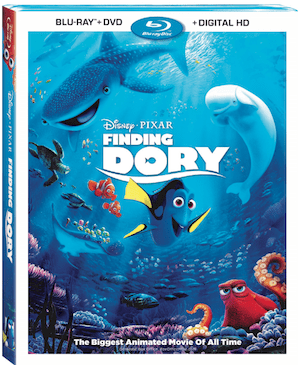 Finding Dory Review:
Thirteen years is such a long time for Nemo and his friends to get back together, but it is definitely well worth the wait.

Do you remember Finding Nemo? If not:

Nemo, an adventurous young clownfish, is unexpectedly taken from his Great Barrier Reef home to a dentist's office aquarium. It's up to his worrisome father Marlin and his friendly but forgetful regal blue tang fish Dory to bring Nemo home — meeting vegetarian sharks, surfer dude turtles, hypnotic jellyfish, hungry seagulls, and more along the way.

Rated: G

Release Date: May 30, 2003
Finding Nemo was awesome but would they be able to come close to that movie or even top it.  Well, my answer to you is YES. I will tell you though if you haven't watched 'Finding Nemo' in quite a few years, it is a great idea to watch it before seeing 'Finding Dory'.  This will just refresh you on the characters and who is who.
In this movie, it takes you back to when Dory was a little fish to kind of give you a background of how her life was before she met up with Marlin (
Nemo's Dad
) voiced by
Albert Brooks
and
Nemo
(voiced by
Hayden
Rolence).  You will get to see why they named this one Finding Dory and all of the fun that took place in doing so.
The journey is by far one of the best parts of the movie and all that goes into their experience. New characters are involved in this movie, so I will tell you a little about them.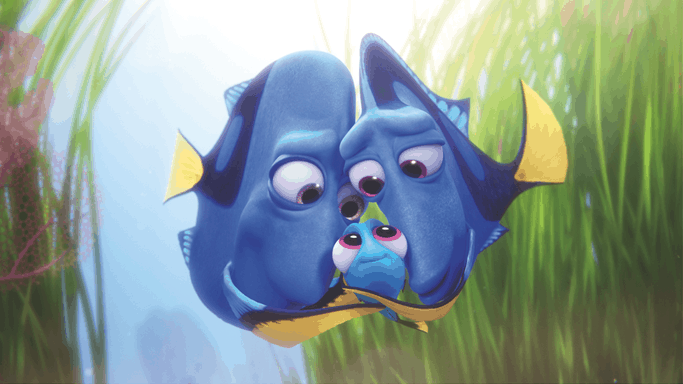 You will meet Dory's parents, Jenny and Charlie in this movie who are voiced by Diane Keaton and Eugene Levy. Dory is still voiced by the talented Ellen DeGeneres (we didn't expect anything less did we?).  Her short term memory has once again put her in a bit of a predicament which will unfold as the movie does. She does remind people that she suffers from this ailment, so it helps to make more sense.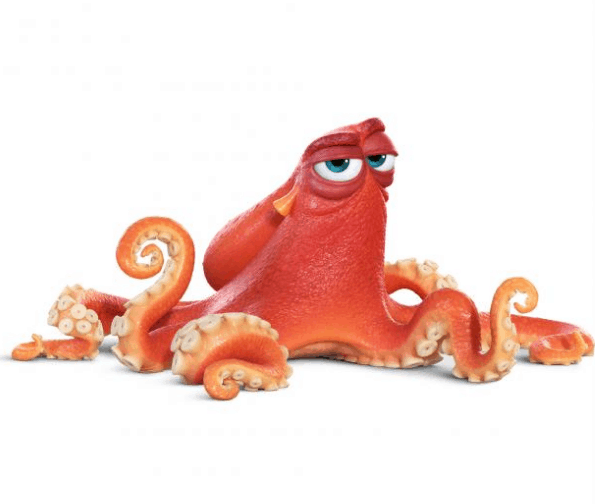 Also new to the scene is Hank, played by Ed O'Neil.  Hank is an octopus and actually one of Pixar's oldest characters, yet a new prominent character in this movie.  Hank has been Pixar's most recurring Easter Egg in all their movies since the first Toy Story! (Easter Eggs in Disney*Pixar films are characters that you might see on a shelf or somewhere in a previous movie(s)).
Other new characters that are included are Destiny who is played by Kaitlin Olsen and is a whale shark (the biggest fish in the sea). Then there is  Bailey played by Ty Burrell who is a beluga whale.  A bit on the dramatic side he also likes to push his neighbor's buttons.
I also enjoyed the two sea lions named Fluke (played by Idris Elba) and Rudder (played by Dominic West).  They do not really care too much about Dory and more about keeping their rock to sunbathe for themselves.
There is also a new character named Becky (played by Torbin Bullock). For some reason, I kind of identified with her. (insert smile).  She is an offbeat loon and you will enjoy her part in the movie, at least I did.
You will want to grab a copy for your house and for gifts as it will be a movie to love for years to come, and if you don't own Finding Nemo you can purchase it on Amazon & Finding Dory.   (This is an affiliate link meaning if you purchase from it I will receive a small commission.  This doesn't affect your purchase. I am just mentioning it for your knowledge.)
I can't wait for you to be able to share this amazing, heartfelt movie with your family/friends! It will be another Disney*Pixar movie that one day will be a classic, I am sure of it!  Just 13 more days and when asked "#haveyouseenher"? You can say YES!
Coming out on Blu-ray & DVD on November 15, 2016
Disclosure:  I was not compensated for this post.  I did receive a copy of this DVD, party supplies and a gift card to cover my pumpkin and treats from the Disney,the opinions expressed in this post are 100% my own.
Becky
Newly middle-aged wife of 1, Mom of 3, Grandma of 2. A professional blogger who has lived in 3 places since losing her home to a house fire in October 2018 with her husband. Becky appreciates being self-employed which has allowed her to work from 'anywhere'. Life is better when you can laugh. As you can tell by her Facebook page where she keeps the humor memes going daily. Becky looks forward to the upcoming new year. It will be fun to see what 2020 holds.