Finding Your Sparkle: What Jewelry Should You Wear With Your Wedding Dress?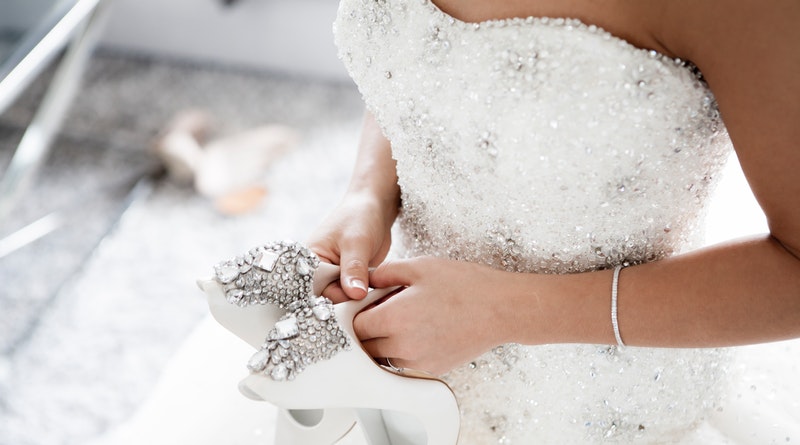 Becky
Newly middle-aged wife of 1, Mom of 3, Grandma of…
On your wedding day, you have the opportunity to wear a dress and jewelry that you will remember forever. Your dress should be the focal point of your outfit, and your jewelry should spotlight its beauty. Of course, your future spouse should pick the engagement ring she'll love, and the beautiful ring should not be outdone by other sparkling accessories. 
When you design your look for your wedding day, consider the jewelry you wear and where you wear it. The accessories you choose should never overwhelm your dress, your face, or your engagement ring. 
Jewelry that highlights your dressBefore you commit to necklaces, earrings, and bracelets, consider the style of your dress. If your dress is simple, your jewelry shouldn't overwhelm its simplicity. Often, one lovely piece of jewelry, like chandelier earrings is enough for a simple dress. On the flip side, if your dress is covered in bling, having too much sparkle might be overwhelming.
Metals that coordinateWhen you are choosing your jewelry, consider the metals. Some women love to mix metals, but with a wedding dress, too mixing metals might be too much color. Your dress should be the focal point, and you don't want to draw eyes away with gold, silver, rose gold, and more colors. Many brides will choose their jewelry metals based on their engagement ring metal. This is where House of Joppa offers a wide range to choose from.
Consider sparkling in unexpected placesYou can add sparkle in unexpected places. Some brides choose to wear jewelry around their waists in the form of a bejeweled sash. Others choose to wear tiaras or hair clips covered in pearls and rhinestones. Why not show off your hairstyle or your waist or both, if that's where you want your sparkle to be.You could also consider wearing sparkles on your feet. You can do this by wearing any type of shoes covered in sequins, glitter, or gems. You could also wear barefoot jewelry that accents your toes and ankles.
Wear removable piecesDepending on the weather during your wedding, you might want some sort of wrap, bolero, cardigan, or stolen. These are all pieces that you can put on and take off if you are feeling chilly or going outside. They are also perfect places for a gorgeous, sparkling brooch. You could also find pieces that have sparkling buttons or other closures. You could also wear gloves with rhinestone buttons for even more temporary sparkle. There are many ways you can add bling that you wear during some of your special days.
Honor your personal styleWhatever you decide to do, the most important thing is that you are true to your personal style. Most brides wear their dress and accessories through their entire wedding day. So, you should wear jewelry and accessories that are comfortable for you. Even if you want to feel like a princess on your special day, you still want to look like yourself. If you don't wear jewelry, then you do not have to wear anything other than the rings you and your soon-to-be spouse will share.
Becky
Newly middle-aged wife of 1, Mom of 3, Grandma of 2. A professional blogger who has lived in 3 places since losing her home to a house fire in October 2018 with her husband. Becky appreciates being self-employed which has allowed her to work from 'anywhere'. Life is better when you can laugh. As you can tell by her Facebook page where she keeps the humor memes going daily. Becky looks forward to the upcoming new year. It will be fun to see what 2020 holds.