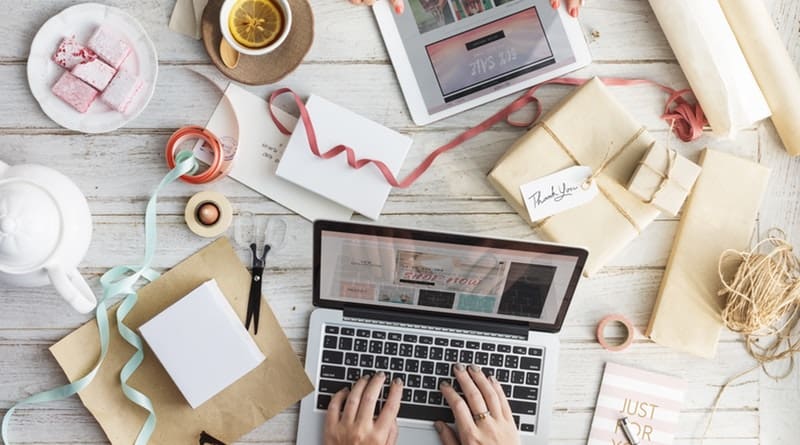 Becky
Wife, mother, grandma, blogger, all wrapped into one person, although…

Have you been thinking of Halloween decorations? I used to always wait until the last minute it seems to get my supplies for this festive occasion but not anymore. There are so many things you can do for Halloween from decorations to goodie bags and then costumes. So I found out that a great place to go is Hobby Lobby. But that is not the only thing you want to think about when finding your best Halloween supplies. Savings is what makes it even sweeter. Did you see what I did there? So how do you find your savings at Hobby Lobby? I am so glad you asked.
How Easy is it To Find Great Coupons on Dealspotr
What I found to be the easiest way to get both great savings and the best Halloween supplies is with Dealspotr. Let me tell you how to find your savings on Dealspotr.
First, you will want to click on the find stores on the left-hand side of the Dealspotr main page. I found Hobby Lobby by putting their name in the search box in the middle top area of this page.
Once I searched Hobby Lobby it came up to their page on the Dealspotr site here.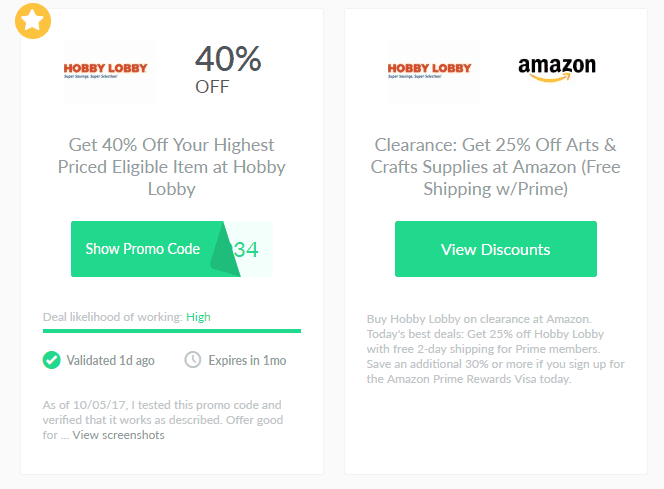 How to Use The Coupons You Find on Dealspotr
When you look at the above picture you will see 2 of the many coupons they have for Hobby Lobby. The one on the left shows you it has been Validated 1 day ago and it expires in 1 month (under the green line where it says Deal likelihood of working High). This coupon will give you 40% off your highest prices eligible item at Hobby Lobby. It also states that the person that got it to work did on 10/05/17. The yellow star up in the upper left-hand corner means that it is a featured deal.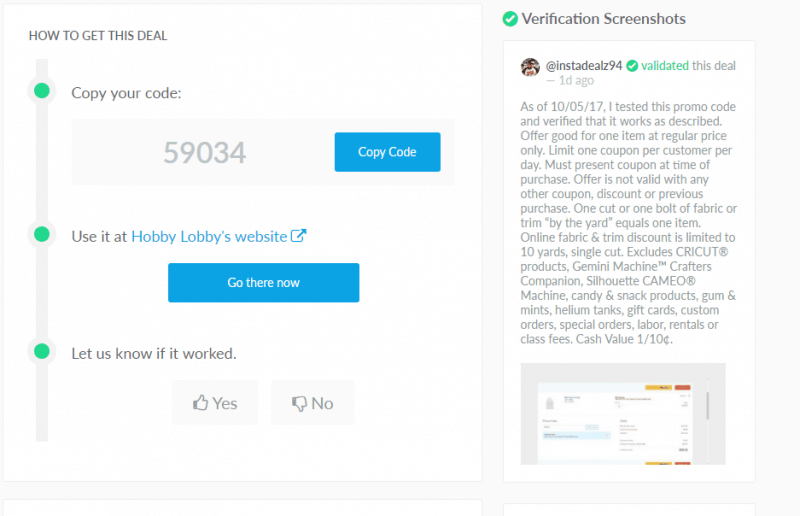 As you can see you can either use the code on their website or you can see on the right-hand side it tells you what it can be used towards and what it excludes. So I am going to go to their website to see what I can use my coupon on. Since it is for 40% off 1 item (or my most expensive item), I chose the item below. It is on sale 30% off until tomorrow so my coupon wouldn't work for that item, but when I added a kids cape set it gave me 40% off of that item. So I not only scored on my Halloween fabric I also saved money on my other item using my 40% off of my highest prices eligible item code.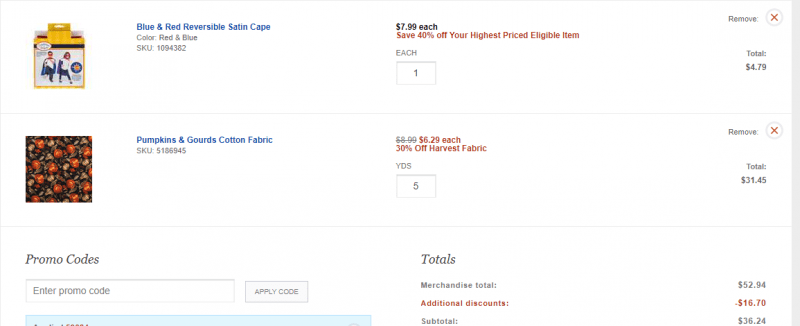 So now I will go and put that my coupon code worked on the Dealspotr website where I found the code. It asks if it works, how much I saved and on what item. So I filled all of that in and saved it so the next person will know it worked for me and on today's date.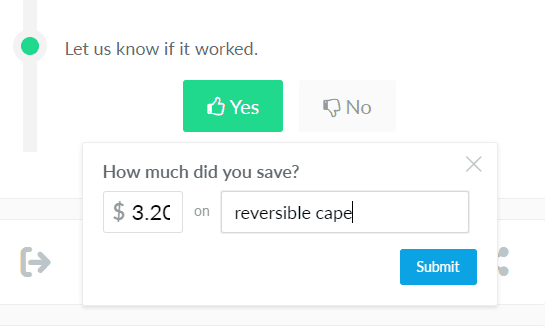 Hobby Lobby on Dealspotr
Currently, there are 52 active coupons on Dealspotr with more added each month just for Hobby Lobby. Now that I know about Dealspotr I know exactly where I will be getting my supplies for future holidays, DIY and crafting needs. Especially now that I know with Dealspotr I can get what I need and save at the same time! Instead of looking through all of the other deal sites I can save time by going right where I know I will find the best coupon codes the quickest.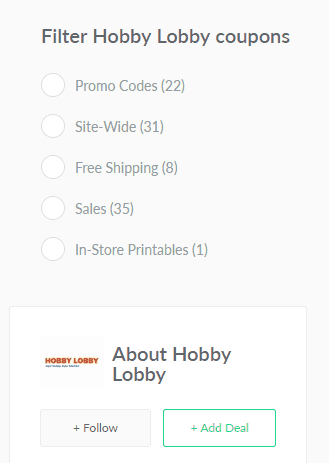 Dealspotr even helps me follow Hobby Lobby by offering a follow tab on the sidebar. It shows me just how many different coupons they have on their site for Hobby Lobby. It also puts them in categories to help me find printable coupons, sale, free shipping, site wide as well as actual promo codes. I love just how easy they make it give me the savings for the store I am using at the time.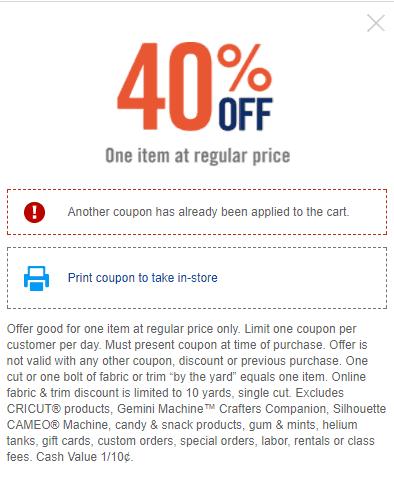 Other Ways to Find Coupons for Hobby Lobby
If you go directly to Hobby Lobby's website you will see that you can print a 40% off coupon on any one item to use in their store. It shows that I already have a coupon in my cart but I can also choose to print the coupon and take it in the store.
Hobby Lobby also offers you to print their weekly ad which shows all of the savings you can get in their store and on their website.
By joining their newsletter you will get their coupons sent right to your inbox each week as well as the weekly ad. On their website, they also offer free shipping on a certain amount from time to time so it is good to check their site if you are going to order online.
If you go to Google and search Hobby Lobby coupons you will find many sites that are offering coupons to save at Hobby Lobby. I have found that the easiest way is either to go to Dealspotr directly or to Hobby Lobby directly to find your savings the quickest.
Set Up your Own Account on Dealspotr
When you join Dealspotr you can set up your own profile. You can add your own profile picture, pick a username and if you have any social media accounts you can add those also. If you are a blogger you can add your website address too! You can follow brands and other influencers from your account.
If you are thinking about joining Dealspotr you can click my referral link here and get an extra 2,000 points upon signing up.
If you want to learn how to find coupons for stores that don't always have them by reading their expert guide to finding promo codes for stores that rarely offer them.
Follow Dealspotr on their social media channels below:
Facebook | Twitter | Pinterest | Instagram | Google + | Website
Sign up on Dealspotr you will love the savings!
Becky
Wife, mother, grandma, blogger, all wrapped into one person, although it does not define her these are roles that are important to her. From empty nesters to living with our oldest and 2 grandchildren while our house is rebuilt after a house fire in 10/2018 my life is something new each day.