Green Thumb: 7 Ways Easy Care Indoor Plants Brighten Up a Room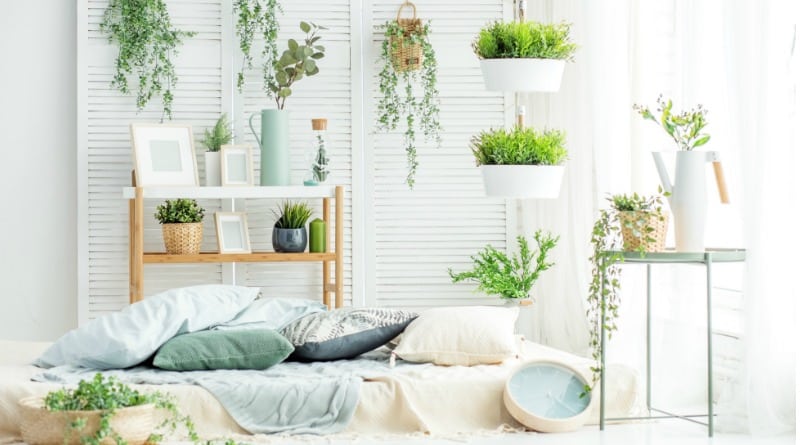 Becky
Newly middle-aged wife of 1, Mom of 3, Grandma of…
Are you looking to inject some much-needed life into your home? One of the most effective ways to do it is by incorporating easy-care indoor plants throughout it.
Whether you choose to go with simple potted plants or vertical gardens, you'll see and feel a real difference in your home when you're surrounded by houseplants. You can brighten up just about any room by working some plants into the mix.
Strategically placing easy-care indoor plants throughout your home will take a little effort on your part. But it'll be well worth it once you start experiencing the benefits of having plants around your home.
Here are seven ways that indoor plants will add life to any area of your home.
1. They're Aesthetically Pleasing
The first way in which easy-care indoor plants will brighten up a room is pretty obvious. As long as you choose the right plants, they'll serve as focal points in your room and will improve its overall appearance.
Decorating with houseplants isn't quite as simple as throwing a bunch of plants into your home and calling it a day. They'll need to be positioned in the right places in a room to maximize their aesthetic appeal.
But as long as you find the right spots to put plants, you'll love the way that a room looks once they're in place. They'll play a vital role in the interior design of your home over time.
2. They Produce Oxygen
When you place indoor plants into one of the rooms of your home, they'll use a process called photosynthesis to produce oxygen. They'll take in carbon dioxide and use energy obtained from the sun to turn it into oxygen for your home.
You obviously won't be able to see the increased oxygen in your home. But you'll feel it!
By increasing the oxygen levels in your home, you'll be able to breathe easier throughout the course of the day. You'll also love knowing that your home is filled with fresh air at all times.
3. They Improve Indoor Air Quality
Speaking of fresh air, easy-care indoor plants are known to have the ability to improve the air quality inside of a home. They do it by removing toxins from the air that could otherwise drag your indoor air quality way down.
More specifically, indoor plants have earned a reputation for eliminating volatile organic compounds from the air when they're placed inside homes. These VOCs include things like formaldehyde from rugs and cigarette smoke and trichloroethylene found in certain fibers, inks, and paints.
You can invest in an air purifier to improve your indoor air quality if you want to. But indoor plants might be able to get the job done better while improving the look of your home at the same time.
4. They Increase Humidity Levels
Does the air in your home always feel very dry? This could be because the humidity levels in your home are on the lower side.
Your home's humidity levels should sit somewhere in between 30% and 50%, if possible. It'll prevent you from encountering skin and breathing issues.
You can utilize a humidifier to add more humidity to your home if your levels are low. But you also have the option of increasing your home's humidity levels through the use of easy-care indoor plants.
Plants can make the air in your home a whole lot more humid and help you steer clear of the issues that can arise when you expose yourself to dry air all the time.
5. They Reduce Noise
If your home is always very noisy for whatever reason, you might not think that indoor plants can do much to help. But the truth is that the right plants can be hugely helpful when it comes to reducing sounds in your home.
You can make your home more pleasant and peaceful by situating easy-care indoor plants in rooms that you want to keep quiet. These plants will absorb the sounds that you would normally hear and muffle them so that they don't distract you.
6. They Put Everyone in a Better Mood
A room won't be the only thing that feels brighter when you stick easy-care indoor plants into it. You and everyone else in your home are also more likely to feel happy when you have plants scattered throughout your house.
Studies have shown that plants are capable of lifting your spirits when you're feeling down. They can also help you to concentrate and even make you a more productive person when you're surrounded by them all the time.
Indoor plants can even lower your stress levels, and who couldn't benefit from that? Consistent with paid surveys review, Americans are more stressed-out than most of the other people in the world. The remedy for this could be adding more plants to homes.
7. They Make a Room Feel Alive
There are, of course, a million and one ways to make a room in your home look amazing without adding plants to it. By painting the walls the right colors and adding the right furniture and decorative touches to a room, you can add life to it.
But nothing will make a room feel as alive as easy-care indoor plants. These plants will bring energy that you won't get from inanimate objects like chairs, tables, and all the other things that are often found in a room.
Find the Right Easy-Care Indoor Plants for Your Home
As you can see, you're making a big mistake right now if you don't have easy-care indoor plants in your home. These plants can brighten up your home in so many different ways.
Consider all the benefits of adding indoor plants to your home and then find the right plants for your space. You can transform the look of your home in a matter of hours by placing the best plants in it.
Want to see some of the other ways in which you can improve the appearance of your home? Keep browsing our blog to get more great interior design ideas.
Becky
Newly middle-aged wife of 1, Mom of 3, Grandma of 2. A professional blogger who has lived in 3 places since losing her home to a house fire in October 2018 with her husband. Becky appreciates being self-employed which has allowed her to work from 'anywhere'. Life is better when you can laugh. As you can tell by her Facebook page where she keeps the humor memes going daily. Becky looks forward to the upcoming new year. It will be fun to see what 2020 holds.