A Guide to Festival Camping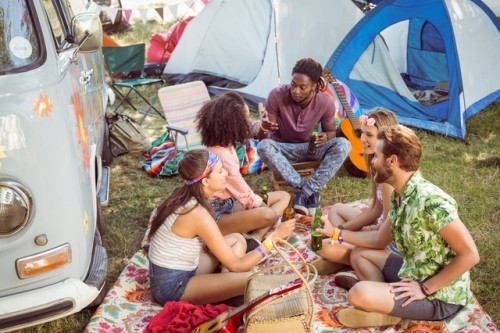 Becky
Newly middle-aged wife of 1, Mom of 3, Grandma of…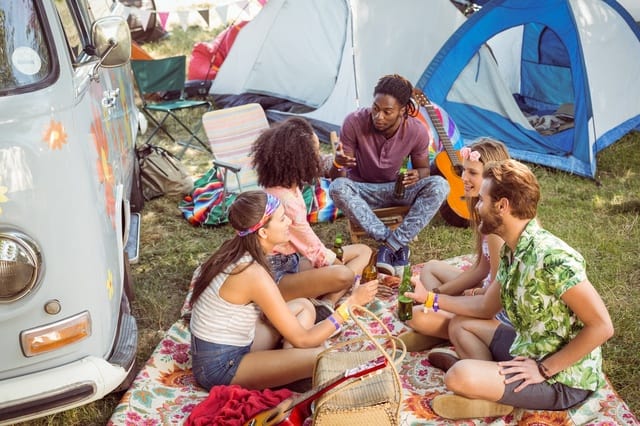 So, you're thinking of attending a music festival? That's great. It's an excellent way to unwind and have a lot of fun. The thing, however, is that festivals that are meant to be so much fun can transform into a mini-nightmare if you don't have everything you need to make it as comfortable as possible.
Most people routinely pack for a festival like they would when they would be lodging in a hotel — light and with the barest minimums. As a result, it is often very easy to be underprepared. This is why we have written this festival camping guide to help you enjoy the experience.
Packing the Right Gear
The first thing you need to do is pack the appropriate gear. Let's start with your camping equipment. Your tent should be big enough for you and whoever you're going with. As a rule, get a tent for two, even if it's just you, and one for four people if you plan to camp with another person. You need some space for your things, and this is only possible if the tent has adequate room.
You'll also need flashlights, solar powered lights/lamps, duct tape, ropes, camping poles and wellies if the music festival is happening in the spring or in an area prone to rainfalls.
Next, is your comfort. You should have both proper walking boots and sandals — if the weather will be hot. Your sleeping materials are important too, so make sure you've got a mattress you can sleep on comfortably.
This will do wonders for your sleep. Festivals sometimes have music well into the night, so bring earplugs to block out the sound if you want to get any shut-eye. Other extras you'll need are sunglasses, sunblock, and a mess kit. You can buy these sorts of things, and food, as well, at the venue itself, but they tend to be much more expensive.
Other necessities include rechargeable batteries, extra phone batteries, directions, waterproof jacket, hand sanitizer, thick socks, rubber sandals, pillow, toilet roll(s), small radio, cooling box, insect repellent creams and sprays, and blankets –in case it gets cold at night.
Also, you want to get to the location early. This will help you choose an excellent spot to settle down in. You'll want to find a little space near the bathhouses or the stage, depending on which of those things is more important to you. Bear in mind as you choose the location for your camp that you'll have to find your way back in the dark, and there could be another ten thousand tents for you to get lost in. If you plan to do this regularly, consider designing a custom flag for you and the people you're camping with. A little creativity and the flag should be able to guide anyone back that might otherwise get lost.
Never Joke About the Weather
Always take the weather into consideration — summer festivals can get a lot of rain. Even if the weather forecast says you'll have clear skies all through the weekend, remember that these are speculations at best, and they fail.
Tips on Securing Your Valuables at the Festival
Most people are upstanding individuals, but you'll always find a few unsavory elements at every festival. This is why security is essential. Sure, the organizers will typically make arrangements for the security. But the reality is the security guys cannot be everywhere at the same time. You'll have to exercise some caution, yourself. The best way to secure your valuables during the festival is to not come with any in the first place, except just the most important things. That said, if you cannot do without them, take the necessary measures to secure them:
• If you drove, use a steering lock for your steering. Install alarms and car trackers.
• Always have and wear a pouch or chest wallet where you will keep your IDs, tickets, phones, wallets, keys and cash.
• Never leave any important items in your tent.
• Be alert at night for thieving scumbags.
• Don't carry too much cash around. If you'll be going with your foods and drinks, and aren't looking to pay for everyone else's meals and drinks, you probably won't need more than $200 extra. But if you won't carry any of these, just hold an extra $100 or so, as anything at a festival is going to cost about double what it would in a store.
• Book for lockers if there are any before the festival. You can always keep your valuables there.
How to Stay Healthy at the Festival
The worst thing that can happen to you at a festival is getting sick right before your favorite band gets on stage. So, take proper care of your health while at the festival. The following tips should help you:
• During the summer, there is a real chance of heat stroke. Avoid prolonged exposure to the sun, wear SPF clothing if you can, wear bright colored clothing as they tend to reflect sun, keep your sunglasses on during the day, and apply sunblock liberally.
• Use insect repellants to keep away the creepy-crawlies.
• Avoid getting lost by using GPS devices and maps, or by making your campsite easy to spot with lights, brightly-colored tarps, or even a flag — festival grounds are huge.
• Drinking alcohol isn't enough. You need plenty of water — dehydration will be your biggest foe. If you don't like ordinary water, try sports drinks. But don't mix the liquid lunch with the summer heat.
Becky
Newly middle-aged wife of 1, Mom of 3, Grandma of 2. A professional blogger who has lived in 3 places since losing her home to a house fire in October 2018 with her husband. Becky appreciates being self-employed which has allowed her to work from 'anywhere'. Life is better when you can laugh. As you can tell by her Facebook page where she keeps the humor memes going daily. Becky looks forward to the upcoming new year. It will be fun to see what 2020 holds.