Hempland USA -Learn More About What They Are Offering
Becky
Newly middle-aged wife of 1, Mom of 3, Grandma of…
Disclosure: I received products from Hempland USA in order to facilitate my review and post. All opinions are my own and not influenced by receiving these products. Also, this post will contain affiliate links from Hempland USA which means if you purchase via these links I will receive a small compensation from your purchase at no extra cost to you.
Since 2014 HempLand® USA has proudly produced the highest-quality CBD hemp oil products on the market!
HempLand USA was founded in 2014 at the very beginning of the CBD movement by Richard Waggoner. He is not only the CEO but also the President of his company. Back in 2014, few people were even aware of CBD's existence. After spending 35 years in the nutritional supplement industry, learning about what CBD does to support the body's endocannabinoid system was an eye-opening experience and the research he began to pour over was amazing.
My First Experience with CBD Oil
When I first tried CBD oil this past fall I was all excited from what I have heard from others regarding the positive outcomes. I was disappointed, to say the least. It was not from Hempland USA, and now I see that not all oils are equal. I have experienced problems with sleeping since my early 30s. Also at that time I endured issues with my neck and low back and was later diagnosed with DDD (degenerative disc disease) of my neck and lower back. After over 10 years of seeking the help of a chiropractor, who did, in fact, help me originally, I found he could only make me comfortable. There was no fix for my health issues. I have tried many different topicals, patches, and over the counter medications without much relief. For me, pain is a daily happening.

When I received my products from Hempland USA inside were:
I have not tried the restorative cream yet but I will be doing that this week.
Cannabitol® Full-Spectrum Hemp CBD Oil
I have tried the Cannabitol Full-Spectrum Hemp CBD Oil-Enhanced with ECS5™ 500mg for 2 nights in a row now before bed. I see a positive difference from the last time I tried this type of oil. I am not laying awake as long waiting to fall asleep, and I don't feel off when I wake up in the morning.
It does have a mint-like taste to it and does make my lips a little numb right after taking it. But both go away not too long after taking it.
Cannabitol® Therapeutic Cream 350mg
The first time we tried this was when my husband tripped the other night and hit his elbow hard on a door casing. He was in pain and tried icing first. So when I talked him into trying this therapeutic cream he was willing to check it out. Within a couple of minutes or less of putting it on the bruised and sore area of his elbow, he felt instant relief.
He was not only impressed with the effectiveness but liked that it didn't smell like a displeasing scent. Not too overpowering but just enough to know it was on you.
Today I was having issues with my left hip area which usually do not start till later in the afternoon. So I put a small amount on the area that was hurting and instantly I felt a coolness. I found the Cannabitol Therapeutic Cream to be helpful in easing my pain.
CANNABITOL® Restorative Cream 500mg
Even though I haven't tried this yet, I still wanted to tell you about this cream.
The amazing natural constituents of hemp (over a hundred phytochemicals, omega fatty acids, and micro-nutrients) can deliver real skincare benefits. This cream is to be used on your face and neck skin. It is:
Paraben-Free
Made in the USA
Gluten-Free
No Animal Testing
Non-GMO
Naturally-Derived
No Artificial Coloring
To see all of the products that Hempland USA offers hop on over to their website.
Sign up for Hempland USA's email newsletter and take 10% off your first purchase! Shop now!
You can visit their social media also:
Facebook | Twitter | Pinterest | Instagram | LinkedIn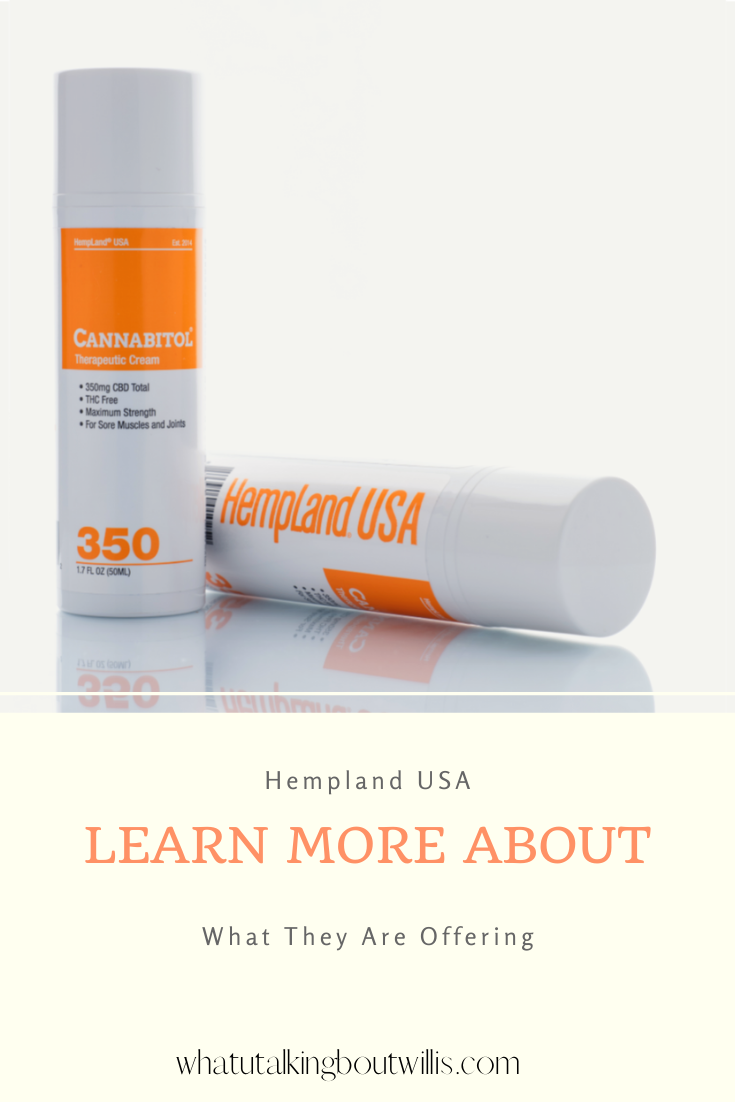 Becky
Newly middle-aged wife of 1, Mom of 3, Grandma of 2. A professional blogger who has lived in 3 places since losing her home to a house fire in October 2018 with her husband. Becky appreciates being self-employed which has allowed her to work from 'anywhere'. Life is better when you can laugh. As you can tell by her Facebook page where she keeps the humor memes going daily. Becky looks forward to the upcoming new year. It will be fun to see what 2020 holds.