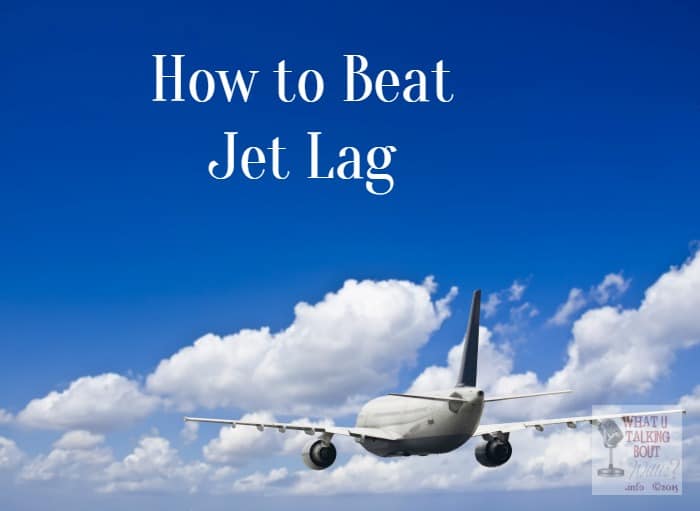 Becky
Newly middle-aged wife of 1, Mom of 3, Grandma of…

How to Beat Jet Lag
Planning a big trip? Here's how you can beat jet lag and stay fresh even when in a brand new time zone.
1. Create a sleep schedule with Jetlag Rooster. You'll figure out how much to sleep and when to sleep on the days leading up to and during your trip. Setup this schedule at the same time that you search for affordable hotels in Singapore.

2. Adjust your sleep schedule from home. Before your trip, start making gradual adjustments, such as changing your bedtime by one hour each day for at least three days before you leave.
3. Purchase low-dose melatonin, which can help you get to sleep quickly. Just don't take more than the recommended amount. Too much melatonin can mess up your sleep schedule. Plus, you'll feel groggy the next day, which makes it difficult to explore a new area.
4. Avoid drinking alcohol on the plane, but do drink plenty of water. While alcohol may help you sleep, it will affect the quality of your sleep. Dehydration also makes jet lag worse, which is why you should drink plenty of water.
5. Plan your first day in the new time zone. If it's the middle of the day at your destination, jump into the day instead of going to bed because you're tired. If it's nighttime, go to bed at a normal time for your new time zone. This is when that melatonin can help you get to sleep faster.
6. The first morning at your new locale, wake up to natural sunlight instead of an alarm. This will help get your natural rhythm on track. Turn your alarm clock off and keep the shades open. You may even get an early start!
7. Workout your first day, even if it's just going for a brisk walk in your new setting. The endorphins will help you fight off grogginess.
8. Eat on a regular schedule. This will help keep your energy high while you adapt to local time. Avoid airline food if it's not being served on a regular schedule.
Some people have such terrible jet lag that they can't enjoy a majority of their trip. With the right planning and scheduling, you can limit the signs of jet lag and start enjoying your vacation from the moment you land.
Becky
Newly middle-aged wife of 1, Mom of 3, Grandma of 2. A professional blogger who has lived in 3 places since losing her home to a house fire in October 2018 with her husband. Becky appreciates being self-employed which has allowed her to work from 'anywhere'. Life is better when you can laugh. As you can tell by her Facebook page where she keeps the humor memes going daily. Becky looks forward to the upcoming new year. It will be fun to see what 2020 holds.