How to Choose the Right Pot and Pan Set For You
Deepak
Deepak is a lover of nature and all things sporty.…
Your kitchen is your sanctuary for making delicious meals that fill you up and fuel you to go about your day. Of course, you want the best for your kitchen, from ingredients to the top of line hardware. One of the most important parts of any kitchen is having a pot and pan set that suits your cooking style and needs. But how do you choose a pot and pan that's perfect for you?
From the number of folks you're feeding to having the right dishware for your favorite meals, we're breaking down tips and tricks to help you find the right pot and pan set that will make your kitchen dreams a reality.
Consider How Many People You're Cooking For
A great way to begin the process of searching for a new pot and pan set is to take into consideration how many people you're cooking for on a regular basis. From there, you can decide how large and intricate a cookware set you'll need.
For instance, if you live alone and are typically only cooking for one, you'll probably be able to get away with a simple, standard pot and pan set, with one pot to boil single servings of pasta and soups and one pan to sizzle up tasty meats and veggies. On the other hand, if you live with multiple roommates or have a family to cook for, you'll probably want to get a larger set so you have the ability to cook more at once.
Make Sure Your Cookware Accommodates Your Favorite Meals
Another key thing to think about when choosing a pot and pan set is whether or not it includes pots and pans that can accommodate your favorite meals. For instance, if you love to whip up tasty stir fry throughout the week, you're going to want to have a wok pan to easily sauteé veggies and your meat of choice. Plus, you'll want a smaller pot you can have on the stove as well to cook some rice as a side.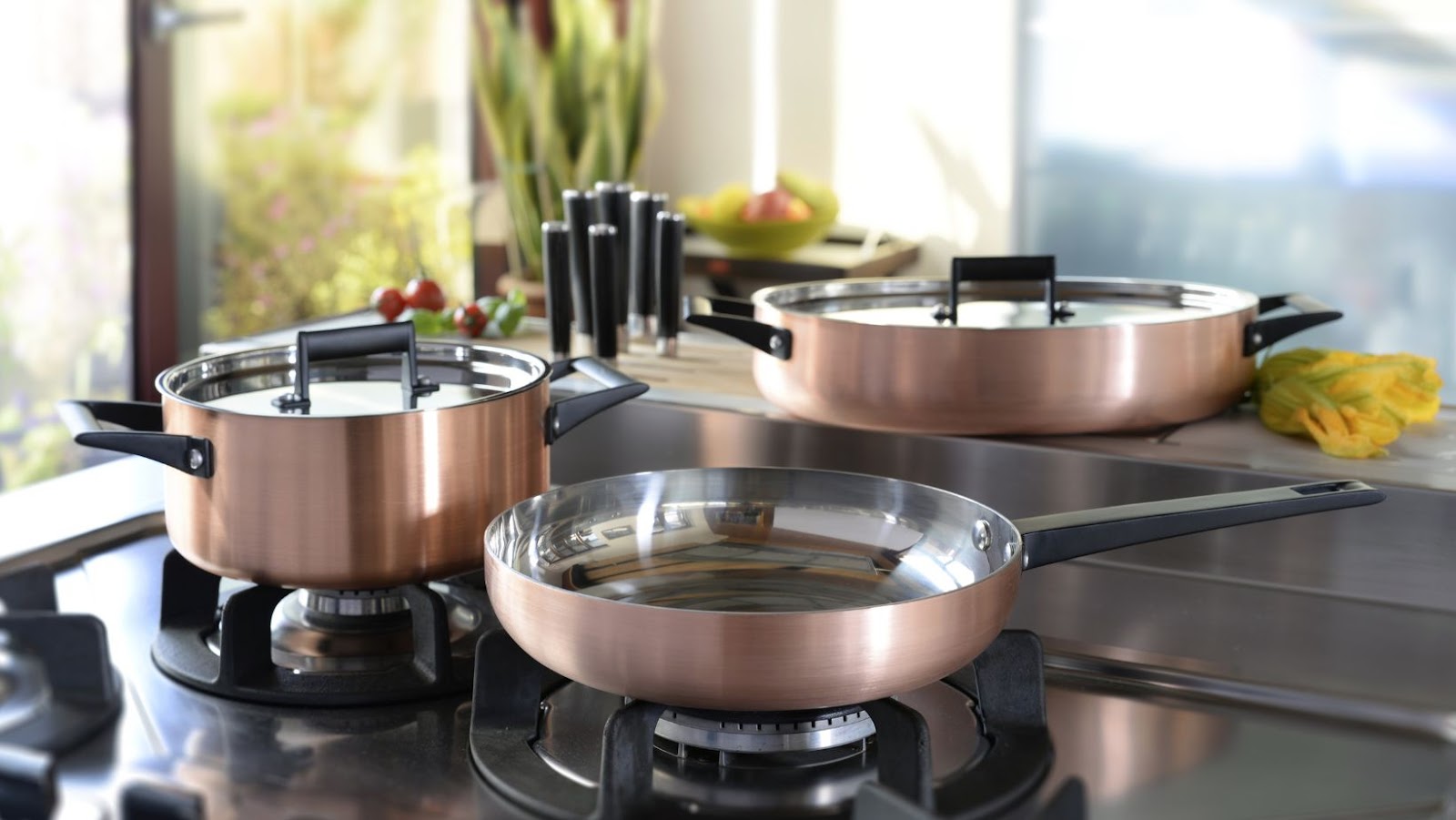 Or maybe you're a pasta aficionado who goes so far as to make their own spaghetti from scratch. In that case, you'd need a perfect pot to cook your pasta in until it reaches its perfect al dente texture. You'll also want a good-sized pot for simmering your grandma's super secret family sauce recipe. (We won't ask you for the recipe…but we're dying to know what's in there). Large pasta pots can also be great for making batches of homemade soup or stews for the winter months.
Even if you're a novice cook who doesn't have any go-to signature dishes yet, you may want to buy a set with pots and pans like the ones mentioned above, so you'll have the ability to make new, more elaborate dishes in the future. Why not get a pot and pan set for the star chef you're bound to become?
Nonstick Is the Way to Go
When looking for a new pot and pan set, it's best to stay up to date with the latest cookware technology. Nonstick cookware has become incredibly popular in the past few years, and with good reason. Pots and pans with nonstick coating allow you to cook with less butter and oil, and your food is less likely to stick to the pan during and after cooking.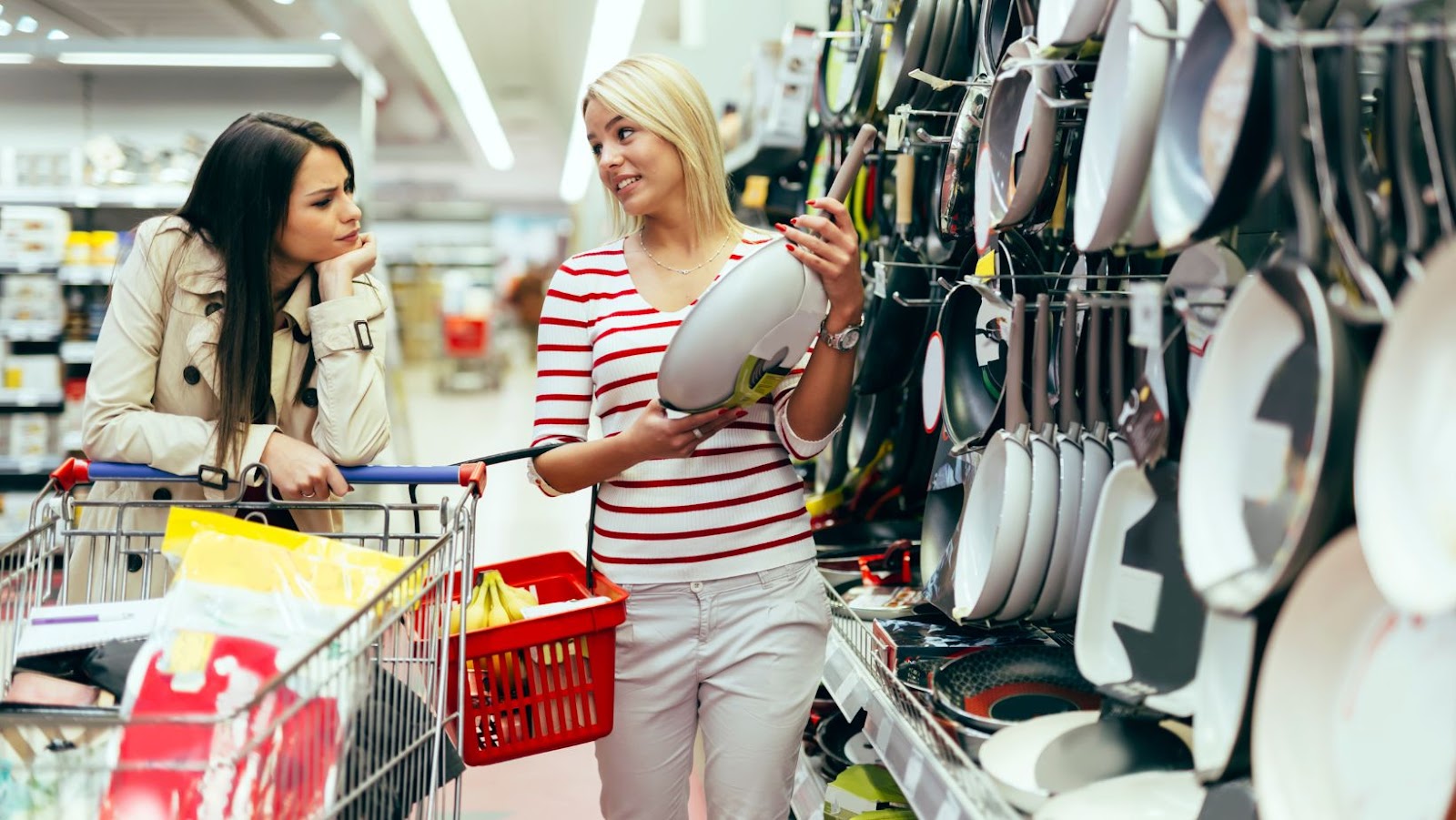 On top of this, some stellar pot and pan sets have hybrid forms of nonstick coating, which combine traditional nonstick with layers of stainless steel to prevent wear and tear. Other popular non-stick options are ceramic pots and pans, which are nonstick due to their material rather than a nonstick coating. However, these types of nonstick pans are typically not dishwasher safe and may require a little more cleaning than other hybrid nonstick cookware options.
Additional Factors to Consider
You'll also want to make sure that your nonstick pots and pans are metal utensil safe, so you can use metal cooking utensils without fear of scraping the interior of your new cookware.
On top of this, you'll want to be sure that your pot and pan set can be used on your specific type of stove, as magnetic induction stovetops can have specific regulations for the types of cookware you're able to use with them.
In Conclusion
When looking for a new pot and pan set, you want to make sure you're buying one that perfectly fits your kitchen and cooking needs. Consider how much food and how many people you feed when cooking a traditional meal to get the right amount of cookware, think about what specialty pots and pans you might need to create your favorite dishes, and opt for nonstick pots and pans to do cooking and cleaning a breeze. With the right pot and pan set, anything's possible in your kitchen.
Deepak
Deepak is a lover of nature and all things sporty. He loves to spend time outdoors, surrounded by the beauty of the natural world. Whether he's hiking, biking, or camping, Deepak enjoys being active and in touch with nature. He also loves to compete and push himself to his limits. Deepak is an avid cyclist, runner, and swimmer. He has competed in several triathlons and marathons, and is always looking for new challenges to take on.