How To Get Your Bedroom Lighting Right!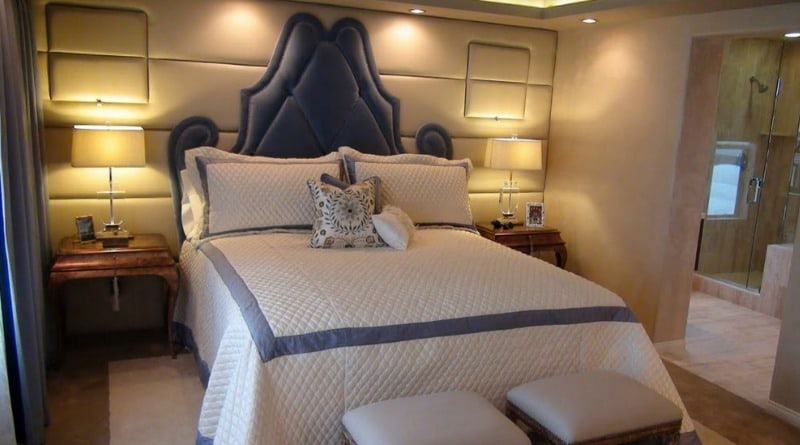 Becky
Newly middle-aged wife of 1, Mom of 3, Grandma of…
Whether it's sleeping, reading, or watching TV, your bedroom is where you go for comfort, peace, and relaxation. That's why your bedroom lighting design is important. If you're looking for a light that is functional or aesthetically pleasing, lighting layers will accomplish those goals. Drawing up a blueprint is the first step towards achieving your ideal bedroom lighting. Once you have your layout and know the type of lighting you'll need, you'll be able to pick fixtures that will suit your lighting needs.
Lighting Layers
There are three kinds of layers in lighting design; ambient, accent, and task. The foundation of bedroom lighting design is ambient lighting. If you'd like, you can combine ambient lighting with natural lighting for a softer glow. Not only will it illuminate the whole room, but it will also reduce the harshness of the other lights. However, only use bright illumination when you need it. If you want to read, groom, or have an office space in your bedroom for work, then stay away from ambient lighting. Instead, opt for task lighting which provides bright light for the specific area you'll be performing tasks. Desk lamps, table lamps, and wall sconces on each side above the bed work best for reading. You can choose to put swing-arm lights next to your bed to replace table lamps and free up space. Add some fun and flair with eye-catching shapes and colors. The last lighting layer is accent lighting. Create a focal point or highlight any feature with a warm inviting glow. Try wall sconces, tape lights, and recessed lighting for visual appeal.
Planning Lighting Design
It's extremely important to draw up a plan to scale so that your lighting fits the space. For example, you need about 7 feet from the bottom of the chandelier to the floor. Bedroom lighting design will require multiple sources of light, such as ceiling fans for general lighting and wall sconces for accent. Enhance your room's decor by using fixtures with different shapes and patterns. To achieve optimal lighting for reading in bed, put 20 inches of space between the bottom of the lampshade and the top of the mattress. Try not to have lampshades that are dark to avoid a gloomy atmosphere. Create a dramatic effect by using low sconces that will wash the walls with light and install dual switches for convenience when entering the room and going to bed.
Types of Fixtures
Think about the purpose of your fixtures and the layout of your bedroom. Measure your bedroom know the size and height of your ceiling. Because there are many types of fixtures, you will have to find one that best compliments your room. Ask yourself whether you prefer traditional or modern, what layers work for your bedroom, and which sizes are proportional to space.
Flush-mount ceiling fixtures
These fixtures are usually covered with decorative glass or a plastic bowl-shaped cover and are fixed onto the ceiling. Flush-mount ceiling fixtures come in simple styles or can be ornate. Make sure the fixture size provides ample light for the size of your room. If you have a ceiling of 8ft or less, then flush-mounts are the best option. Prevent glare and get one that is covered, preferably frosted or marbled to tone down the brightness.
Semi-flush-mount ceiling fixtures
Unlike flush-mount ceiling fixtures, semi-flush-mount ceiling fixtures hang a few inches from the ceiling and are normally decorative. Keep in mind that they usually have an open-bottom, which will produce some harsh lighting. Install them on ceilings that are at least 10ft high. Large rooms will need large fixtures which is why it's critical to draw your bedroom layout. If you decide to hang them over your nightstand, a minimum of 12 inches and maximum of 22 inches between the bottom of the pendant and the nightstand is needed. Or place the fixture near the center of the room for ambient lighting.
Chandeliers
Add elegance and glamour with a chandelier in your bedroom. Your fixture shouldn't exceed 20 inches in diameter if your bedroom is small. If you have a large bedroom, 30 inches is your maximum. These lighting fixtures have many styles to choose from. You can go with traditional to modern to art deco. Chandeliers provide bright illumination so make sure to get one with diffused light and hang it in the center of the room.
Ceiling fans
Some ceiling fans come with a light kit, so you can illuminate and control the temperature of the room at the same time! Again, stay away from direct light and install one that is frosted or has white opaque glass and has bowl-covered bulbs. These fixtures can be flush-mount, semi-flush-mount, or hang a foot or more like chandeliers or pendants which means your ceiling must be high.
Recessed lighting
Recessed fixtures work well as overhead lighting for large or walk-in closets, and large rooms with other ceiling fixtures. They give the illusion that a ceiling is higher, making your bedroom seem bigger! Define a reading area by directing the light towards space or position them around the perimeter of your bedroom to brighten up the whole space.
Track lighting
Another light suitable for walk-in closets is track lighting. This fixture is attached to a metal track on your ceiling or wall and can be repositioned toward the area you want to light. Track lighting is also very versatile because it can provide both accent and general lighting for your bedroom. Track lights fit perfectly in modern bedrooms with high ceilings.
Wall sconces
Place wall sconces on either side of your bed or on your wall with adjustable swing-arms. These arms work well for directing light and save space that a lamp would take up. However, get ones with shades or covers to prevent brightness. While you typically install them about 4-6 inches away from the headboard and 2ft above the mattress, you can work with the spacing to your desire.
Floor lamps
Floor lamps are exactly what the name suggests and are placed on the floor. By focusing the light downwards, floor lamps work as bedside lighting. However, use a floor lamp with an upwards-facing bulb if you'd like to brighten the room a bit. Be sure to get one with an adjustable head for repositioning. These fixtures are perfect if your bedroom doesn't have ceiling fixtures. If your bedroom is large, then use two fixtures rather than one. Or add more room by replacing a nightstand with a floor lamp. These lighting fixtures are 3-6ft tall.
Bedside lamps
If you're looking to brighten and bring flair to your room, then consider an eye-catching lampshade for your fixture. Lamps with 3-way bulbs are universal in that you can use them as task lighting in case you want to read in bed or choose to dim it for a calming and cozy mood. Your beside lamp should be a couple inches taller than your nightstand for comfortable reading light. Make sure you place a switch close enough for you to reach.
Remember, putting together the perfect lighting design for your bedroom will require you to know the lighting layers, what function they serve, and what visual effects they produce. It's critical to create a detailed plan of your lighting design by drawing a blueprint for accuracy. Make sure the fixtures match the style of your bedroom and are in proportion to space. Also, the size of a fixture plays a huge factor in whether it will work with the space of your room. Position them properly to prevent bright spots and make sure the dark spots are illuminated. There are many fixtures to choose from so do your research on their uses, sizes, and placement. You will be able to achieve the ideal lighting design that may make you never want to leave your bedroom!
Becky
Newly middle-aged wife of 1, Mom of 3, Grandma of 2. A professional blogger who has lived in 3 places since losing her home to a house fire in October 2018 with her husband. Becky appreciates being self-employed which has allowed her to work from 'anywhere'. Life is better when you can laugh. As you can tell by her Facebook page where she keeps the humor memes going daily. Becky looks forward to the upcoming new year. It will be fun to see what 2020 holds.