How To Look Great In Just A T-Shirt and Jeans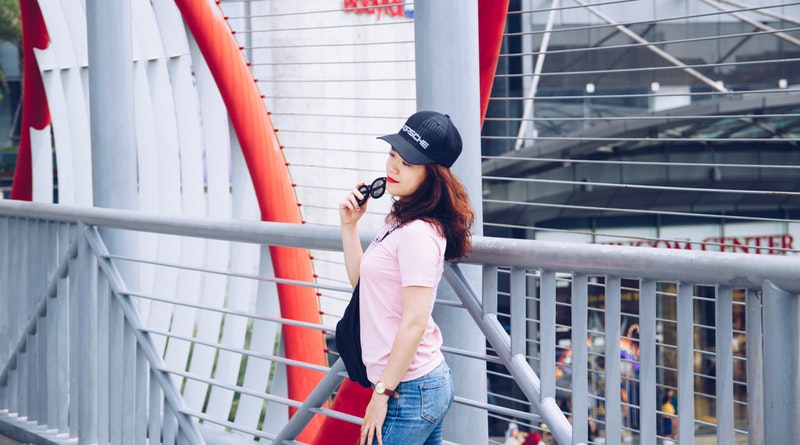 Becky
Newly middle-aged wife of 1, Mom of 3, Grandma of…
You simply can't have enough of the classic and sporty T-shirt and jeans. That is if you know how to spruce it up! At Hush Style, you can find the perfect pieces and accessories to pair with this ensemble. The essential style elements of the T-shirt and jeans combi make women put them on like a comfy daytime outfit. However, not many of these gals know that they can dress up the tee and jeans to look splendid for any occasion. Here are some tips about how to look great in just a T-shirt and jeans.
Wearing a patterned coat over it works. Fashion editors suggest this style trick when it comes to dressing up a basic outfit. It means using an attractive coat to layer on top of it. If, for instance, you're sporting basic skinny jeans along with a white tee, you can layer it with a long plaid coat to make it street-style chic. What if you're going to the office or meeting your trendy friends for brunch? You can look sophisticated by wearing a classic checkered coat above it, feeling playful? You can tog up your tee and jeans with a patterned jacket with polka dots or floral print.
Accessorize with high-quality pieces. Here, you don't have to be fussy in adding up layers of clothing to the fundamental tee, and jeans get up. On warmer days when you want to bare your arms and ankles, you can upgrade your outfit by totting it up with designer accessories. These can be a modish black leather bag or hip designer sunglasses. Add trendy footwear, too, and it is apt to make you look expensive from top to bottom. This is what makes a splendid "rich girl on the weekend" style.
Upgrade your office look with a tweed jacket. On those days when your office is denim-friendly, improve your basic look with a pulled-up together style. Be chic on your meeting by sporting your white tee and high-waisted jeans with a short tweed jacket. This outfit is fantastically unfussy. Wear high-quality accessories with it, such as a statement necklace or a fabulous silk scarf on your neck.
High Waist Skinny Jeans look sexy. This trend goes strong still for women, especially as it flatters almost all body types. If you're a bit larger, high-waist skinny jeans can smooth your curves. Straighter figures get virtual bends with this piece as well. The basic look is added with instant style, particularly if you tuck your shirt in to obtain the optimal figure perks of the high waisted jeans. A modish coverage can be incorporated by wearing a jacket, along with a leather clutch purse and nude heels.
Sport a long cardigan over your outfit. Casual as it may seem, but this ensemble is stylish whether you're running an errand or picking up your kids. Perk up your distressed jeans and white tee by layering with a long camel cardigan. Carry an eye-catching leather bag, too. Other than giving you supreme comfort, this get-up works for any season and flatters your figure.
With a few but splendid enhancements, you can look great with your basic jeans and tee on!
Becky
Newly middle-aged wife of 1, Mom of 3, Grandma of 2. A professional blogger who has lived in 3 places since losing her home to a house fire in October 2018 with her husband. Becky appreciates being self-employed which has allowed her to work from 'anywhere'. Life is better when you can laugh. As you can tell by her Facebook page where she keeps the humor memes going daily. Becky looks forward to the upcoming new year. It will be fun to see what 2020 holds.