How to Manage Your Landscape in a Wet Environment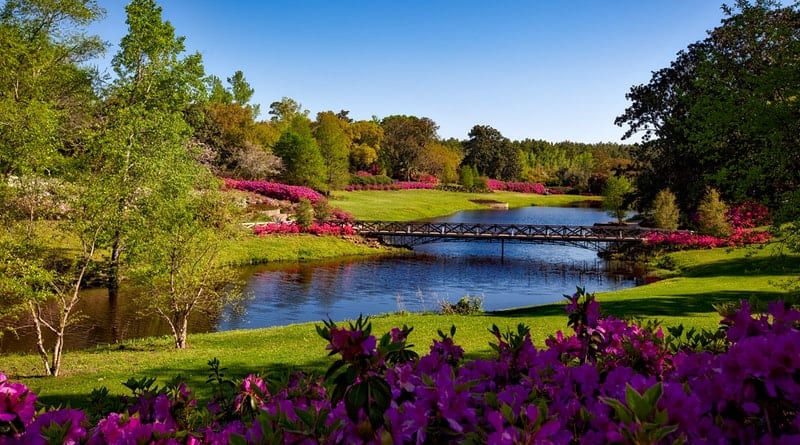 Becky
Newly middle-aged wife of 1, Mom of 3, Grandma of…
Landscaping is one of the most effective home outdoors improvement techniques. The best landscaping ideas can transform your otherwise bland compound into a beauty. However, many homeowners struggle to maintain their landscapes in wet areas.
The increasing precipitation across most parts of the country makes things worse if you want to maintain a pristine landscape. The wet soil and water runoff can ruin the best-designed landscaping. This necessitates innovative ideas highlighted here to deal with the conditions.
Problems with Landscaping in Wet Areas
On average, households in the country have spent $503 in 2019 on lawn maintenance and other gardening activities. Wet conditions and increasing precipitation make it hard to enjoy the results of such investment. Some of the problems you will encounter due to wet conditions include:
Poor access: It is not easy to access all parts of your property due to water flooding. This can lead to neglect and hence deterioration of such sections of your landscaping.

Health hazard: Stagnant water around your property is a health hazard and requires immediate draining. It can harbor disease-carrying vectors such as mosquitoes, among others and these can cause serious diseases.

Soil pollution: Water runoff and accumulated water in boggy areas can lead to a high concentration of

salts and contaminants which makes things worse for your plants.

Poor plant growth: Wet conditions can hamper the growth of beautiful plants that you want in your yard.

Poor aesthetics: Floodwater, swampy areas and other wet conditions on your property are an eyesore. This diminishes the value of your beautiful home and ruins the curb appeal.
Smart Solutions for Water Problems in Landscaping
After investing heavily in your dream home, the last thing you want is a sodden landscape to ruin it all. The main drainage issues on landscaping are surface water and sub-surface water.
Surface water includes puddles and pools that form due to poor grading, soil quality, or obstructions. Subsurface water, on the other hand, collects below the surface and can cause damage to your structures and the landscaping.
If you have a hard time managing your waterlogged yard, the following are some smart ideas you can implement to turn things around:
1.      
Permeable Pavers
If you have a paved compound, you should consider installing permeable pavers to minimize run-off water. The run-off water seeps through these pavers into the groundwater or a catchment system.
2.      
Swales
These are depressions natural or created following the contour around the base of a slope. It channels the storm water off your landscaping. You can plant grass or other plants in the swale or turn it into a dry creek bed. The best swales blend functionality and aesthetics when managing wet conditions.
3.      
Flo-Wells And Dry Wells
If you have no system to drain water off the landscaping, you can dig pits on a low spot on the property and fill them with clean drainage gravel. These wells hold the water as it drains slowly into the surrounding soil.
4.      
Rain Gardens
These are Shallow catch basins planted as flower beds. When there's a downpour, water pools in the garden and percolates gradually. Unlike a swale which provides a route for rainwater, a river garden is a destination.
5.      
French Drains
This is the most effective solution for handling subsurface water. You need to dig a trench, install a perforated drain pipe, and fill the trench with drainage gravel. The perforated pipe drains the collected water off your property. You should install drain grates for regular inspection of the drain and maintenance.
6.      
Trench Drains
If you have a problem with drainage around your pavements, a trench drain is a great idea. The drain collects water that would otherwise flow into your pool, patio, or garage and drains it away off the site. Trenchwork perfectly with these drainage installations. Make sure you select trench drain grates that easily blend with your landscaping.
7.      
Catch Basins
These are drop inlets installed where you can identify the source of water on your landscaping. The basin collects water which is then drained into a collector pipe and directed away from your property.
8.      
Reworking the Downspouts
 Downspouts serve a crucial role in surface drainage on any property. When poorly installed, these drainage systems can exacerbate water problems in your landscaping.
You should connect the downspouts with other drainage systems on the surface to avoid flooding on your property. Installing a drain near the walls can make it easier to runoff water from the downspout. Iron grates come handy to direct more water into such drains.
9.      
Choose Water-friendly Plants
If you have water problems around your property, you can deal with it by choosing the right plants. Water saturation and pollution of the soil makes it hard for ordinary plants to grow. Hardy plant natives offer a natural landscaping solution for drainage problems.
They include black chokeberry, arrowwood viburnum shrub, and winterberry hollies. Other water-friendly plants include pussy willows, dogwood shrubs, and horsetail plants, among others. Using tree grates around bigger plants also helps with drainage on landscaping.
With these innovative ideas, it is possible to turn waterlogged landscaping into a marvel. You should also consider hiring an experienced landscaper to get custom ideas on handling water problems on your property. 
Becky
Newly middle-aged wife of 1, Mom of 3, Grandma of 2. A professional blogger who has lived in 3 places since losing her home to a house fire in October 2018 with her husband. Becky appreciates being self-employed which has allowed her to work from 'anywhere'. Life is better when you can laugh. As you can tell by her Facebook page where she keeps the humor memes going daily. Becky looks forward to the upcoming new year. It will be fun to see what 2020 holds.