Into the Wild: Rustic Design Ideas for Modern Homes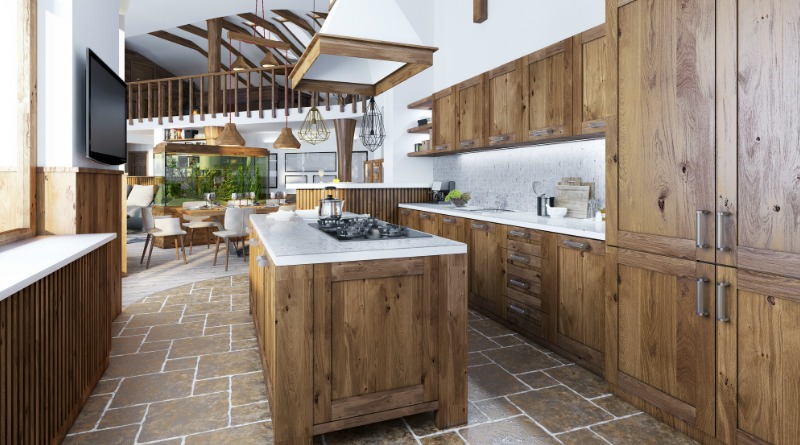 Becky
Newly middle-aged wife of 1, Mom of 3, Grandma of…
Did you know that interior design can affect your happiness? To perk yourself up, switch up your home decor this year.
Are you looking for rustic design ideas? Not to worry! In this guide, we'll go over rustic home ideas to switch up your modern home.
Want to learn more? Keep reading to find out some creative concepts.
Leather Armchair
Consider picking up an old leather armchair from a secondhand store. This weathered piece of furniture is bound to be full of character.
Try to find an oversized one. You can pair this piece with a textured blanket or colorful rug.
Wooden Beams
To add a cabin vibe to your modern home, install dark wooden beams on your ceiling. You can do this to add a separation in an open-concept home. Put one between your living room and kitchen.
Deer Antlers
Buy a pair of fake antlers online. You can put them on top of a dresser or mantle. You could also hang them on the wall.
If you want to create a focal piece, consider picking up an antler chandelier. That's certainly something you won't find in any ordinary room!
Complement Natural Materials
Add colorful accessories to complement the natural look of the room. If you don't want a bright color, pick a white rug or couch.
You can evoke a rustic feel to your home with the fabrics you choose. In your living room, you could pick a faux animal throw or a unique woven rug. Also, pick up a buffalo print blanket for your bed.
Wood Accents
To add rustic elements to your modern living room, consider picking up wood accents. For example, you can add wooden shelving units or an oak wine rack to your kitchen.
Consider masonite exterior doors to make a unique first impression.
Plank Floorboards
Change the flooring in your modern home and install wooden floor planks. You can find old planks and refinish them. This will add a historical touch to your modern home and will be a great story to tell friends or family.
Restored Barn Doors
Consider adding barn doors to your home that slide open. You can stain the doors and hang them off beautiful copper rods.
This can be a stunning contrast in your modern home. You can add this door to your bathroom, home office, or bedroom.
Install a Fireplace
Do you have a fireplace? If not, then consider adding one to your home. Buy a real wood fireplace instead of an electric one.
Choose a contemporary-looking fireplace. You can get intricate stones with broad mortar lines.
Instead of a mantel, choose a slender ledge. Keep the accessories on the shelf minimal so you can focus instead on the fancy stonework.
Natural Stone Pieces
In your modern home, add a brick or stone backsplash in your kitchen or living room. You could also install a stone wall or mantel.
This will create a unique mix of textures in your house. Play up the stone with light brown or ivory painted walls.
Reclaimed Wood Furniture
Do you like to work on projects at home? Then consider picking up some wood at the local lumberyard. Make art pieces out of this wood.
If you have a carpenter friend, ask them for help. You can create a wooden table or shelves.
Swap out your metallic picture frames for wood ones. Switch your glass coffee table for a weathered oak table. Also, change up an old mirror and surround it with driftwood.
Metallic Pieces
When you're looking for rustic elements, most people think about adding wood pieces. But you can add black metal pieces instead.
Pick a wooden end table with black iron legs. If you're giving your cupboards a facelift, go for bronze knobs.
Funky Patterns
In a rustic and modern home, pick unique patterned pieces. You can pick up pillowcases or blankets with funky fabrics. Pick up a handmade patchwork quilt.
You could even buy a wall-hanging tapestry that matches the colors in your main room.
Wooden Headboard
Install a wooden headboard to your bed. You can pick up a section of wood and stain it as dark or as light as you prefer. This is a simple change to your bedroom that will add a rustic feel.
You can also pick up a set of matching side tables.
Rustic Benches
To add a wooden element to your kitchen, instead of metal chairs, add a wooden bench. You could put them on both sides.
Choose a darker stain to make a statement. At your entryway, pick up a wooden bench to set the tone for your home.
Tree Stump Table
Consider buying a pair of tree stump side tables for your bedroom. This will play up the natural element in your room.
You could also use these in a living room; these versatile pieces are definitely eye-catching.
Stone Rain Shower and Rustic Decor
Change up your bathroom by installing a natural stone wall in the shower. Pick earth-tone colors for the rest of the room and get a rain shower head. Read more at WalkInTubReport.com.
For the rest of the bathroom, swap out the metallic tower holders for a wooden holder. You can attach two smaller wooden planks and add an antique iron door handle. These rustic designs will complement your modern home.
Now You Have Some Rustic Design Ideas
We hope this guide on the rustic modern look was helpful. Decide on the rustic design ideas you'd like to add to your home.
Don't forget to bookmark our site. This way, you won't miss out on any of our helpful resources.
Becky
Newly middle-aged wife of 1, Mom of 3, Grandma of 2. A professional blogger who has lived in 3 places since losing her home to a house fire in October 2018 with her husband. Becky appreciates being self-employed which has allowed her to work from 'anywhere'. Life is better when you can laugh. As you can tell by her Facebook page where she keeps the humor memes going daily. Becky looks forward to the upcoming new year. It will be fun to see what 2020 holds.