Kaitlin Olson (Destiny) Imperfect & Still Making it Work #FindingDoryEvent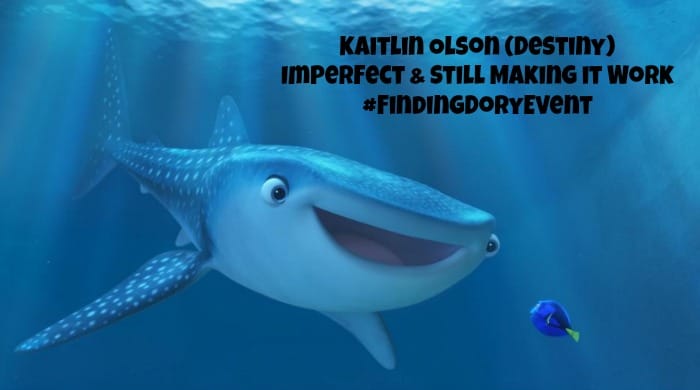 Becky
Newly middle-aged wife of 1, Mom of 3, Grandma of…
"Imperfect & Still Making it Work"-Kaitlin Olson (Destiny)
Finding Dory is swimming into theatres for all to enjoy on Friday, June 17 (yes! that is this coming Friday!). One character you will just love is Destiny voiced by Kaitlin Olson.  You might best know Kaitlin Olsen who plays Deandra "Sweet Dee" Reynolds on "Always Sunny in Philadelphia".
Sweet, down to earth, real as well as beautiful; those are just a few of the words I can use to describe Kaitlin Olson.  She walked in running behind after having a hectic morning playing her #1 part- a Mom.  Cookie in hand because she didn't have time for breakfast she was overwhelmed at our applause and full of Thank yous.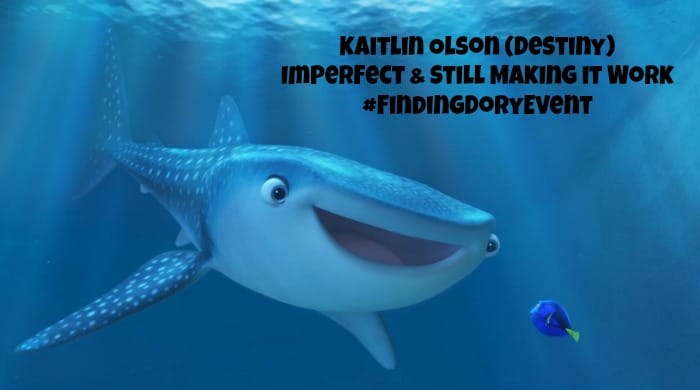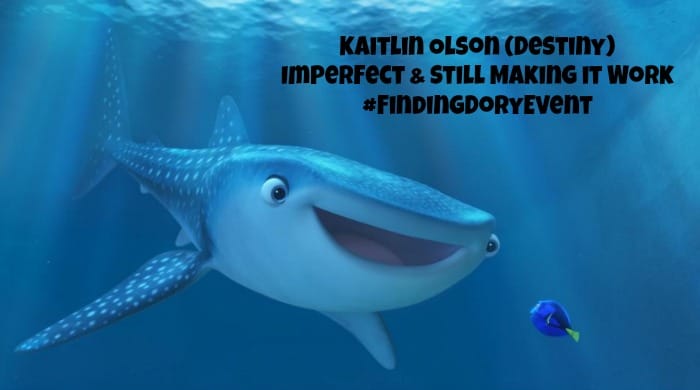 Kaitlin's children saw the movie at the premiere and LOVED IT.  Her oldest son though didn't like the "scary squid. But out of her kids, the oldest does realize that Kaitlin is the voice of Destiny ( a whale shark). Destiny is a childhood friend of Dory.  Kaitlin mentioned that Baby Dory was so loveable (and I totally agree).  Her two very favorite characters are Becky (a loon) and Gerald (one of the Sea Lions).
When asked how she described her character Destiny she said, "Destiny isn't perfect, like herself "she is imperfect and is still making it work". Pixar movies are her favorite movies.  She took the role of Destiny because since she is an actor in It's Always Sunny in Philadelphia is a show that her kids can't watch, so she loved the fact that her kids would be able to enjoy this movie.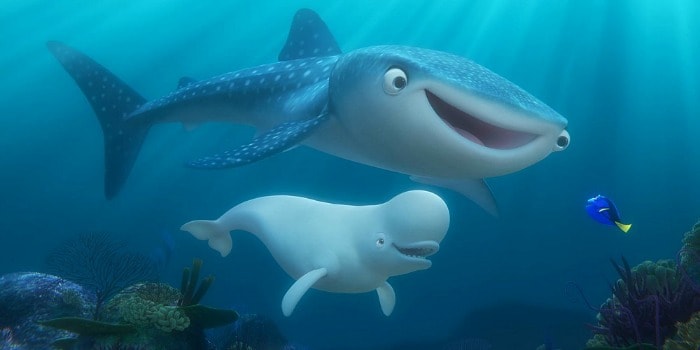 Pixar always relates to family, which is just one of the reasons she enjoys their movies.  Kaitlin feels that family is what you make it.  She did her taping with Ty Burrell twice, (voice of Bailey, the beluga whale that was with Destiny most of the movie).  They were the only 2 actors in the movie that actually taped together.  When recording she did 4 or 5 1-hour sessions over the 4 years of the movie being made.  She feels that Andrew Stanton is a great producer.  When they decided that Destiny was going to struggle with her swimming (like be clumsy) they had Kaitlin stand on a balance board so she sounded wobbly. She said that was quite challenging but did help with the wobbly sound in her voice.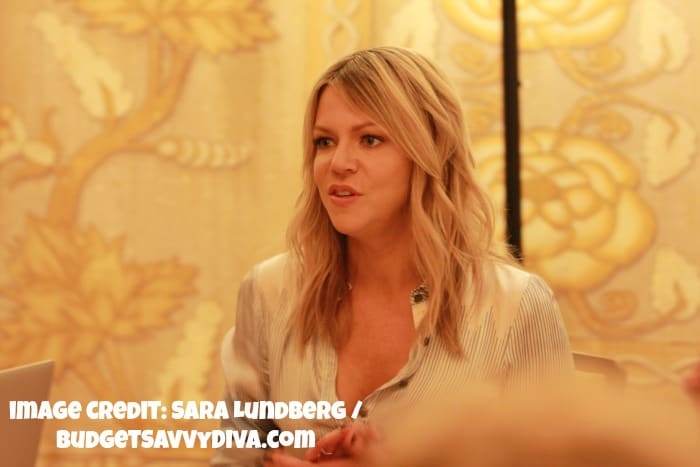 Kaitlin didn't enjoy so much the yelling as it made her lose her voice and she had no training to be a whale.  Like Ellen, when people as her to speak whale she says, No.  She had to do it so much it isn't something that she wants to keep doing.  She hopes to one day do another film with Andrew Stanton as she did enjoy it being different from "Always Sunny in Philadephia" as well as "The Mic"(which she is a producer for.)
The one thing or two rather that I loved that she said was that her children came first.  She lives by Patience is #1, and Humor is #2. She also does not want to hang out with negativity and drama.  I think those are all great things because life is too short to not enjoy your life.
Once you have seen "Finding Dory" let me know what you think about Kaitlin Olson's role as Destiny.
Make sure you get to "Finding Dory", which comes to the theatres this Friday, June 17th. You won't be disappointed.  You can follow the hashtags: #FindingDory and #HaveYouSeenHer.
Visit  on Facebook
Follow on Twitter
Follow on Instagram
Follow Disney Studios Finding Dory Board on Pinterest 
Visit Disney/Pixar on Tumblr 
Visit their official website
Voice Cast:                              Ellen DeGeneres, Albert Brooks, Ed O'Neill, Kaitlin Olson, Ty Burrell, Eugene Levy, Diane Keaton
Director:                                  Andrew Stanton
See Also
Co-Director:                            Angus MacLane
Producer:                                Lindsey Collins
Remember "Finding Dory" is coming to a theatre near you on JUNE 17, 2016
Disney•Pixar's "Finding Dory" reunites everyone's favorite forgetful blue tang, Dory, with her friends Nemo and Marlin on a search for answers about her past. 

You can read about our interview with Ellen DeGeneres & Ed O'Neill here.

**Disney sent me to Los Angeles  for the #FindingDoryEvent #BizaardvarkEvent and #LEGOFreemakerEvent  for an all expenses paid trip to cover press with 24 other bloggers.  All opinions are mine.**
Becky
Newly middle-aged wife of 1, Mom of 3, Grandma of 2. A professional blogger who has lived in 3 places since losing her home to a house fire in October 2018 with her husband. Becky appreciates being self-employed which has allowed her to work from 'anywhere'. Life is better when you can laugh. As you can tell by her Facebook page where she keeps the humor memes going daily. Becky looks forward to the upcoming new year. It will be fun to see what 2020 holds.