Maya The Bee 2: The Honey Games Coming May 1st on DVD/Blu-ray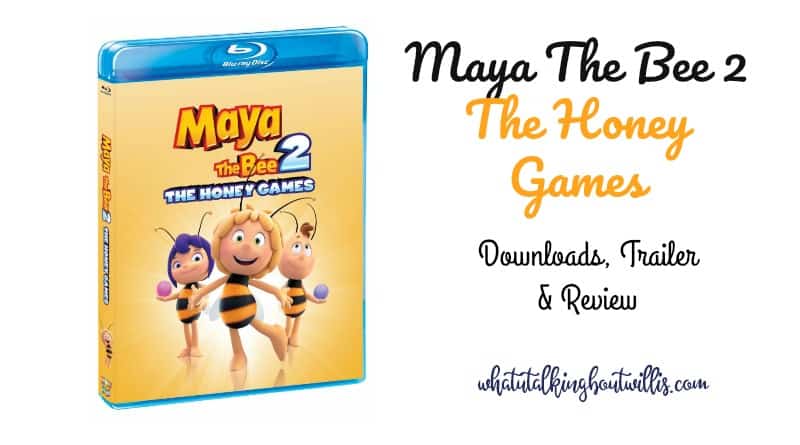 Becky
Newly middle-aged wife of 1, Mom of 3, Grandma of…
A Wholesome, Fun-Filled Major Motion Picture
 MAYA THE BEE 2: THE HONEY GAMES
BUZZES ONTO BLU-RAY™ + DVD + DIGITAL
MAY 1, 2018 FROM SHOUT! FACTORY KIDS
Disclosure:  I received a copy of Maya the Bee 2: The Honey Games in exchange for my honest review. All opinions are my own.
My granddaughter just loves Maya the Bee.  She loved the first one and was very excited to hear that the 2nd one was coming out.  Maya is such a cutie and her face alone keeps me watching her.  Emma was rooting for Maya and her misfit bug friends and said she enjoyed it even more than the first one.  Which we had to watch before the 2nd one since it has been a couple years or more. Emma and I both gives this 2 thumbs up.  I couldn't get a picture of her doing it like when she was younger since she is now 7. Zak liked it too but was confused on why the bee's name was Maya and his cousin's name is Maya too and she isn't a bee!
What do you get when you have a bunch of misfit bugs and Maya has embarrassed the Empress of Buzztropolis by accident?  You are forced as a bee to team up with the misfits and throw your hat (or your antennas) into the ring and compete in the Honey Games for the ultimate chance to save her hive.
When an overenthusiastic Maya accidentally embarrasses the Empress of Buzztropolis, she is forced to unite with a team of misfit bugs and compete in the Honey Games for a chance to save her hive.
Pre-order/Purchase here on Amazon (affiliate link)
Enjoy these printables that you can download below:
Maya the Bee page 4 coloring sheet
Enjoy these clips:
Arney and Barney find the flower Clip
Intro to Poppy Meadow Bugs Clip
Maya, the little bee with a big heart, is back for another adventure. Sequel to the wildly popular feature film Maya The Bee Movie, Maya The Bee 2: The Honey Games makes its buzzworthy debut on DVD and Blu-ray on May 1, 2018, from Shout! Factory Kids.
Maya The Bee 2: The Honey Games is based on the well-known children's novel and popular animated series in Europe, Australia and Asia and offers an immersive cinematic adventure into a spectacular macroscopic world. A must-have for fans of all ages, the film is an instant classic that delivers wholesome family entertainment— emphasizing the importance of friendship, responsibility, and courage.
After a slow harvest season, the very survival of the hive is threatened. Maya, and her sidekick, Willy, go to Buzztropolis, where the Empress invites them to participate in the Honey Games. But if they lose, the hive will have to give the Empress all of their summer honey! Needless to say, Maya and Willy's teammates are neither enthusiastic nor athletic, but Maya remains positive and exclaims that "every bug has a talent!"
Can Maya and Team Poppy win and secure her hive's future? Only if Maya is able to gain new friends and learn about teamwork, accountability, and overcoming preconceived notions!
Directed by Noel Cleary (Tashi), Sergio Delfino (Chicken Run) and Alexs Stadermann (Maya The Bee Movie, Bambi II), and produced by Studio 100 Media in association with Flying Bark Productions, Maya The Bee 2: The Honey Games features the acclaimed voice talent of Coco Jack Gillies, Richard Roxburgh (Mission: Impossible II), Linda Ngo (Top of the Lake)and Justine Clarke (Home and Away).
One of the best-known and beloved children's brands of all-time, the stories of Maya The Bee have been passed down among generations of families for years. Originally a German children's novel by Waldemar Bonsels, The Adventures of Maya the Bee was published over a hundred years ago in 1912. Since the original publishing, the book has been translated into many other languages and enjoyed by children all over the world. In addition to the book, Maya The Bee is also a comic book series appeared in various iterations as animated series and now as major animated feature films.
Becky
Newly middle-aged wife of 1, Mom of 3, Grandma of 2. A professional blogger who has lived in 3 places since losing her home to a house fire in October 2018 with her husband. Becky appreciates being self-employed which has allowed her to work from 'anywhere'. Life is better when you can laugh. As you can tell by her Facebook page where she keeps the humor memes going daily. Becky looks forward to the upcoming new year. It will be fun to see what 2020 holds.