MIA AND THE WHITE LION + Review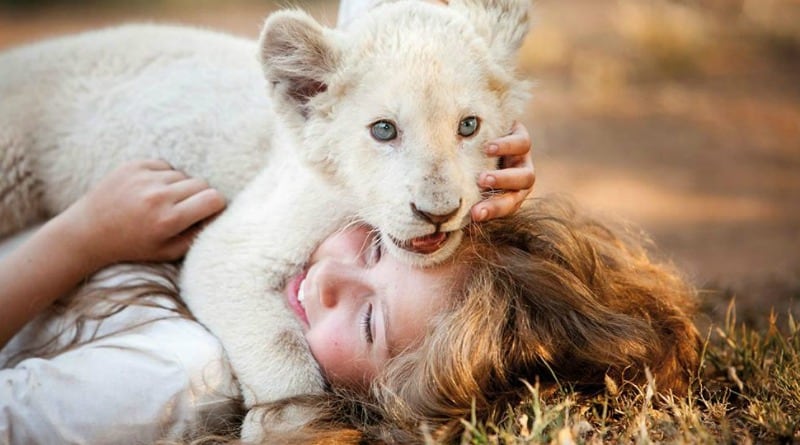 Becky
Newly middle-aged wife of 1, Mom of 3, Grandma of…
Disclosure: I received a copy of this movie in order to facilitate my review. All opinions are my own.
GILLES DE MAISTRE'S FAMILY ADVENTURE FILM
MIA AND THE WHITE LION
AVAILABLE ON BLU-RAY, DVD, AND DIGITAL
ON JULY 2, 2019
"An appealing tale that's all the more astounding for being the real deal."
Chris Knight, National Post
My Review of Mia and the White Lion
I have always loved movies that involve animals in them. Mia and The White Lion is not only heartwarming, but a welcomed movie to watch with my grandchildren. No worry that the subject matter will be too complicated or deep. Mia's character is relatable and so easy to love.
When a girl falls in love with a white lion you will fall into the story and not want to leave. The acting is wonderful with this talented cast and will leave you thinking about this story for days to come.
Make a night of it with the family!
Mia And The White Lion (2019) – Official Trailer (HD)
Los Angeles, CA – Get ready to venture across the world and immerse in the wonder of Africa's stunning landscapes and wildlife! On July 2, 2019, Shout! Factory invites families and kids to embark on an inspiring and exciting live-action family movie adventure with MIA AND THE WHITE LION, arriving on two-disc Blu-ray + DVD combo pack and DVD. On the same day, this movie will also be available digitally to own and rent on Amazon.com. Special features include interviews with the director Gilles de Maistre and actress Daniah De Villiers, featurettes, deleted scenes, and more.
MIA AND THE WHITE LION is the heartfelt story of an extraordinary friendship between a young girl and a white lion, and her incredible adventure across the South African savanna to give her best friend a new home. Starring Daniah De Villiers (Zero is Not Nothing), Mélanie Laurent (Now You See Me, Beginners), Langley Kirkwood (Banshee, Black Sails), and Ryan Mac Lennan (Rumpelstiltskin), the film was directed by Gilles de Maistre (César Awards-nominated feature Le Premiere Cri) and written by Prune de Maistre and William Davies (How to Train Your Dragon).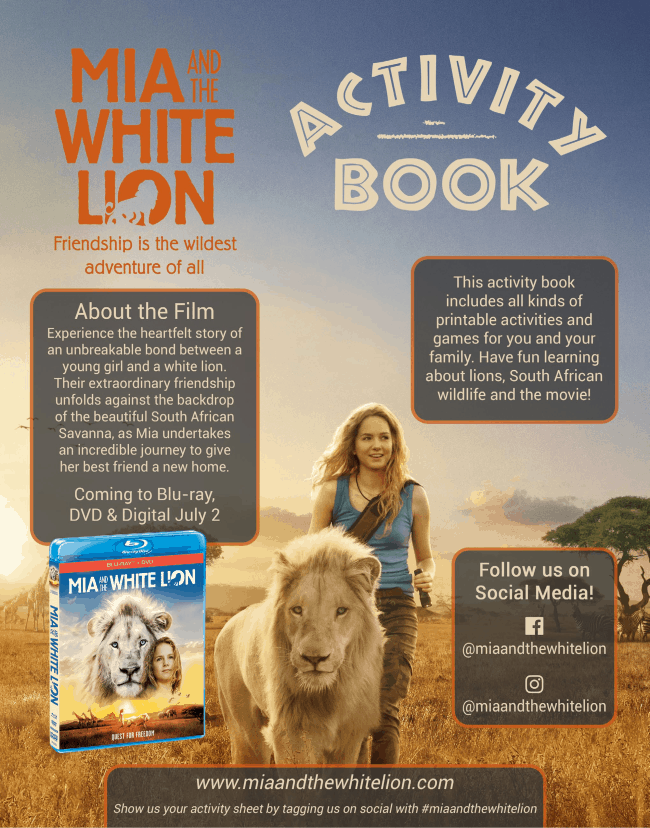 Filmed over the course of three years, MIA AND THE WHITE LION centers on a willful young girl named Mia whose life is turned upside down when her family decides to leave London to manage a lion farm in South Africa. When a beautiful white lion, Charlie, is born, Mia finds happiness once again and develops a special bond with the growing cub. As Charlie grows to full size, Mia uncovers an upsetting secret kept hidden by her father. Distraught that Charlie could be in danger, Mia decides to rescue him. The two friends set out on an incredible journey across the South African savanna in search of a sanctuary where Charlie can live out his life in freedom.
Brought to life by French director, Gilles De Maistre, the expansive production was filmed at the Welgedacht Reserve in South Africa. De Maistre chose to shoot throughout a three-year period so that the film's young stars Daniah De Villiers and Ryan Mac Lennon could bond and develop real relationships with the lions and other animals that appear in the film. Kevin Richardson, a lion expert also known as the "Lion Whisperer," oversaw the entire production process and all interactions between the lions and the children ensuring the safety of the animals, cast and crew on set.
Special Features:
• Interview With Director Gilles de Maistre
• Interview With Actress Daniah De Villiers
• The Making Of Mia And The White Lion Featurette
• The Extraordinary Friendship Featurette
• Deleted Scenes
• Casting Footage
• Theatrical Trailer
• Still Gallery
About Shout! Factory
Shout! Factory, LLC is a diversified multi-platform media company devoted to producing, uncovering, preserving and revitalizing the very best of pop culture. Founders Richard Foos, Bob Emmer and Garson Foos have spent their entire careers sharing their music, television and film favorites with discerning consumers the world over. Shout! Factory's entertainment offerings serve up feature films, classic and contemporary TV series, animation, live music and comedy specials. In addition, Shout! Factory maintains a vast entertainment distribution network which delivers culturally relevant programming, movie and audio content to all the leading digital service providers in North America and across multiple platforms. Shout! Factory owns and operates Shout! Studios, Scream Factory, Shout! Factory Kids, Shout! Factory Films, Mystery Science Theater 3000, Timeless Media Group and Shout! Factory TV. These riches are the result of a creative acquisition mandate that has established the company as a hotbed of cultural preservation and commercial reinvention. Shout! Factory is based in Los Angeles, California. For more on Shout! Factory, visit shoutfactory.com.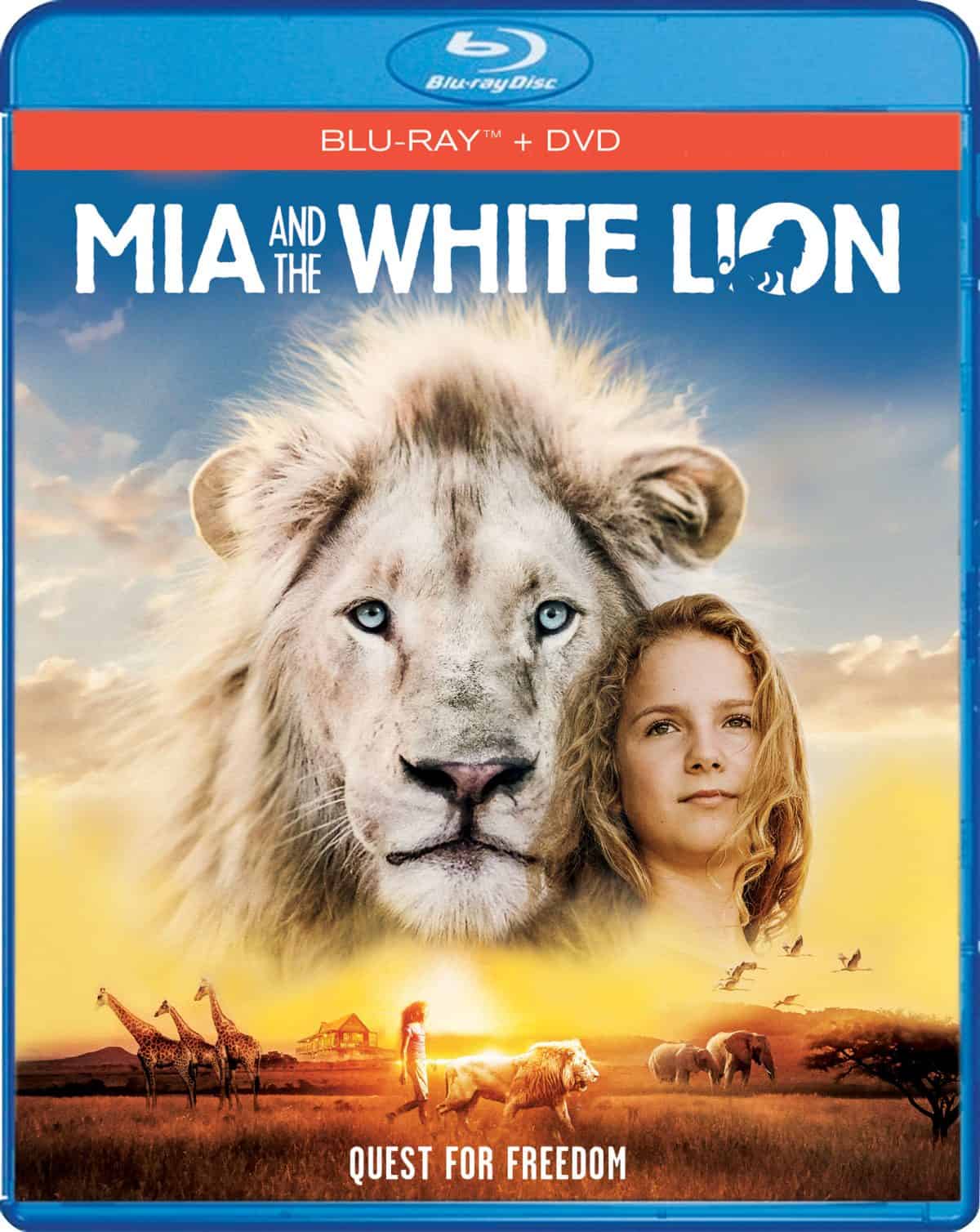 Becky
Newly middle-aged wife of 1, Mom of 3, Grandma of 2. A professional blogger who has lived in 3 places since losing her home to a house fire in October 2018 with her husband. Becky appreciates being self-employed which has allowed her to work from 'anywhere'. Life is better when you can laugh. As you can tell by her Facebook page where she keeps the humor memes going daily. Becky looks forward to the upcoming new year. It will be fun to see what 2020 holds.