My First Visit to Pixar and its all Decked out in The Good Dinosaur #GoodDinoEvent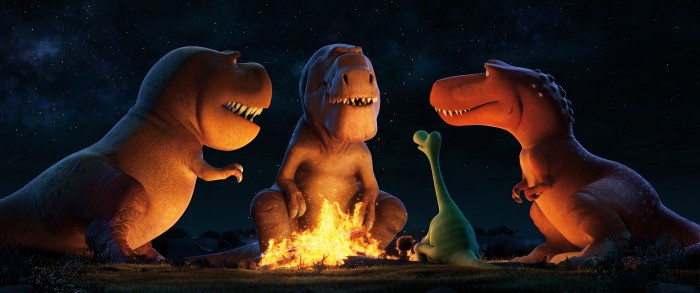 Becky
Newly middle-aged wife of 1, Mom of 3, Grandma of…
**Disney provided Me With A Full Expense Paid Trip To San Francisco For The #MilesEvent, #GoodDinoEvent, #InsideOutBloggers & #Waltagram Press Trip. No Other Compensation was Given. The Opinions In My Posts Are 100% my Own.**
This Thanksgiving (November 25th) The Good Dinosaur will hit theatres and you will not want to miss it. The Good Dinosaur is Pixar's newest upcoming movie and while we were in San Francisco we were very lucky to visit The Steve Job's building that houses all that is Pixar. I have never visited Pixar so I have to say this was another location that was on my Bucket List. Now that that one can be crossed off of my list, I want to share with you exactly what is housed in this fun building.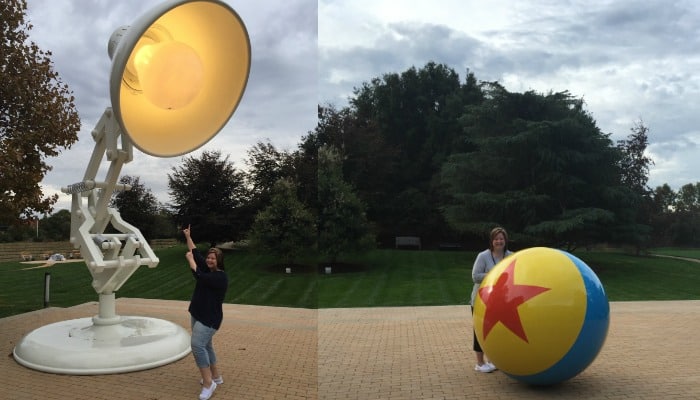 Outside of the building you will see the Pixar logo, Luxor Jr. and a ball that signifies an animated short film by John Lasseter. There is a little story behind this which I will share with you, then we will move ahead with the present and why we visited Pixar.
Luxo Jr. is a 1986 American computer-animated short film produced by Pixar and directed by John Lasseter. The two-minute short film revolves around one larger and one smaller desk lamp. The larger lamp, named Luxo Sr., looks on while the smaller, "younger" Luxo Jr. plays exuberantly with a ball that accidentally deflates. Luxo Jr. was Pixar's first animation after Ed Catmull and John Lasseter left Industrial Light and Magic's computer division. It is the source of the hopping desk lamp included in Pixar's corporate logo.

Luxo Jr. is regarded as a breakthrough in the animation medium as a whole, changing traditionalists' interpretation of computer animation. The short was the first work of animation to use procedural animation, the software written by Eben Ostby. It received an Academy Award nomination for Best Animated Short Film, becoming the first CGI film nominated for an Academy Award.
Above is the entrance to Pixar which is known as The Steve Jobs building. Here is housed all things Pixar. When you walk in your are instantly transformed into the movie that is coming up on Thanksgiving day November 25, 2015. The atrium holds everything that has to do with their biggest upcoming movie. It also has little displays of other movies that have either already been at the theatre or are coming to blu-ray. Upon entering this is what we saw.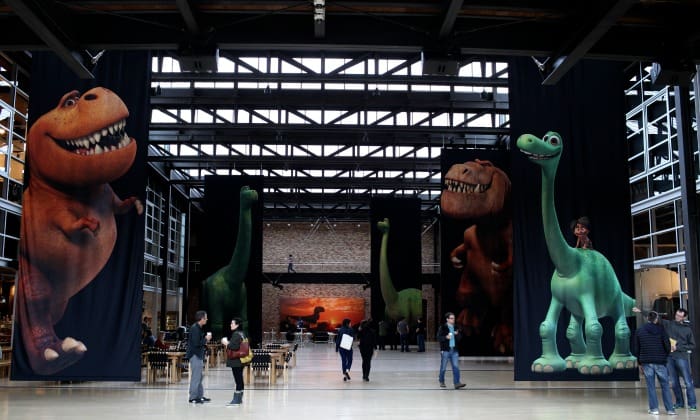 Arlo (an Apatosaurus) and his human whom he named Spot are on the left as well as the other dinosaurs that are in the movie. The walls are decorated with images from the movie as well as other displays for upcoming releases or past movies.
Why the Pixar Building was Built like it Is.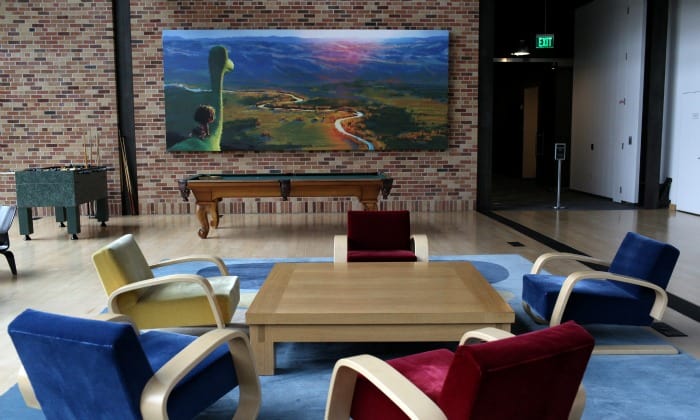 The atrium was designed by Steve Jobs to promote more co-mingling among the workers. Everything about the place was designed to encourage people to mingle, meet, and communicate, to support the filmmaking by enhancing their ability to work together. He presided over every detail of the new building's construction, from the arched steel bridges that straddle the central atrium to the type of chairs in the screening rooms.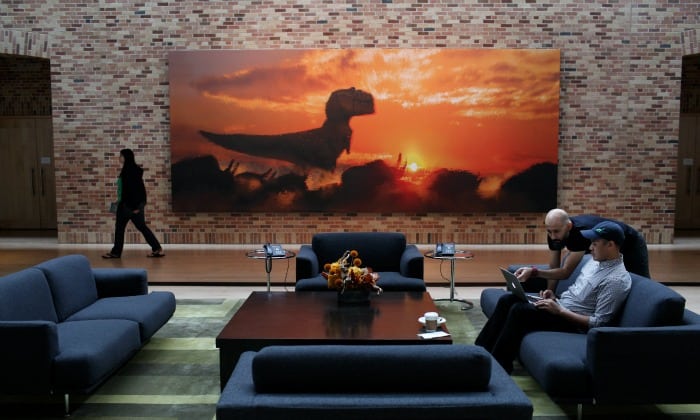 He didn't want perceived barriers, so the stairs were open and inviting. He wanted a single entrance to the building so that the employees saw each other as they entered. The employees had meeting rooms, restrooms, a mailroom, three theaters, a game area, and an eating area all at the center in our atrium (where to this day, everyone gathers to eat, play ping pong or be briefed by Pixar's leaders on the what is currently going on with the company).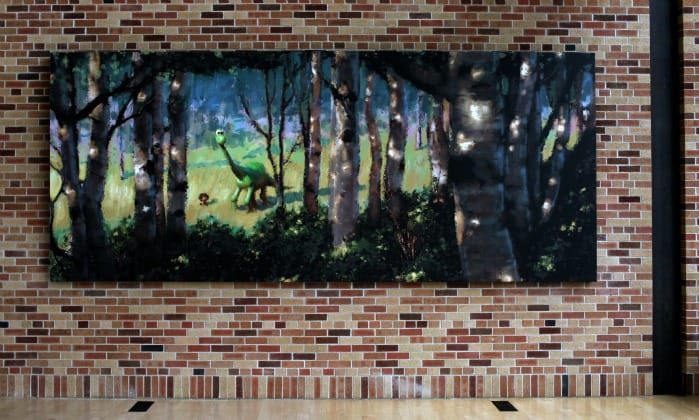 This all resulted in cross-traffic—people encountered each other all day long, inadvertently, which meant a better flow of communication and increased a better chance of encounters. You could feel the energy in the building. Steve had thought all this through with the metalogic of a philosopher and the meticulousness of a craftsman. He believed in simple materials, masterfully constructed. He wanted all the steel exposed, not painted. He wanted glass doors to be flush with the walls. No wonder that when it opened in the fall of 2000, after four years of planning and construction, Pixar's people—who typically worked for four years on each film—took to calling the building 'Steve's movie.'"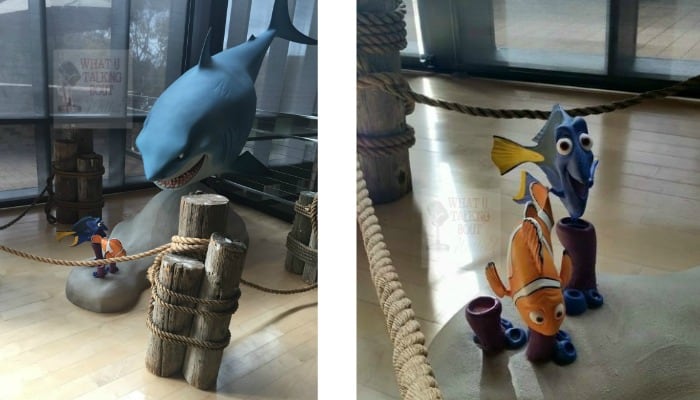 There are some areas in the Pixar building you can take pictures of, and other areas that it is not allowed. Another blogger and myself ask permission or if it was ok to take a picture of this display and she said as long as we were pointing this way it would be fine. Always good to ask when you are in a building like this one.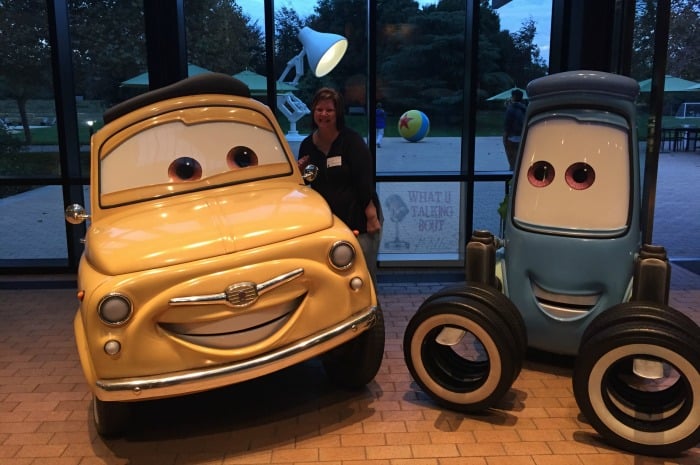 See Also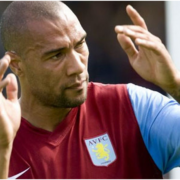 Another area in the atrium when you first walk in there is a Cars display as well as Woody and Buzz Light.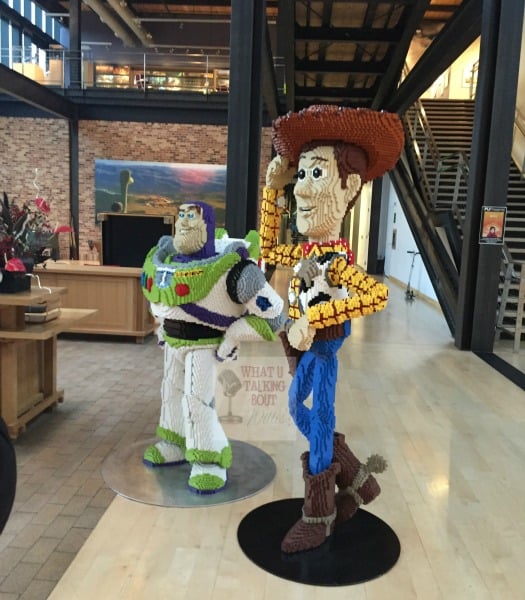 The Toy Story display is made of Legos, LEGOs…it is so neat and I can't imagine the time it took to put it all together. This is to celebrate Toy Story's 20th Anniversary which will be November 22, 2015. I will be sharing my post of our tour of the archives before that, so watch for it November 20th.
I will say that besides my first trip to Disney's lot, this was the next big place I wanted to visit. I appreciate the experience and enjoyed my time with the PR and the 24 other bloggers that attended this even with me.
Take a minute to watch "The Good Dinosaur Trailer" and I have also included the poster as well as some fun activities!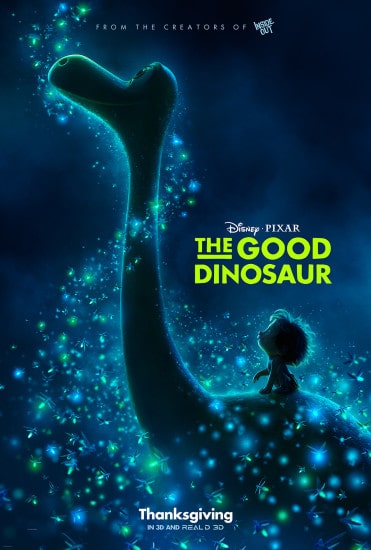 Enjoy the PDF activities below:
The Good Dinosaur Hexaflexagon
The Good Dinosaur Coloring Pages
The Good Dinosaur Memory Cards
Becky
Newly middle-aged wife of 1, Mom of 3, Grandma of 2. A professional blogger who has lived in 3 places since losing her home to a house fire in October 2018 with her husband. Becky appreciates being self-employed which has allowed her to work from 'anywhere'. Life is better when you can laugh. As you can tell by her Facebook page where she keeps the humor memes going daily. Becky looks forward to the upcoming new year. It will be fun to see what 2020 holds.