Nickelodeon's "Miraculous: Tales of Ladybug & Cat Noir" on DVD May 3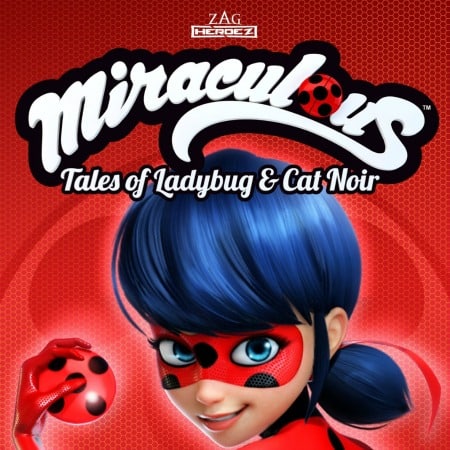 Becky
Newly middle-aged wife of 1, Mom of 3, Grandma of…
C'EST MAGNIFIQUE!

THE SMASH HIT TV SERIES
Miraculous™: Tales of Ladybug & Cat Noir
COMES TO DVD FROM SHOUT! KIDS
ON MAY 3, 2016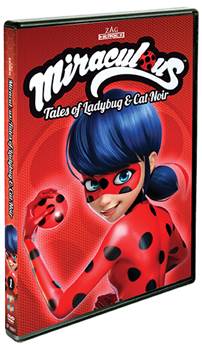 Los Angeles, California – Get ready to bug out with two new super heroes! The exciting new 3D CGI animated TV series Miraculous™: Tales of Ladybug & Cat Noir is coming to DVD on May 3, 2016, from Shout! Kids, in collaboration with ZAG. The release features seven incredible episodes, bonus features, and a French language track – très bon! Wildly successful on Nickelodeon, its legions of fans worldwide know that Miraculous™: Tales of Ladybug & Cat Noir is superhero super fun.  
Marinette and Adrien, two seemingly normal kids  live what appears to be an ordinary teen life in Paris with daily encounters that create amusing circumstances in school,  with friends, family, and even with strangers. But when the evil Hawk Moth threatens their beloved city of Paris, they transform into the superheroes Ladybug and Cat Noir using super powers gained with the help of their magical friends. Hawk Moth is using his evil energy to transform normal people into super villains, so our two heroes need to use all their skills to defeat him.
Becoming Ladybug is a complicated process. First, Marinette needs a "Kwami," which is a tiny magical assistant (called Tikki). She also needs a "Miraculous," which is a magical accessory (her special pair of earrings). Tikki uses the Miraculous to transform Marinette, but her Ladybug super powers only work for a limited time!
It is a good thing that she gets a little help from her superhero partner, Cat Noir even though she insists she doesn't need him. If only she knew Cat Noir's true identity – her school crush, Adrien! It will take a lot – friendship, teamwork, and skill – to outwit Hawk Moth. Will Ladybug and Cat Noir be able to balance their double lives and keep Paris safe? Will they ever find out each other's true identity? Until then – there is a whole city of baddies to defeat… SPOTS ON, CLAWS OUT!
This DVD  includes:
"The Bubbler," "Mr. Pigeon," "Stormy Weather," "Timebreaker," "Copycat," "The Pharoah," and "Lady Wifi"!
Bonus Features:
Episode Animatics
Sing-Along
Cast and Crew Interviews
ABOUT SHOUT! FACTORY
Shout! Factory, LLC is a diversified media company devoted to producing, uncovering, preserving and revitalizing the very best of pop culture. Founders Richard Foos, Bob Emmer and Garson Foos have spent their entire careers sharing their music, television and film favorites with discerning consumers the world over. Shout! Factory's entertainment offerings serve up feature films, classic and contemporary TV series, animation, live music and comedy specials.  Shout's audio division boasts GRAMMY®-nominated box sets, Broadway cast albums, new releases from storied artists, lovingly assembled album reissues and indispensable "best of" compilations.  In addition, Shout! Factory maintains a vast digital distribution network which delivers video and audio content to all the leading digital service providers in North America.  Shout! Factory also owns and operates Shout! Factory Films, Shout! Factory Kids, Scream Factory™, Shout! Factory TV, Timeless Media Group, Biograph Records, Majordomo Records and Video Time Machine. These riches are the result of a creative acquisition mandate that has established the company as a hotbed of cultural preservation and commercial reinvention.  Shout! Factory is based in Santa Monica, California. For more on Shout! Factory, visit shoutfactory.com
ABOUT ZAG™
ZAG, a privately held firm founded by Jeremy Zag, specializes in the creation and global distribution of kids and family entertainment franchises such as Miraculous™: Tales of Ladybug & Cat Noir. ZAG's multiple divisions located in United States, Europe and Asia focus on the production of high-quality CGI animated and hybrid (live action and animation) feature films, TV series and games with a 360 approach including digital content and music.  Zagtoon established in 2009 in partnership with veteran, Jacqueline Tordjman, has produced almost 200 half-hours of original content, which airs on major broadcast channels in over 120 markets worldwide. Other divisions include its Feature Film division ZAG Animation Studios (joint-venture created in 2014 with Michael Barnathan and Chris Columbus), ZAG Digital and ZAG Records. Visit us at www.zag-inc.com,
http://www.miraculousladybug.com/, or for any inquiries on ZAG or about Miraculous contact us at [email protected].
Miraculous™  is the trademark of ZAGTOON and METHOD. All Rights Reserved. © 2015  Zagtoon-Method Animation-TOEI Animation-SAMG-SK Broadband – AB – De Agostini editore S.p.A. All Rights Reserved.
Becky
Newly middle-aged wife of 1, Mom of 3, Grandma of 2. A professional blogger who has lived in 3 places since losing her home to a house fire in October 2018 with her husband. Becky appreciates being self-employed which has allowed her to work from 'anywhere'. Life is better when you can laugh. As you can tell by her Facebook page where she keeps the humor memes going daily. Becky looks forward to the upcoming new year. It will be fun to see what 2020 holds.