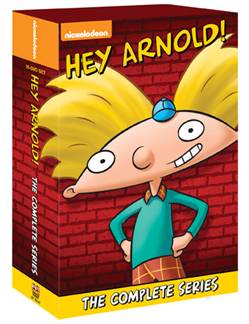 Becky
Wife, mother, grandma, blogger, all wrapped into one person, although…


Hey Arnold! The Complete Series

All 99 Football-Headed Adventures
Together On DVD For The First Time!
Hey Arnold! The Complete Series
Available August 19th, 2014 only at Wal-Mart
Your favorite football head and all his pals are here with enough fun and laughs to cover several city blocks! On August 19th, 2014, Shout! Factory will release Hey Arnold! The Complete Series, a 16-DVD box set featuring all 99 big-city adventures from the classic Nickelodeon animated series. You can pre-order this 16-DVD box set at http://www.walmart.com/ip/37146448. This show was a favorite in our home, debuting in 1996; my oldest was 5 and it was watched by all 3 of my kids for many years. I swear I can still hear the kids yelling HEY ARNOLD…
Life in the big city is one big adventure for Arnold. Living with his grandparents, who run the Sunset Arms boarding house, Arnold shares a roof with a diverse and unusual menagerie of characters (including his pet pig!). But as any fourth grader knows, some of the most memorable people you'll ever meet are in school. With friends like Arnold's (including storyteller Gerald, class jinx Eugene, sometime-bully Harold, and the tomboy Helga, who harbors a secret crush on our hero), you can be sure that he's got some funny exploits to share with fans.
Hey Arnold! features an all-star voice cast, including Dan Castellaneta (The Simpsons), Francesca Smith (Recess), Toran Caudell (Recess) and Jamil Walker Smith (SGU Stargate Universe). Created by Craig Bartlett as a comic in 1986, Hey Arnold! debuted as an animated short for the Nickelodeon film Harriet the Spy in 1996. Hey Arnold! went on to air on Nickelodeon from 1996 to 2001. The show also aired on "Nick on CBS" from 2002 until 2004. Whether you want to revisit your own childhood memories or create new ones with your kids, Shout! Factory has two words for you: Hey Arnold!
About Nickelodeon
Nickelodeon, now in its 35th year, is the number-one entertainment brand for kids. It has built a diverse, global business by putting kids first in everything it does. The company includes television programming and production in the United States and around the world, plus consumer products, online, recreation, books and feature films. Nickelodeon's U.S. television network is seen in almost 100 million households and has been the number-one-rated basic cable network for 19 consecutive years. For more information or artwork, visit http://www.nickpress.com. Nickelodeon and all related titles, characters and logos are trademarks of Viacom Inc.(NASDAQ: VIA, VIA.B).
About Shout! Factory
Shout! Factory, LLC is a diversified multi-platform media company devoted to producing, uncovering, preserving and revitalizing the very best of pop culture. Founders Richard Foos, Bob Emmer and Garson Foos have spent their entire careers sharing their music, television and film favorites with discerning consumers the world over. Shout! Factory's DVD and Blu-Ray™ offerings serve up feature films, classic and contemporary TV series, animation, live music and comedy specials in lavish packages crammed with extras. Shout's audio division boasts GRAMMY®-nominated box sets, Broadway cast albums, new releases from storied artists, lovingly assembled album reissues and indispensable "best of" compilations. In addition, Shout! Factory maintains a vast digital distribution network which delivers video and audio content to all the leading digital service providers in North America. Shout! Factory also owns and operates Timeless Media Group, Biograph Records, Majordomo Records, HighTone Records and Video Time Machine. These riches are the result of a creative acquisition mandate that has established the company as a hotbed of cultural preservation and commercial reinvention. Shout! Factory is based in Santa Monica, California. For more on Shout! Factory, visit shoutfactory.com
Becky
Wife, mother, grandma, blogger, all wrapped into one person, although it does not define her these are roles that are important to her. From empty nesters to living with our oldest and 2 grandchildren while our house is rebuilt after a house fire in 10/2018 my life is something new each day.