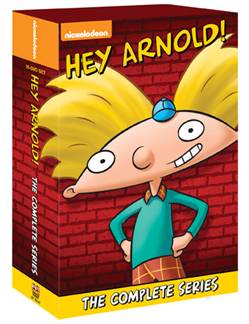 Becky
Wife, mother, grandma, blogger, all wrapped into one person, although…


Hey Arnold! The Complete Series Review
When I was offered to review the "HEY ARNOLD!" Complete DVD Series, I was so excited. I know, that sounds odd coming from a 45 year old Mom, but c'mon its Hey Arnold. When the series hit Nickelodeon in 1996 my kids were 5,2 and newborn. Both my 5 year old and 2 year old really enjoyed this show. So much that my oldest would say "Hey Football Head". I laughed every time I saw the little blonde haired football head shaped boy with his plaid bottoms and blue top with a matching color collar.
This series reminded me of what it was like to have a whole block of friends that were able to hang-out together and have daily adventures. That was how it was like when I was a kid, not so much when my kids were kids, as we didn't have a lot of kids on our block. Not to mention it didn't feel safe to have my kids outside without supervision.
Hey Arnold is based in the big city, which poses a big adventure for he and his pals. Living with his grandparents who run a boarding house, Arnold is able to share a roof with a group of unusual and diverse cluster of characters. This even includes a pet pig!
As you may remember the 4th grade held a group of memorable people whom you will never forget. Arnold's diverse friends include Gerald ( I felt was his best friend, who was a storyteller), class calamity Eugene, sometimes a bully Harold, and Helga, the tomboy of the group. Helga holds special feelings for Arnold, that 4th grade crush you see in kids of that age.
Cast:
This cartoon features an all-star voice cast, including Dan Castellaneta (the Simpsons), Francesca Smith (Recess), Toran Caudell (Recess) and Jamii Walker Smith (SGU Stargate Universe). Created by comic, Craig Bartlett in 1986, HEY ARNOLD! premiered as an animated short for the Nickelodeon film Harriet the Spy. Then Hey Arnold went to air on Nickelodeon from 1996 to 2001. The show also aired on "Nick on CBS" from 2002 until 2004.
The Box Set:
This box set includes 16 DVDs, holding 99 wonderful episodes. This box set is available at Walmart. You will want to add this to your DVD collection for your kids to enjoy again and again.
Becky
Wife, mother, grandma, blogger, all wrapped into one person, although it does not define her these are roles that are important to her. From empty nesters to living with our oldest and 2 grandchildren while our house is rebuilt after a house fire in 10/2018 my life is something new each day.