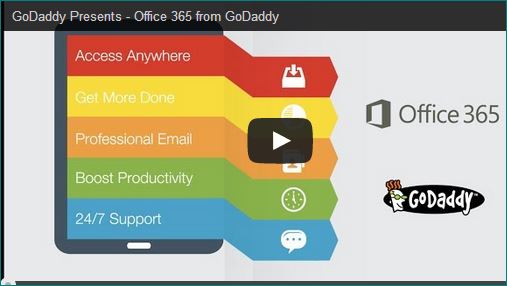 Becky
Wife, mother, grandma, blogger, all wrapped into one person, although…


Office 365 from GoDaddy for the Small Business Owner
This post brought to you by GoDaddy. All opinions are 100% mine.
Running your own business can at times be difficult. You have this program, and that program, which makes you think that you are organized; but you are not.
What if there was a way to have your email, calendar, instant messenger, and documents together in one area? Even better what if you had all of that and could collaborate inside or outside of your organization? With Office 365 from GoDaddy that is more than possible.
One of the advantages of this program is you are given a free domain with a .net, .org or .com to use with your email and even set up your own website.
With Office 365 from GoDaddy you are able to set up your documents; which you will be able to access from you mobile device. You will also be able to share your documents with your employees. You can have online meetings whether it be via messenger or video. This program is great for your company if you do not currently have an IT department. GoDaddy offers 24/7 support . The set-up is easy with familiar tools and if you need help, GoDaddy is there for you whenever you need them.
I have been using Office 365 and am enjoying the feeling of being somewhat more organized. I struggle with this on a daily basis; or should I say "did". With the calendar and ability to have my documents all in one place, as well as on my phone, I am so happy that I am able to use this program for my business!
Once this post is published, I have been offered to have a give-away for 1 year of GoDaddy's Office 365 which also includes a free domain for 1 year! This is approximately has a value of $138.
Always Open Small Business infographic
So whether you are home, at the office or on a business trip, Office 365 is there to keep you in touch. This way you have all of your important business items close at hand.
Becky
Wife, mother, grandma, blogger, all wrapped into one person, although it does not define her these are roles that are important to her. From empty nesters to living with our oldest and 2 grandchildren while our house is rebuilt after a house fire in 10/2018 my life is something new each day.