Once Upon a Sign | The Magic Mirror" in Sign Language DVD Review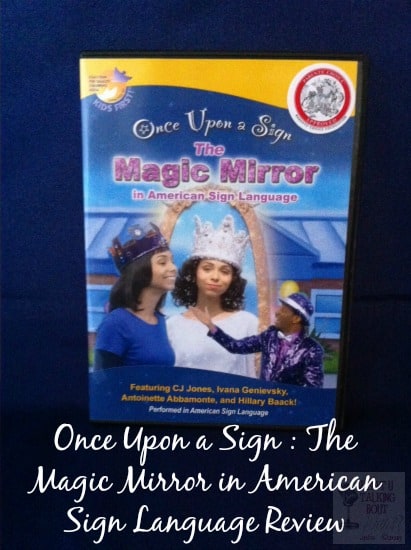 Becky
Newly middle-aged wife of 1, Mom of 3, Grandma of…

Disclosure: I received a copy of this DVD in order to facilitate my review. All opinions are my own.
Once Upon a Sign | The Magic Mirror" in Sign Language DVD Review
I have always been interested in American Sign Language. My daughter took it for the last two years of high school and I was always excited to see what she learned. If you do not know sign language there is the option to have closed captioning.
The story centers around a girl whose Mom wants her to try out for a talent show. The only problem is that she does not have a lot of confidence in herself. When she fails during the first try-out, she is encouraged by her Mom as well as the man from the magic mirror to be more confident and to believe in herself. Although the people are not animated, all of the background items are. So it is colorful and enjoyable to watch.
This DVD features CJ Jones, Ivana Genievsky, Antoinette Abbamonte, and Hilary Baack. Performed in American Sign Language (ASL) it is great for the deaf that read sign language. It is also interesting enough for the child or adult that can read the closed captioning. The story has a great lesson and I enjoyed watching it.
At the end of the movie, they share some fun signs, and how to do them.
The DVD is 24 minutes long but is not rushed nor does it drag. The characters have great animation skills to show the feelings when they are signing.
---
"Sign" on for a Modern Twist on Classic Stories
New Once Upon a Sign Award-Winning
Children's DVD Series Retells Favorite Children's Tales in
American Sign Language (ASL)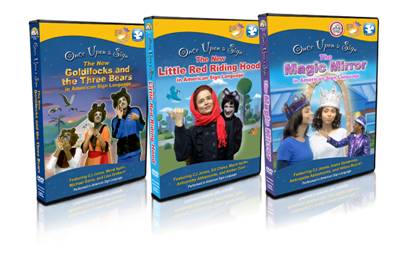 Coming to DVD June 2, 2015
From DawnSignPress-The Nation's Leader in ASL
San Diego, CA (May 4, 2015) – You know the stories well. You had them read to you dozens of times as a child, your parent's voice bringing the characters to life. But what are those timeless tales like when performed by a Deaf cast signing ASL? Amazing, fun and totally engaging for everyone, thanks to DawnSignPress, a company well-known for quality children's ASL products, and the launch of their new award-winning Once Upon a Sign DVDs available June 2, 2015.
Initial three titles in launch are "The Magic Mirror in American Sign Language" – Winner of Parents' Choice Approval,"The New Goldilocks and the Three Bears in American Sign Language" and "The New Little Red Riding Hood in American Sign Language." All are endorsed by KIDS FIRST! and have received the Dove Family Foundation Seal of Approval. Suggested retail price is $15.95 for each of the 25-minute DVDs. Once Upon a Sign re-creates classic children's stories with clever modern themes performed by an all-deaf cast entirely in ASL with voice-over and English subtitles. Each DVD also features "Fun Signs," a recap of key signs from the story.
"With the popularity of teaching babies sign language parents may be looking for that next step for their children to learn more signs as they grow older," says Joe Danis president of DawnSignPress. "Well, look no more! Children, deaf or hearing, will love watching these stories being brought to life in beautiful American Sign Language. and it's a great way to bring together the deaf and hearing community."
Once Upon a Sign Launch DVD Titles:
In "Once Upon a Sign: The Magic Mirror" young Alice Cogswell wants to enter the talent show but she's unsure of herself. After an audition that doesn't go her way, she gets some magic help. But will this magic help get her to the talent show and help her ASL poetry sparkle?
"Once Upon a Sign: The New Little Red Riding Hood" is set in New York City and takes you on an exciting trip through Central Park. Little Wolf will be up to his old tricks, but will Little Red fall for it, or will the Park Ranger save the day? And how will Grandma react to all the excitement going on?
In "Once Upon a Sign: The New Goldilocks and the Three Bears," overlooking the scenic California coast a quaint home sits alone. This is the home of the Three Bears, but today, something will change. An unexpected golden-haired visitor awaits them when they return home after a nice, long walk on the beach.
Future Titles in the Once Upon a Sign DVD series include Jack and the Beanstalk, The Stone Soup and Three Little Pigs. For more information on these and all titles in the series, visit www.dawnsign.com.
About DawnSignPress
DawnSignPress creates, develops, and publishes quality children's American Sign Language (ASL) videos and books. After 35 years of pioneering ASL products, DawnSignPress is still on the cutting edge of the educational and social media trends relating to ASL Now, with ASL's popularity n the mainstream on a steady rise DawnSignPress looks to offer quality ASL to a wider audience. For more information visit www.dawnsignpress.com.
Series Title: Once Upon a Sign
DVD Titles/ISBN The Magic Mirror in American Sign Language 978-1-58121-258-7
The New Little Red Riding Hood in American Sign Language 978-1-58121-257
The New Goldilocks ad the Three Bears in American Sign Language:
978-1-58121-261-7
Release Date: June 2, 2015
Category: Children, Ages 3-8
SRP: $15.95 each
Length: Approx. 26 Minutes each
Becky
Newly middle-aged wife of 1, Mom of 3, Grandma of 2. A professional blogger who has lived in 3 places since losing her home to a house fire in October 2018 with her husband. Becky appreciates being self-employed which has allowed her to work from 'anywhere'. Life is better when you can laugh. As you can tell by her Facebook page where she keeps the humor memes going daily. Becky looks forward to the upcoming new year. It will be fun to see what 2020 holds.