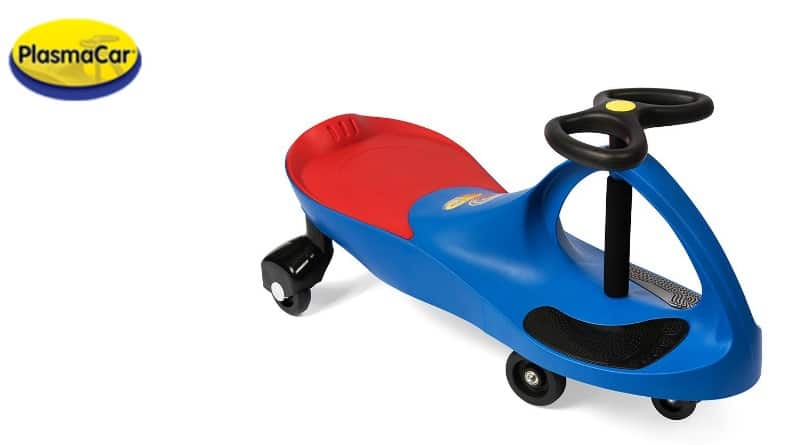 Becky
Wife, mother, grandma, blogger, all wrapped into one person, although…

The original PlasmaCar is a fun item to give this holiday season. It does not require batteries, nor pedals. It is just fun, and a way for your child to get some exercise while having a blast at the same time.
I thought my grandson would only be interested in it, come to find out my granddaughter was too. Once we put it together, it was time for fun.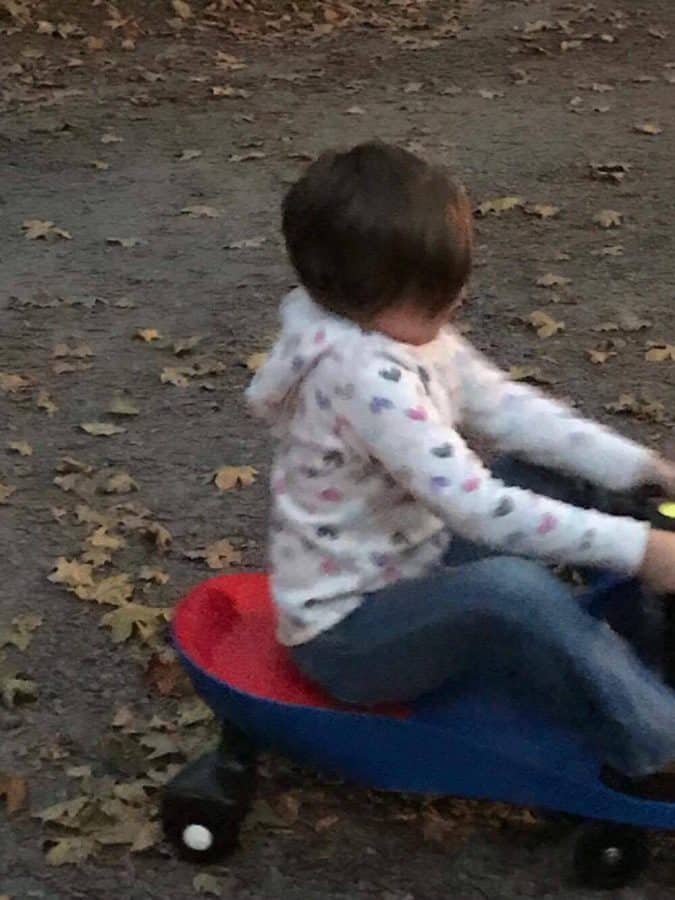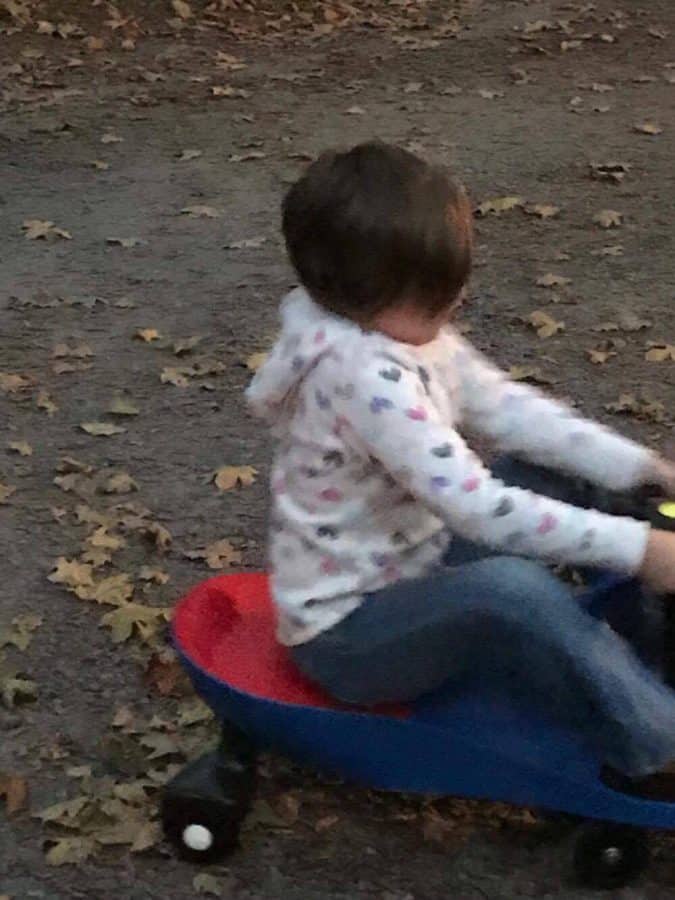 On a flat surface it will hold someone up to 220 pounds, so even adults can enjoy trying it out too! The kids got a kick out of moving the 'steering wheel' back and forth to get the car to go. There were lots of laughs and giggles.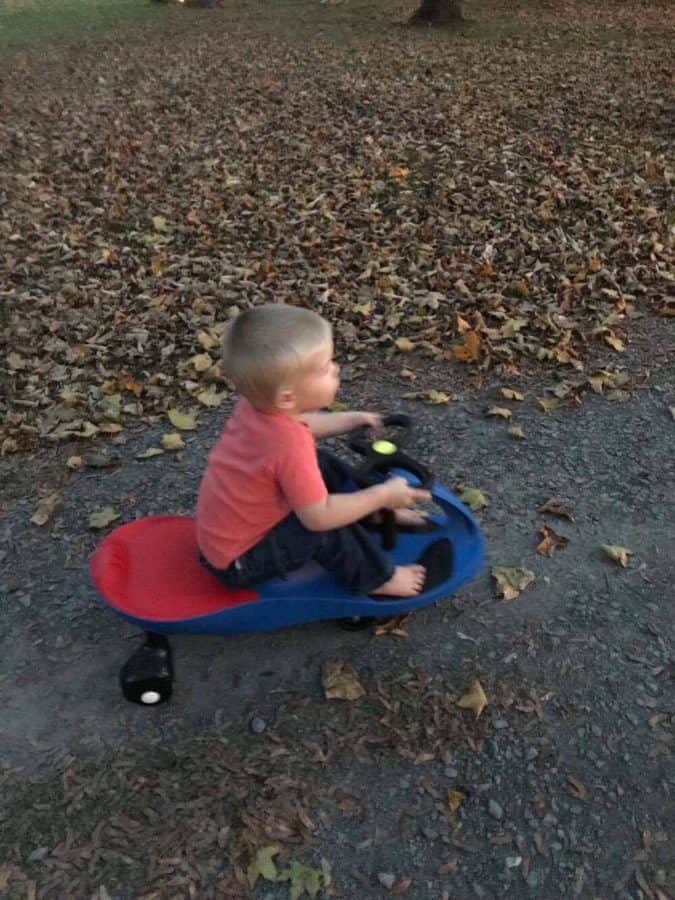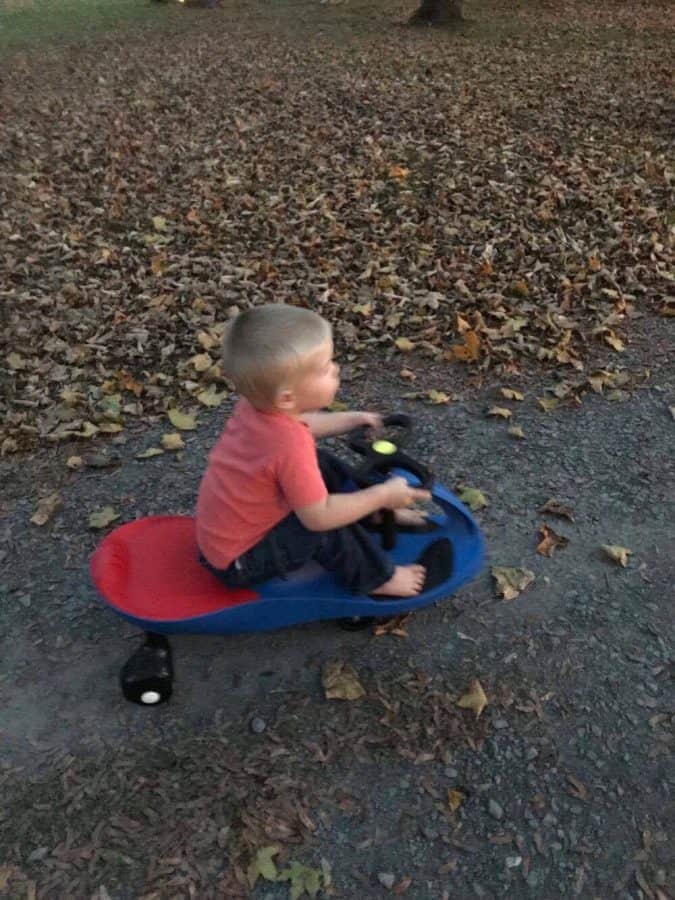 What I Love about the PlasmaCar
No batteries, gears, or pedals, the Original PlasmaCar® is kid friendly; kid approved

I love that you can use it inside or outside, (just be careful as it is not recommended for wood floor surfaces.) while reaching exhilarating speeds up to 6 mph / 10 km/hr. It is adult friendly and it supports up to 220 lb / 100 kg on smooth, on flat surfaces

The sleek design with a patented safety seat PlasmaCar® by PlaSmart is great for children 3 yrs and up, and it's easy to use – just prop your feet up on the footrests and turn the steering wheel to get moving.

You can enjoy peace of mind with the PlasmaCar® since it meets and exceeds all US, Canadian, and European safety standards; CPSIA, CCPSA, ASTM, EN71, ISO and ICTI certified

They have won multiple awards including the prestigious Oppenheim Portfolio Platinum Seal Award 2006, and Gold Seal Award 2005, Dr. Toy's Best Vacation Winner 2005, TDmonthly Top Seller 2007, recipient of the 2017 TNPC Seal of Approval, 2016 Totally Awesome Awards Seal, and 2007 TOTY Nominee.
I like that both of the grandkids can enjoy it and that their Dad or Mom can drive it also if they want. It can definitely be a whole family affair. Because their driveway had a whole bunch of leaves fall that day we found it was easier to start in the garage and then come out. Also, the kitchen/dining room floors really helped get it going, so a smooth surface is definitely the best way to go.
You can purchase it here on Amazon (my affiliate link, the disclosure is below).
See Also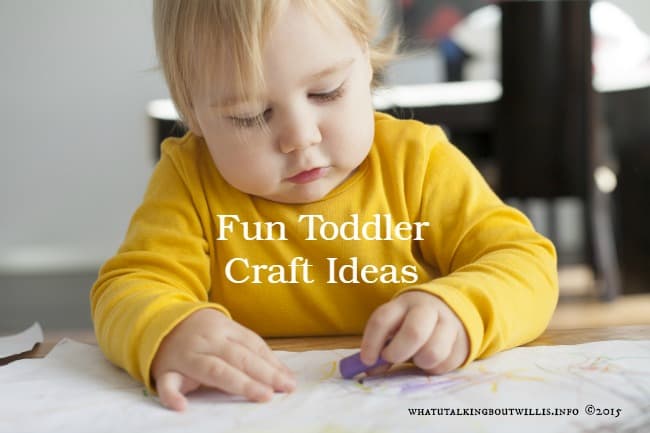 Affiliate Disclosure
The owner of https://www.whatutalkingboutwillis.com may receive compensation for recommendations made in reference to the products or services on this website.
This compensation may be in the form of money, services or complimentary products and could exist without any action from a website visitor. Should you purchase a product or service that was recommended by https://www.whatutalkingboutwillis.com, it is understood that some form of compensation might be made to the https://www.whatutalkingboutwillis.com owner. For example, if you click on an affiliate link at https://www.whatutalkingboutwillis.com and then make a purchase of the recommended product or service, https://www.whatutalkingboutwillis.com owner may receive compensation.
This Compensation Disclosure has been provided for your protection and to fully disclose any relationship between https://www.whatutalkingboutwillis.com product or service recommendations and the owners of those product or services.
You can visit PlaSmart below:
Website | Facebook | Twitter | YouTube | LinkedIn
Disclosure: Some of the links in this post are 'affiliate links.' This means if you click on the link and purchase the item, I will receive an affiliate commission.
Becky
Wife, mother, grandma, blogger, all wrapped into one person, although it does not define her these are roles that are important to her. From empty nesters to living with our oldest and 2 grandchildren while our house is rebuilt after a house fire in 10/2018 my life is something new each day.