Patio Decorating 101: How to Create the Ultimate Outdoor Patio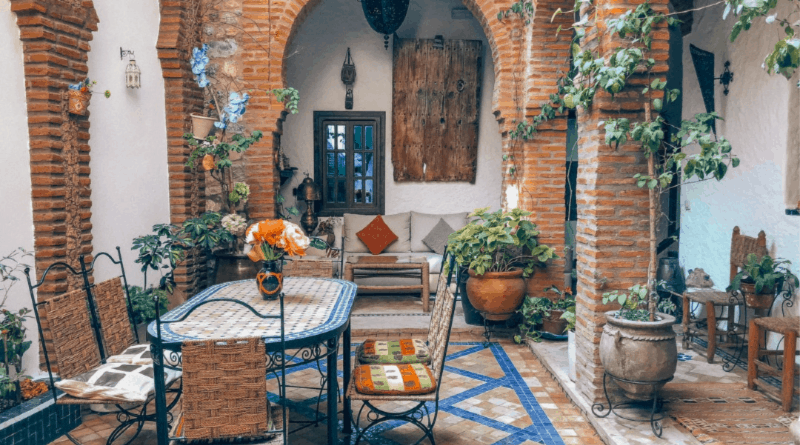 Becky
Newly middle-aged wife of 1, Mom of 3, Grandma of…
Nothing says entertainment better than the great outdoors! You'll never go wrong with outdoor entertainment. Outdoor entertaining is fun and less stressful than having people inside your home.
But you'll need to begin patio decorating before you sketch a guest list. Having an outdoor patio that everyone will love is a necessity! And on days when the weather is beautiful, you won't want to sit inside.
So don't grab your cocktail just yet! Start thinking about what you want out of your patio. There's plenty of ways to create the perfect outdoor space.
But choosing the right patio design for you might be challenging. Don't panic! Patiomate has many suggestions that you can use. We're here to make sure you find the ideal design for your family and friends.
Don't stop scrolling now! Continue reading to get the buzz on how to decorate your dream patio!
Food Is Life
You can't have great entertainment without food! Food is essential to the perfect get together or party. And needing to go in and out of the house while serving and cooking food is not fun!
When entertaining guest, you want to be by their side at all times. They're there to enjoy your company and you to enjoy theirs. So don't waste time running back and forth.
You need a kitchen that is accessible while outside. Outdoor kitchens are not only convenient but gorgeous too! Some outdoor kitchens feature grills, refrigerators, wine coolers, and handy sinks!
And it's a plus that you'll get to keep the mess outside. No sticky fingers on counters or dirty toes on your clean floors!
Time To Grab That Cocktail
An outdoor kitchen is one thing, but an outdoor bar is a whole other level! If you plan on entertaining adults, then you'll need an outdoor bar. And if you have a pool, then consider a pool bar!
Your guest can swim directly up to the bar and place their orders! Or, they can take a shot at a little bartending themselves. Bar seating can also be installed inside the pool.
Nothing is more luxurious than chilling at an in-pool bar while sipping on some wine or a fabulous cocktail. Cheers!
Seize The Shade
No, we don't mean rude remarks from frienemies. We're talking about a break from those hot sun rays! Hot summer days are superb for entertaining outdoors.
But the sun gets intense! Make sure your guest have the option to seize the shade when needed. Awnings, gazebos, and pavilions are great ways to provide shade for your guest.
Fill them with enough seating so guests have enough places to sit. These are also good places to hide any pool or outdoor equipment! And with awesome heat stoppers like these, you won't need your hater blockers on!
Rest Your Bum
Entertaining is tiring. And you'll need a place to rest your bum. Your guest will want to rest their feet as well.
So you'll need the best patio furniture! Before making a purchase, know what kind of entertainment you'll be doing. Also, take the weather into consideration.
If you plan on hosting large dinner parties, then you'll want the right furniture to accommodate them. Think about buying outdoor dining sets!
And depending on how many people your guest list consist of, plan accordingly. The more people you invite to your home, the more seating you'll need.
For colder nights, consider purchasing a fire pit with surrounding seating. These are great for getting the kids involved! Kids love roasting smores around the fire.
And grownups love staying warm! Fire pits and other outdoor furniture are available for purchase on outdoor living websites. For more on outdoor furniture purchases and ideas, check it out here!
Light It Up
Let's get this party lit! No, literally. Let's light it up.
It's not uncommon for events to run into the evening hours. You'll want to be prepared. Make sure you have sufficient lighting.
String lights that hang about the patio area are elegant and non-invasive. They're the perfect way to supply proper lighting without getting in anyone's way. Pool lights are another fun idea.
Go the extra mile and decorate your pool with floating lights. They're brighter than the underwater lighting. And they're sure to make a statement!
Create A Theme
Themes are always fun! Decide on a theme that best suits your family. What a great way to show character!
Margaritaville
A Mexican-style theme is a good choice for serving margaritas and Mexican food. If you plan on mostly entertaining adults with excellent alcohol beverage choices, then go with this theme! Hey, it's 5:00 somewhere!
Sophisticated Lounge
For entertaining adults, while remaining a little more classy, choose a lounge theme! You can still serve alcohol. But you might be dishing out martinis at this lounge-themed party.
Grill It Up
You're a serious griller. All your food cooked outdoors is grilled. Heck, you even venture outside to grill on a normal day.
If you plan on doing some major grilling, then this is your theme! Go big or go home! Make sure to have a large enough grill for all your grilling needs!
And don't be shy. Place your grill in the center of your patio space. It'll work great as a focal point.
Patio Decorating At Its Finest
You're an awesome host. But you need an awesome patio to entertain in. And patio decorating doesn't have to be stressful!
Follow these simple patio design ideas to get the most out of your outdoor space. With the help of our guide, your outdoor space will be the talk of the neighborhood in no time!
But the fun doesn't have to end there! For more on home hacks and helps, surf over to our home hacks, & helps blog!
Becky
Newly middle-aged wife of 1, Mom of 3, Grandma of 2. A professional blogger who has lived in 3 places since losing her home to a house fire in October 2018 with her husband. Becky appreciates being self-employed which has allowed her to work from 'anywhere'. Life is better when you can laugh. As you can tell by her Facebook page where she keeps the humor memes going daily. Becky looks forward to the upcoming new year. It will be fun to see what 2020 holds.