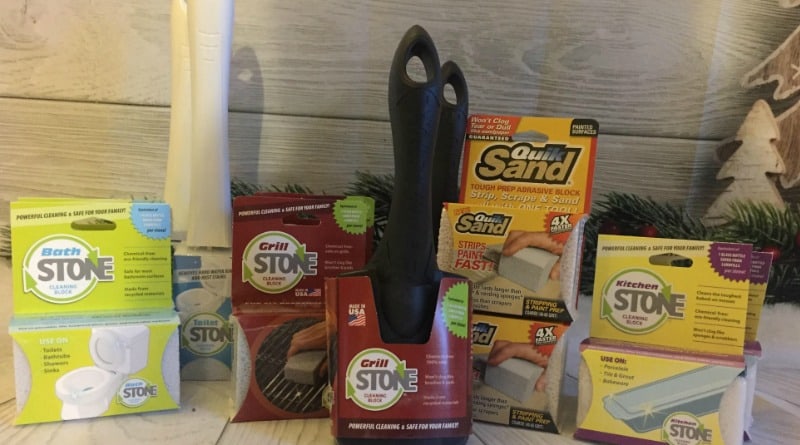 Becky
Wife, mother, grandma, blogger, all wrapped into one person, although…

Disclosure: I received products from Earthstone International to facilitate my review. All opinions are my own.
Earthstones are environmentally friendly abrasive blocks. If you have not come across this company, you are going to wonder why you hadn't found them before now. Their products are simply amazing.
What is Earthstone International
Earthstone International is a US-based manufacturer of foamed glass products. They recover glass from US landfill sites and recycle it to create environmentally responsible cleaning and sanding products that work. I think this is just an incredible way to truly recycle. They were founded in 1995 by Gay Dillingham and Andrew Ungerleider to create an eco-friendly alternative to pumice without having to use the conventional process of strip-mining in the mountains in New Mexico and elsewhere.
I think it is so incredibly cool how they are using landfill sites to cultivate their glass. This cuts down on their need to go into the mountains and strip mine.
How Their Products are Made
Recycled glass is taken from landfills.
Did you know that most municipalities in the United States don't truly recycle glass? The process to melt glass and form it into reusable material can be incredibly costly, so the glass that is turned in for recycling is mainly used in public art and for other similar projects. The rest is usually crushed and added to landfills anyway. Earthstone buys this crushed recycled glass to save it from being added to landfills.
Glass flour is made & mixed.
Earthstone grinds the recycled glass into a fine powder that feels like baking flour. Next, they mix it with a proprietary foaming agent that helps the glass flour rise like bread when it is baked.
The foamed glass is baked, cooled, & cut.
The glass flour is baked in their specialized kiln in Santa Fe, New Mexico at temperatures as high as 1600 °F. The baking and cooling process takes two full days, and then they cut and wrap the individual stones listed for sale on our site. Industrial products are made in a similar fashion.
Earthstone International's Mission
Their mission and vision are to reduce the need for strip-mined minerals by making high quality, an environmentally-friendly alternate product which is then used for household and commercial uses.
Earthstone International Just Some of the Products they Offer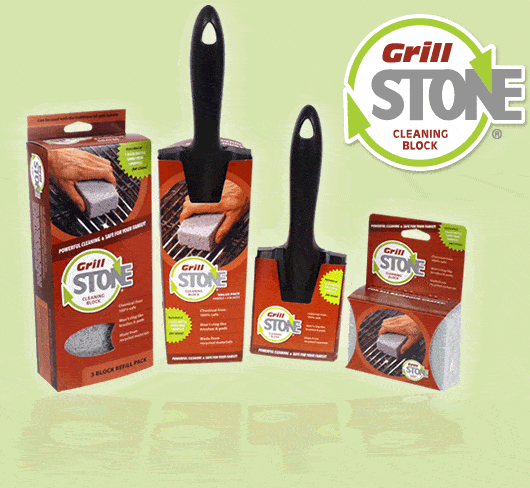 Neat Fact: GrillStone is made from recycled materials and saves the equivalent of 1 glass bottle from being added to landfills per stone.
Non-toxic, chemical free cleaning
Works great on hot and cold surfaces
Conforms to shape of the surface to clean between grill grates
Won't clog like grill brushes or pads
These are perfect for the grillers in your family. They are cost effective and you will find that they make great gifts. Also if you are someone that loves to have a clean grill, you will want to get some for yourself.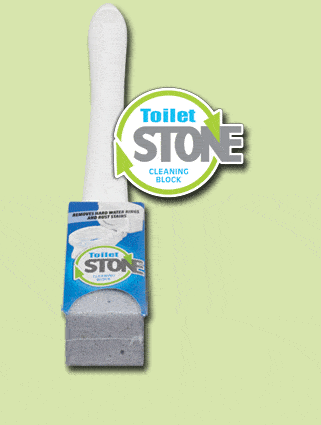 ToiletStone® Cleaning Blocks
If you find you have trouble removing hard water stains, rust, toilet rings and mineral build-up you will want to get yourself some of these ToiletStone Cleaning Blocks. We live in a house that has well water, so rust and build up are common in our home. Until the Toiletstone, for the past 9 years, I have had to use so many different cleaners that really didn't work just made the stain dull but still appear. Now with these, I am seeing such a difference and I am so happy.
ToiletStone provides a powerful and safe cleaning tool for removing hard water stains, toilet rings, rust, and mineral build-up. With a built-in handle, it is designed to clean hard to reach surfaces and effectively clean without the use of rubber gloves. ToiletStone is made from recycled materials and keeps the equivalent of 1 glass bottle from landfills per stone.
Removes lime and scale buildup without the toxic acids and the dangerous fumes found in chemical cleaners
Works great on porcelain and ceramic toilet bowls
Conforms to the shape of the surface being cleaned for more effective, faster cleaning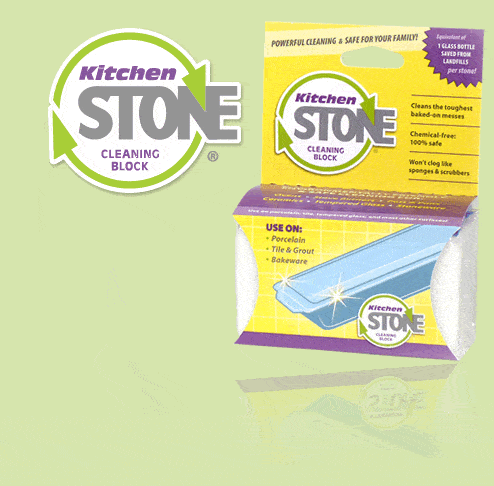 KitchenStone® Cleaning Blocks
These stones are environmentally friendly cleaning blocks which clean burnt food, rust, and stains from ovens, stoneware, ceramics, glassware, pots, pans, stove burners, and other cooking surfaces while contributing to a healthy environment.
KitchenStone is made from recycled materials and saves the equivalent of 1 glass bottle from being added to landfills per stone.
See Also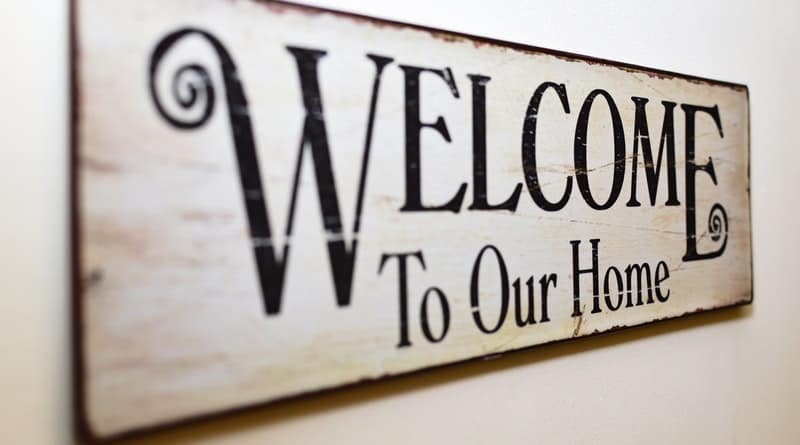 Non-toxic, chemical free cleaning
Safe for your whole family
Works great on hot and cold surfaces
Won't clog like sponges and scrubbers
I just love using these on my old pans. My husband thought I was going a bit crazy when I started using them as I was just taking "clean" pans out of the cupboard and washing them. They don't look brand new but they look so much better than they did BS (before stone). Ok, it is getting late and I am getting a bit silly.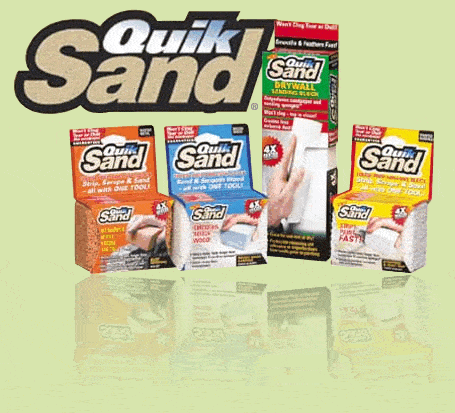 QuikSand® Sanding Blocks
Do you have a DIY'er in your household? Possibly you want to sand down some projects. When I sand I purchase sandpaper and even tried the little block you put it on only to get frustrated when the paper rips off the block and I have to put a new one on.
This will no longer happen when you use QuickSand. You will find you are able to complete your project much faster. These environmentally friendly sanding blocks last 4x longer than sandpaper and give you a fast, easy-grip sanding solution for all of your products. The block will conform to the shape of the sanding surface to help you get an evenly sanded perfect finish every time!
Non-toxic, chemical free stripping & sanding
Safe and easy to use
Save the equivalent of 1 glass bottle from landfills per stone
You will find even more of their products on their website here. You can also purchase at a wide variety of stores. So there is still time to get some as gifts for the holidays.
Follow them on their social media below.
Becky
Wife, mother, grandma, blogger, all wrapped into one person, although it does not define her these are roles that are important to her. From empty nesters to living with our oldest and 2 grandchildren while our house is rebuilt after a house fire in 10/2018 my life is something new each day.