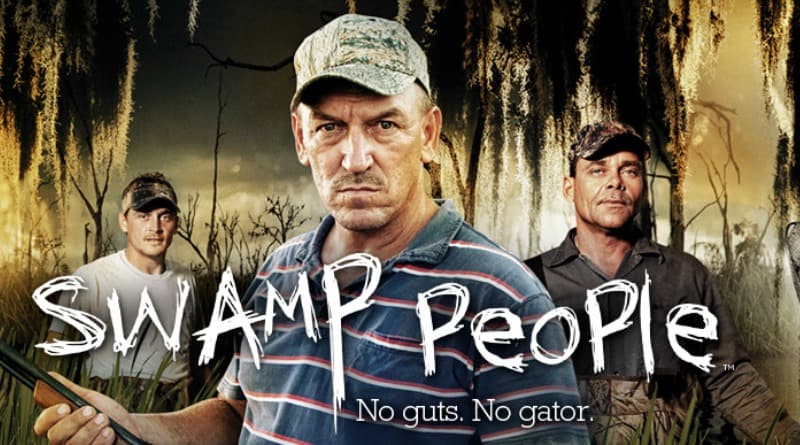 Becky
Wife, mother, grandma, blogger, all wrapped into one person, although…

It's Coming on January 10, 2017, Swamp People!
Get ready because, on January 10, you are going to be able to own Swamp People Season 7. Swamp People 7 has all of your favorite characters. The King of the Swamp is facing his toughest challenges as of yet. Troy and the rest of the swampers start this season with a 30-day alligator hunt in Louisiana.
You will be able to witness the high pressure, which honestly made me uptight in more than one instance, of the hunt. You will also get an up-close look at the high waters and the high risk that comes with hunting those gators. This series is a top rated series and I can definitely see why. I watched this show a while back and it always made me uptight and yet intrigued. To be able to see how close they get to their catches, I couldn't imagine being that close to these animals.
This series includes special features including "Bruce's Freezer Dilemma", "Icing the Haul", "Glenn's Porch Swing Project", "Willie Passes the Torch", "An Impromptu Airboat Ride" and lastly, "Jacob's Gift to Ridge".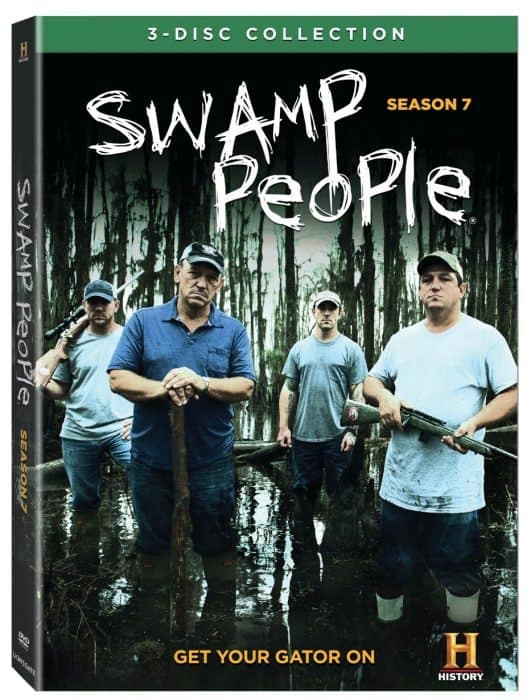 OFFICIAL SYNOPSIS
Swamp People®: Season 7 is Troy Landry's toughest season yet as nature seems determined to keep him from tagging out. He'll face off with friends and foes alike, fighting to provide for his family and preserve his Cajun way of life. Fan favorite Bruce Mitchell is back, and newcomers Frenchy Crochet and Gee Singleton are on hand to up the ante.
PROGRAM INFORMATION
Year of Production:
2016
Title Copyright:
Swamp People
© 2016, Cover Art and Design © 2017 A&E Television Networks, LLC. All Rights Reserved.
Swamp People
, HISTORY, the "H" logo and A+E Networks are trademarks of A&E Television Networks, LLC. Distributed by LIONSGATE
®
under license from A+E Networks.
Type:
TV-on-DVD
Rating:
TV-PG
Genre:
TV Series, Documentary
Closed Captioned:
N/A
Subtitles:
English SDH
Feature Run Time:
558 minutes
DVD Format:
16×9 Widescreen 1.78 Presentation
DVD Audio Status:
English 2.0 Dolby Digital Audio
ABOUT LIONSGATE
Lionsgate is a premier next generation global content leader with a diversified presence in motion picture production and distribution, television programming and syndication, home entertainment, international distribution and sales, branded channel platforms, interactive ventures and games, and location-based entertainment. The Company has nearly 80 television shows on 40 different networks spanning its primetime production, distribution and syndication businesses. These include the groundbreaking hit series Orange is the New Black, the fan favorite series Nashville, the syndication success The Wendy Williams Show, the hit drama series The Royals, the Golden Globe-nominated dramedy Casual and the breakout success Greenleaf.
The Company's feature film business spans eight labels and includes the blockbuster Hunger Games franchise, the Now You See Me and John Wick series, Nerve, CBS Films/Lionsgate's Hell or High Water, Sicario, Roadside Attractions' Love & Mercy and Mr. Holmes, Codeblack Films' Addicted and breakout concert film Kevin Hart: Let Me Explain and Pantelion Films' Instructions Not Included, the highest-grossing Spanish-language film ever released in the U.S.
Lionsgate's home entertainment business is an industry leader in box office-to-DVD and box office-to-VOD revenue conversion rates. Lionsgate handles a prestigious and prolific library of approximately 16,000 motion picture and television titles that is an important source of recurring revenue and serves as a foundation for the growth of the Company's core businesses. The Lionsgate and Summit brands remain synonymous with original, daring, quality entertainment in markets around the world.
Purchase on Amazon
—- Swamp People Season 7
(This is an affiliate link meaning if you purchase from it I will receive a small commission. This doesn't affect your purchase. I am just disclosing it for your knowledge.)
Becky
Wife, mother, grandma, blogger, all wrapped into one person, although it does not define her these are roles that are important to her. From empty nesters to living with our oldest and 2 grandchildren while our house is rebuilt after a house fire in 10/2018 my life is something new each day.