THE MONSTER starring Zoe Kazan arrives on Blu-ray|DVD Tuesday 1/24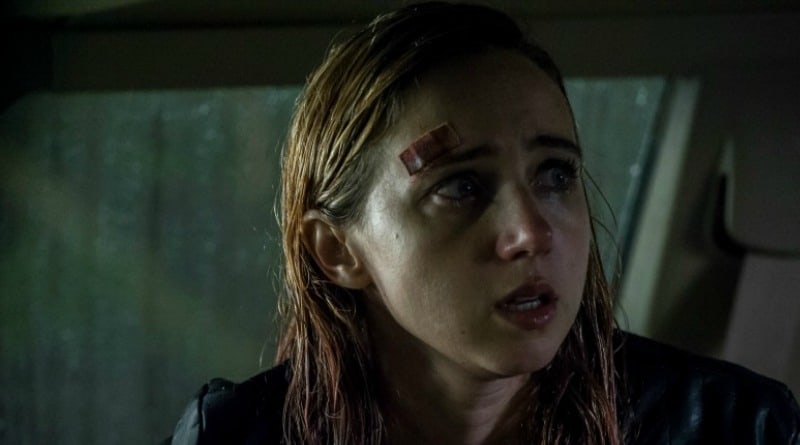 Becky
Newly middle-aged wife of 1, Mom of 3, Grandma of…
Get Your Copy of the MONSTER today!
Disclosure: I received this item for free in exchange for my opinions and my opinions are 100% mine alone.
This week for late night date night my hubs convinced me to watch a scary movie, I'm such a chicken but I gave in this time. MONSTER was his pick. So grab a yummy snack and read along!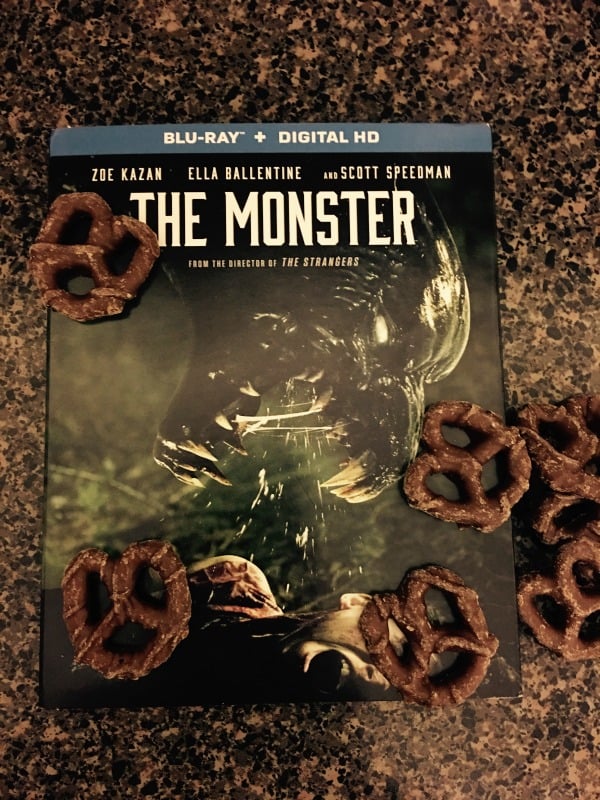 It's starts off nice and easy with a pretty basic scary movie plot. Then all of a sudden, I'm coving my eyes and screaming! This movie will keep you right on the edge of your seat and bitting your nails till they bleed! The tension is incredibly mind blowing scary!
Here I am sitting on my couch eyes covered ears plugged and la-la in my head, my husband is grabbing my hands and forcing me to watch it! MONSTER is pee your pants scary!! If you are a thrill seeker, or avid nightmare lover, I recommend it!
The characters take on their rolls seriously, it all feels so real. The gore and special effect are VERY believable, so believable that I still can't sleep!
MONSTER is a great scary movie to watch once the kids fall asleep.
Run out and grab your copy for today!
Street Date: 1/24/17
DVD SRP: $19.98
Blu-rayTM SRP: $24.99 You can Purchase on Amazon (This is an affiliate link meaning if you purchase from it I will receive a small commission. This doesn't affect your purchase. I am just disclosing it for your knowledge.)
PROGRAM DESCRIPTION
Everyone's worst fears about the evil that hides in the dark come to life in the nightmare-inducing horror film The Monster, arriving on Blu-ray™ (plus Digital HD) and DVD January 24 from Lionsgate. Somewhere deep in the dark woods lurks a bloodthirsty creature that targets an unsuspecting mother and daughter on a late-night road trip. Starring Primetime Emmy® Award nominee Zoe Kazan (TV's "Olivia Kitteridge") and Teen Choice Award nominee Scott Speedman (Underworld franchise), the shocking and terrifying modern monster movie will have you "peeking through your fingers as the blood goes splat" (The New York Times). Theatrically released by A24, The Monster Blu-ray and DVD will be available for the suggested retail price of $24.99 and $19.98 respectively.
Acclaimed horror filmmaker Bryan Bertino (The Strangers) wrote and directed this suspenseful and scary film, in which a divorced mother (Zoe Kazan) and her headstrong daughter must make an emergency late-night road trip to see the girl's father. As they drive through deserted country roads on a stormy night, they suddenly have a startling collision that leaves them shaken but not seriously hurt. Their car, however, is dead, and as they try in vain to get help, they come to realize they are not alone on these desolate backroads — a terrifying evil is lurking in the surrounding woods, intent on never letting them leave.
BLU-RAY/DVD SPECIAL FEATURES
"Eyes in the Darkness" featurette
CAST
Zoe Kazan Ruby Sparks, Our Brand is Crisis, What If, TV's "Olive Kitteridge"
Scott Speedman The Vow, Underworld franchise, The Strangers, TV's "Felicity"
Ella Ballentine The Captive, The Calling, Standoff
PROGRAM INFORMATION
Year of Production: 2016
Title Copyright: The Monster © 2015 Monsters, LLC. All Rights Reserved. Artwork & Supplementary Materials © 2017 Lions Gate Entertainment Inc. All Rights Reserved.
Type: Theatrical Release
Rating: R for Language and Some Violence/Terror
Genre: Horror, Thriller
Closed-Captioned: NA
Subtitles: Spanish, English SDH
Feature Run Time: 91 minutes
Blu-ray Format: 1080p High Definition 16×9 Widescreen (2.40:1)
DVD Format: 16×9 Widescreen (2.40:1)
Blu-ray Audio: English 5.1 DTS-HD Master AudioTM
DVD Audio: English 5.1 Dolby Digital Audio
Becky
Newly middle-aged wife of 1, Mom of 3, Grandma of 2. A professional blogger who has lived in 3 places since losing her home to a house fire in October 2018 with her husband. Becky appreciates being self-employed which has allowed her to work from 'anywhere'. Life is better when you can laugh. As you can tell by her Facebook page where she keeps the humor memes going daily. Becky looks forward to the upcoming new year. It will be fun to see what 2020 holds.