The Silver Cross by Debra L Martin & David W Small: Character Interview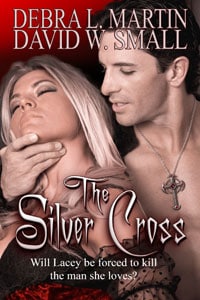 Becky
Newly middle-aged wife of 1, Mom of 3, Grandma of…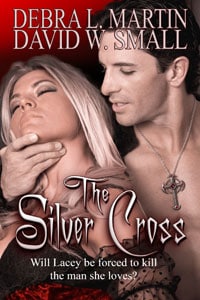 The Silver Cross by Debra L Martin & David W Small: Character Interview
Character Interview with Damon Harte
Q: How long have you owned your bar, The Phoenix?
A: I bought the place in 2000. It took a few years for it to catch on, but now it's
packed most days of the week and outrageous on the weekend. There's something
for everyone—cheap drinks, burgers and fries, pool tables and darts.
Q: You seem like you really enjoy the place?
A: I love being a bartender here. I've become friendly with many of the local patrons
so it's more of a family feel to the place. Plus, I try to hire local bands to play on the
weekends so that brings in more family members.
Q: What do you do for fun?
A: When I'm not working, I try to hit the gym. Lifting weights certainly helps
alleviate any stress I'm feeling. Running a successful business can be wearing at
times, but I can't think of anything else that I'd prefer to be doing.
Q: What's your perfect woman look like?
A: I've always loved all kinds of women – don't really have a particular type. That is,
until I met Detective Lacey Gardner. Now that's a perfect woman!
Q: What attributes do you like the most in Lacey?
A: First, let me say that Lacey is a beautiful, smart and sexy woman, but it's more
than just her physical attributes that I find so appealing. She's has a strong and
confident personality and that's what I find the most attractive of all.
Q: So, is Lacey the one?
A: Well, I've only just met her. I can tell you that we enjoyed an amazing lunch date
together. I actually didn't want to let her leave, but we both had to get to work.
Lacey certainly has stirred something inside me and I'm so looking forward to
getting to know her better.
Q: Thanks for taking the time to chat Damon.
A: You're most welcome. It was my pleasure, but I've got to get the bar ready to
open up soon.
Becky
Newly middle-aged wife of 1, Mom of 3, Grandma of 2. A professional blogger who has lived in 3 places since losing her home to a house fire in October 2018 with her husband. Becky appreciates being self-employed which has allowed her to work from 'anywhere'. Life is better when you can laugh. As you can tell by her Facebook page where she keeps the humor memes going daily. Becky looks forward to the upcoming new year. It will be fun to see what 2020 holds.