Social Media: Not Just Your Average Social Sites!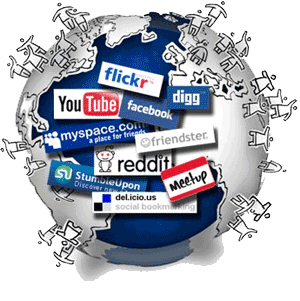 Becky
Newly middle-aged wife of 1, Mom of 3, Grandma of…
Social Media: Not Just Your Average Social Sites!
Social media sites may look ordinary and just plainly for entertainment, but it actually has a strong capability to enhance one's marketing campaign. It can help a business in a lot of ways.
The effective communication, quick dissemination of information, and strong connection between people that are developed in different social networking sites are among those factors that allow effective marketing.
Benefits of Social Media Marketing
Social media offers various benefits to internet marketers. Get to know these and be able to start planning out your future social media marketing strategies. Learn how to use social media as a powerful marketing tool before it's too late. Begin with understanding the following:
Easy and Quick Collection of Data
Sharing data is one of the things that is extremely easy with social media. Most registered users have their profiles available in public, which means that information about their selves can be accessed by anyone. Hence, if you are a marketer, and you are looking for information regarding your market, entering social media would be a highly effective solution. Displayed personal details will help you figure out your market's preferences. If you're unsure of how to do that, contact some market research agencies and they will show you your best options. Personal updates posted on their profile page will enable you to discover techniques on how to better approach them.
Successful Brand Establishment
Building a brand is another opportunity that is present in social media. Making your product or service known to a bigger and wider market is possible once you utilize social networking websites. One of the many things that contribute to a successful brand establishment is the number of people present in these networks. Consider Facebook and Twitter, for example. Both have millions of registered users. Being able to contact and introduce your brand to even just 0.001% of the total number of users already gives a big opportunity.
Keeping Up to Date
It is vital for every marketer to stay updated in order to construct better techniques for the future.
Many of the updates that are highly useful can be found through social media. Social media is actually considered a huge database of ideas and opinions. Marketers can focus on particular social networking sites to gather users' preferences, which might be of help in developing better marketing methods.
Almost all businesses especially those that are small-time are now engaged in social media. If you want to get ahead of your competitors and obtain your goals without having to invest a huge amount of money, start integrating the use of social networks to your marketing scheme.
Author Bio:
Norris Lemuel Lasay is a writer on technology, lifestyle, and businesses at Broadband Expert. During his free time, Norris writes for relevant blogs in order to share his ideas on his favorite niches.
Becky
Newly middle-aged wife of 1, Mom of 3, Grandma of 2. A professional blogger who has lived in 3 places since losing her home to a house fire in October 2018 with her husband. Becky appreciates being self-employed which has allowed her to work from 'anywhere'. Life is better when you can laugh. As you can tell by her Facebook page where she keeps the humor memes going daily. Becky looks forward to the upcoming new year. It will be fun to see what 2020 holds.