The Water's Fine Tour by Janice Coy Book Review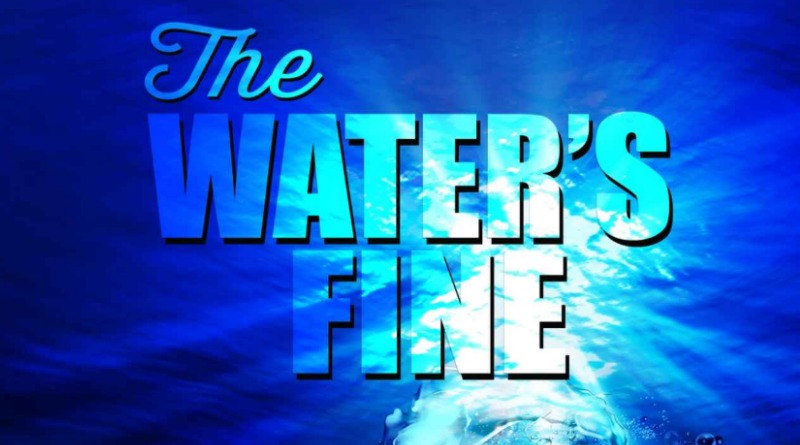 Becky
Newly middle-aged wife of 1, Mom of 3, Grandma of…
Disclosure: I received a copy of the book below in order to facilitate my review. All opinions are my own.
My review of The Water's Fine
I rarely seem to be able to enjoy a book from cover to cover, but The Water's Fine by Janice Coy was a huge exception.  From the moment I started reading the book, I stayed up way too late too many nights trying to find out what was going to happen next.
Catalina is the main character who works for a diving company.  She hasn't been home in many years as she has found that her life abroad is something that she enjoys.  She enjoys the time she spends with the ocean as it is then that she feels most at ease.  The latest scuba trip she finally gets the divers that are a little more involved than the ones she has had in the past.  This makes her feel like she has finally being trusted with the role she has with the scuba diving company and she is ready to show just how well she can do.
The characters that become a part of the story from there make you want to know them better.  Janice Coy does a wonderful job in her writing skills when it comes to the characters because you get to know them.  Bertie's character is vibrant and exciting.  Catalina isn't so sure at first but quickly realizes she has made a friend in Bertie as well as her husband.
You will feel like you are a part of the story and keep wanting to find out what will happen next.  Once the tragedy happens while they are out on a dive, you honestly think that is where it is going to end.  BUT it doesn't.
Catalina decides to go back home and deal with what happened on her last dive and that is where the mystery unfolds.  I do not want to spoil anything for you-so don't wait and get your copy of The Water's Fine today!
Buy links are below.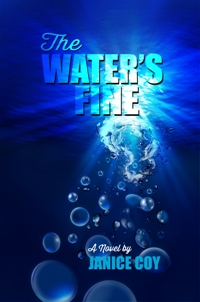 Water's Fine: Suspense Novel by Janice Coy
Publisher: Independently Published (April 22, 2019)
Category: Suspense, Family Fiction, Women's Fiction
Tour dates: January/February 2020
ISBN: 9781795669047
Available in Print and ebook, 312 pages


Description Water's Fine: Suspense Novel by Janice Coy
Catalina Rodrigues believes she's living her best life, traveling to exotic locations around the world as a scuba divemaster, spending every moment possible in her beloved ocean.
Bertie Clark is excited for a week-long scuba trip with her husband exploring the underwater wonders of an ocean teeming with life – the Sea of Cortez.
But a tragedy on their dive boat sends both women into uncharted territory, questioning what they've always thought to be true, and fostering an unlikely friendship. Will either trust the invitation to "come on in, the water's fine" again?
Praise Water's Fine: Suspense Novel by Janice Coy
"I just finished The Water's Fine by Janice Coy which means I am must bid farewell to the characters I have become attached to and I must close the cover on a plot that kept a firm grasp on my attention and continued to surprise. The act of reading this book can cause laundry to pile up, dust to gather and dirty dishes to dry crusty because one cannot stop reading from chapter to chapter – – from scuba action to the mystery, heartache, friendship, suspense, and self-discovery.
The author is artfully descriptive in all areas of scene and character development which draws you in and holds you! In fact, I would like to invite you to do a little scuba diving and not get wet? Slip-on those fins, adjust your mask, get your regulator set and start reading The Water's Fine."- Kjans, Amazon
"Oh wow, what a well-written book! Being someone who thinks that scuba diving is too scary to try I was drawn in by the author's imagery. It captured all the anxiety of "breathing underwater", the suspense of what dangerous creatures you could encounter as well as the absolute beauty and serenity you could feel while exploring the deep blue sea. I fell in love with her characters and was sucked into the mystery and suspense and enjoyed joining them on their journeys of self-discovery, life, and loss. I really enjoyed this book."-Amazon Customer
Praise Smallest of Waves by Janice Coy
"Thanks to Coy's descriptive, immersive world, the waves of Agave Beach leave a distinct impact in The Smallest of Waves. – Indie Reader
"A seaside mystery with an appealing heroine…Coy uses her beachside setting well, contrasting Agave Beach's innocent sandcastles and clueless tourists with the mysterious ocean – so foreign with its dark depths, sharks, kelp forests, and sea caves." Kirkus Reviews
2017 Finalist San Diego Book Awards Association
About Janice Coy
Award-winning Janice Coy is the author of five suspense novels. Her work is also published in four anthologies. She was a finalist at the San Diego Book Awards Association annual contest. She's received the IndieReader Seal of Approval. A former journalist, Ms. Coy has received several awards for her reporting including a national award for the best feature story in a community newspaper.
Ms. Coy is an advanced certified scuba diver; she's run five half-marathons and summited Mt. Kilimanjaro. She lives in Southern California with her husband.
Website: http://janicecoy.com/
Facebook: https://www.facebook.com/Janice-Coy-182435188445057/
Instagram: https://www.instagram.com/janicecoyauthor/
Buy Water's Fine: Suspense Novel by Janice Coy
Giveaway Water's Fine: Suspense Novel by Janice Coy
This giveaway is for the winner's choice of one print or ebook copy of the book. The print is open to Canada and the U.S. only and ebook is available worldwide. There will be 3 winners. This giveaway ends February 27, 2020, midnight pacific time.
Follow Water's Fine: Suspense Novel by Janice Coy
Teddy Rose Book Reviews Plus Jan 6 Kickoff & Interview
Catherine Cuzinlogic Jan 8 Guest review & Excerpt
Katy Goodreads Jan 9 Review
Lu Ann Rockin' Book Reviews Jan 10 Review & Guest Post
Charles Ray's Ramblings Jan 13 Review & Excerpt
Michael Amazon Jan 14 Review
Becky What U Talking Bout Willis Jan 15 Review & Excerpt
Dee Donadee's Corner Jan 16 Review
Teddy Rose Book Reviews Plus Jan 17 Review
Ruth Amazon Jan 20 Review
Lisa's Writopia Jan 21 Review
Lisa's Writopia Jan 21 Guest Post
Avonna Loves Genres Jan 22 Review & Interview
Dawn Bound 4 Escape Feb 6 Guest Review
Jas International Book Reviews Feb 11 Review
Kathleen Celticlady's Reviews Feb 14 Review
DTChantel Amazon Feb 21 Review
Infantina Periodical Gazette Feb 26 Review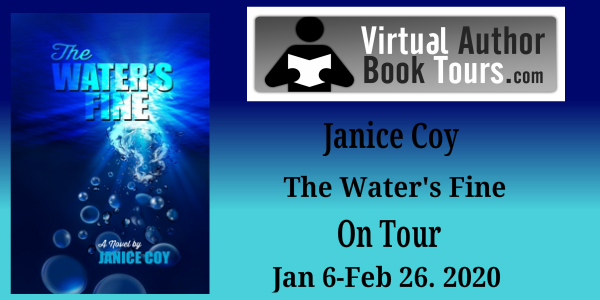 This giveaway is for 3 winners' choice of one print or ebook copy of the book. The print is open to Canada and the U.S. only and ebook is available worldwide. This giveaway ends February 27, 2020, midnight pacific time. Entries are accepted via Rafflecopter only.
Excerpt From The Water's Fine 

"Now, I sit on the bow of the Calypso with Bertie and think about how all the weeks and months and years have slipped by like the never-resting water moving beneath the boat. And I wonder, am I like the boat motoring along on the surface of life? Have I unwittingly become like Odysseus' crew who tasted the lotus and forgot the way home? 
I hold my hand loosely on my thigh, ready to tick off on my fingers the number of lasting relationships I've formed on my journey. But I can't think of a single one. 
Is Bertie right? 
Have I inched closer to home because I'm feeling ready to leave this life behind?"
Disclosure: Some of the links in this post are 'affiliate links.' This means if you click on the link and purchase the item, I will receive an affiliate commission.
Becky
Newly middle-aged wife of 1, Mom of 3, Grandma of 2. A professional blogger who has lived in 3 places since losing her home to a house fire in October 2018 with her husband. Becky appreciates being self-employed which has allowed her to work from 'anywhere'. Life is better when you can laugh. As you can tell by her Facebook page where she keeps the humor memes going daily. Becky looks forward to the upcoming new year. It will be fun to see what 2020 holds.