Things Too Big To Name by Molly Best Tinsley Giveaway and Review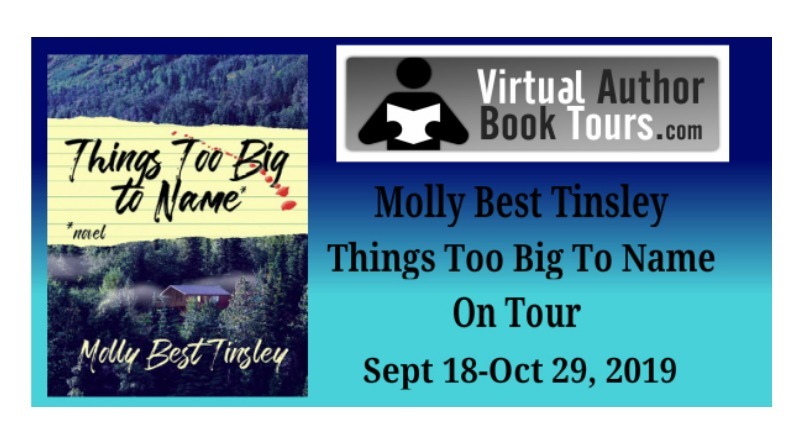 Becky
Newly middle-aged wife of 1, Mom of 3, Grandma of…
Disclosure: I received a copy of the book below to facilitate my review. All opinions are my own.
I have always loved to read and when this book came across my email I just knew I had to read it.  Molly Best Tinsley is an excellent writer.  Her writing brings you in from the moment you start the book and makes you want to find out what happens next.
Margaret (the main character) takes you through her past as well as her present while she is being held in a ward for the insane.  She takes you through what has brought her to this point and time in her life as she journals for her psychologist who visits her repeatedly.  She is supposed to be writing about things to help her figure out how Victor died but instead she is focused on writing to her husband that passed away a few decades ago.
You will enjoy reading this psychological thriller and want to read it until the end to see how it all plays out.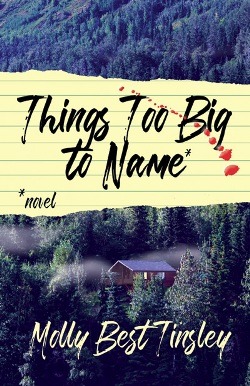 Things Too Big To Name by Molly Best Tinsley
Publisher: Fuze Publishing (August 30, 2019)
Category: Literary Mystery, Psychological Drama
Tour dates: Sept. & Oct 2019
ISBN: 978-1733034401
Available in Print and ebook, 289 pages


Description: Things Too Big To Name by Molly Best Tinsley
Margaret Torrens trades academia for early retirement and the solitude of a cabin in the Oregon mountains. Four months later, she is locked in a ward for the criminally insane undergoing assessment, and a charge of murder is in the air. Pried out of her by an impatient young psychologist, Margaret's story features Jane Farrow–a former student, who showed up at the cabin uninvited with an odd, mute child in tow–and Victor–Margaret's alleged victim, who put his claim on both. As Margaret works to control this narrative of the recent past, she is waylaid by secrets, borne by the ghost of her young husband, lost decades before.
Advance Praise Things Too Big To Name by Molly Best Tinsley
"The psychological drama of Things Too Big to Name plunges us into the mind of Professor Margaret Torrens as her plans for rural retirement unravel and she's forced to confront the life choices she's made since the death of her musician husband years before. One of her first students, Jane Farrow, appears at her mountain cabin with a strange child and asks to be taken in. Days later, disruption threatens to explode in violence when Victor Primo barges in looking for them. Molly Tinsley's distinctive braided narrative offers intense story-telling, studded with surprises, that keeps us on edge until the end."-Merrill Leffler, poet, Mark the Music, and publisher, Dryad Press
"A prickly but appealing narrator unspools events from her recent—and distant—past. The plot's gradual unfolding vibrates with the tension of unwilling confrontation and detonates with a satisfying jolt. A fun and absorbing read; I zoomed through it. –Allyson Booth, Postcards from the Trenches and Reading The Waste Land from the Bottom Up
"A recently retired English professor must explain to a Qualified Mental Health Professional the events leading to her arrest and commitment to a mental hospital. The more this brilliant psychological thriller excavates the layers of Margaret's mystery, the more we understand how we all hide parts of ourselves. Molly Tinsley's established talent for narrative and her familiarity with classic literature fold into one of the best novels I've read."-Sheila Bender, poet, and memoirist, A New Theology: Turning to Poetry in a Time of Grief.
About Molly Best Tinsley
In an episode of sanity, award-winning author, Molly Tinsley resigned from the English faculty at the US Naval Academy and moved west to write full-time. .
She is the author of MY LIFE WITH DARWIN (Houghton Mifflin) and THROWING KNIVES (Ohio State University Press), she also co-authored SATAN'S CHAMBER (Fuze Publishing) and the textbook, THE CREATIVE PROCESS (St. Martin's). Her more recent books are the memoir ENTERING THE BLUE STONE and another Victoria Pierce spy thriller, the sequel to SATAN'S CHAMBER: BROKEN ANGELS.
Her fiction has earned two fellowships from the National Endowment for the Arts, the Sandstone Prize, and the Oregon Book Award. Her fiction has been widely published and her plays have been read and produced nationwide. She lives in Ashland, Oregon.
Website: https://fuzepublishing.com/authors/fiction/molly-best-tinsley/
Facebook: https://www.facebook.com/molly.b.tinsley
Twitter: https://twitter.com/mbtinsley
Buy Things Too Big To Name by Molly Best Tinsley
Amazon
BarnesandNoble
IndieBound
Giveaway Things Too Big To Name by Molly Best Tinsley
This giveaway is for the winner's choice of one print or ebook copy of the book. The print book is open to the U.S. only and ebook is available worldwide. There will be 3 winners. This giveaway ends November 1, 2019, midnight pacific time.
Follow Things Too Big To Name by Molly Best Tinsley Tour
Teddy Rose Book Reviews Plus Sept 18 Guest Review
Maria FLY HIGH! Sept 19 Guest Review & Excerpt
Elizabeth McKenna – Author Sept 20 Excerpt
Catherine Cuzinlogic Sept 23 Guest Review & Excerpt
Candace Amazon Sept 24 Review
Susan Dab of Darkness Book Reviews Sept 24 Guest Post
Kim Amazon Sept 25 Review
Jody Amazon Sept 26 Review
Carole Rae's Random Ramblings Sept 27 Review
Becky What U Talking Bout Willis Sept 30 Review
Beaten Coffee Barista Amazon Oct 1 Review
Dawn Bound 4 Escape Oct 2 Guest Review
Wendy Wall-to-wall books Oct 3 Review
Laura FUONLYKNEW Oct 9 Review
Steve Silver Screen Videos Oct 14 Review & Interview
Kathleen Celticlady's Reviews Oct 15 Guest Review & Excerpt
Dan Amazon Oct 17 Review
DTChantel Amazon Oct 21 Review
Jas International Book Reviews Oct 24 Review
Writergideon Goodreads Oct 25 Review
Todd Amazon Oct 28 Review
Dee Donadee's Corner Oct 29 Review
Becky
Newly middle-aged wife of 1, Mom of 3, Grandma of 2. A professional blogger who has lived in 3 places since losing her home to a house fire in October 2018 with her husband. Becky appreciates being self-employed which has allowed her to work from 'anywhere'. Life is better when you can laugh. As you can tell by her Facebook page where she keeps the humor memes going daily. Becky looks forward to the upcoming new year. It will be fun to see what 2020 holds.