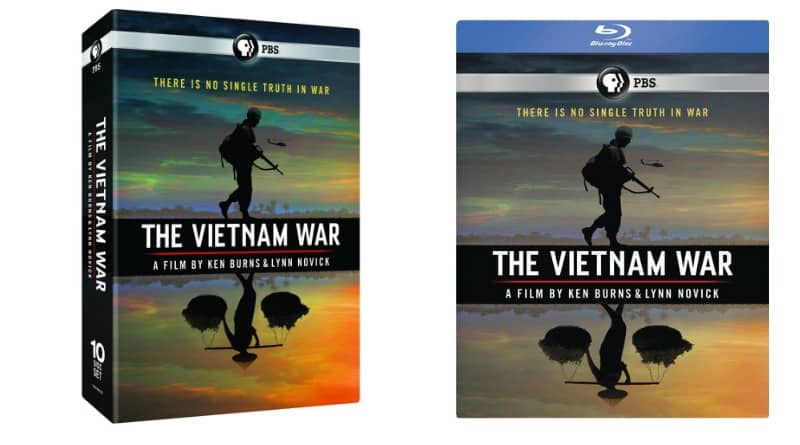 Becky
Wife, mother, grandma, blogger, all wrapped into one person, although…

Disclosure: We received this box set in order to facilitate our review. All opinions are our own.
The Vietnam War not only affected me as a young child but continues to affect our family to this day. You see my Dad served in the Marine Corp. shortly after I was born in the Vietnam War. So as a very young child, my Mom and I had to live without him for a couple years. Now all of these years later (almost 50) my Dad suffers from PTSD from his time during the war with what he experienced and saw. You wouldn't think that after all of these years he would suffer, but he does. I think mainly because instead of dealing with his feelings he pushed them down for so many years. He is now 71 and seems to suffer from anxiety, nightmares and just isn't himself. I am thankful that my Dad is still with us every day but I miss the Dad he seemed to be before this got back a hold of him.
Not too long ago he and I had a conversation about what he was struggling with and I was brought to tears. He experienced his best friend losing his life, which left his child (my age at the time without a father, and the wife a widow). He watched some go 'crazy' and they ended up in the brig because they were a danger to others. As well as young Korean children raising a gun to him so they could have the garbage he was collecting. I feel sad that my Dad has to relive these experiences at a time in his life that he should be enjoying his retirement. So I feel it is important that others can watch this 18-hour documentary series so that they may be able to relate to those that are Vietnam Veterans.
---
Ken Burns and Lynn Novick's ten-part, 18-hour documentary series, "THE VIETNAM WAR," tells the epic story of one of the most consequential, divisive, and controversial events in American history as it has never before been told on film. Visceral and immersive, the series explores the human dimensions of the war through the revelatory testimony of nearly 80 witnesses from all sides — Americans who fought in the war and others who opposed it, as well as combatants and civilians from North and South Vietnam. The series includes rarely seen, digitally re-mastered archival footage from sources around the globe, photographs taken by some of the most celebrated photojournalists of the 20th Century, historic television broadcasts, evocative home movies, and secret audio recordings from inside the Kennedy, Johnson and Nixon administrations. "THE VIETNAM WAR" features more than 100 iconic musical recordings from greatest artists of the era, and haunting original music from Trent Reznor and Atticus Ross as well as the Silk Road Ensemble featuring Yo-Yo Ma.
"
THE VIETNAM WAR
" is currently available on DVD and Blu-ray has a run time of approximately
1080 minutes on 10 discs
. The DVD SRP is
$99.99
and the Blu-ray SRP is
$129.99
. There are over 100 minutes of extra bonus footage. The film is also available as a digital download. You can purchase on
Amazon here
. (affiliate link)
Becky
Wife, mother, grandma, blogger, all wrapped into one person, although it does not define her these are roles that are important to her. From empty nesters to living with our oldest and 2 grandchildren while our house is rebuilt after a house fire in 10/2018 my life is something new each day.