Get Dad a Personalized Bottle Opener and Glass with a Twist

Disclosure:  We received products from this company in order to facilitate our review.  All opinions are my own.
If you are looking for something different for the Dad in your life, I have found a great place.  Although they are called "Groomsmen Central", they are so much more.  Dad will appreciate a customized gift for Father's day (ok I know ordering now it will be late), as a birthday present or just "because".  My Dad has been a hunter since I was just a little girl and so I knew he would appreciate these gifts this year for Father's Day.  His birthday is always with a week of Father's Day so I try to make sure he gets more than 1 gift since we celebrate both with him.
About Groomsmen Central
Eric Montgomery, and along with their team of engravers, order fulfillers, and copywriters, run Groomsmen Central on a day to day basis.  I really enjoyed reading about how Groomsmen Central came into being and you can read more about his journey from where they came from to how they got to where they are today here.  I also want to thank Eric for his service to our country!
Eric finds that people like to give personalized gifts and because they don't always want it to be 'gun' themed have recently expanded their offerings to more products.  What drew me to their store was the fact that they had gun-themed items.  I grew up in a home of hunters, and my Dad served in Vietnam.  So it just seemed like it would be neat to get him something for Father's Day that was personalized.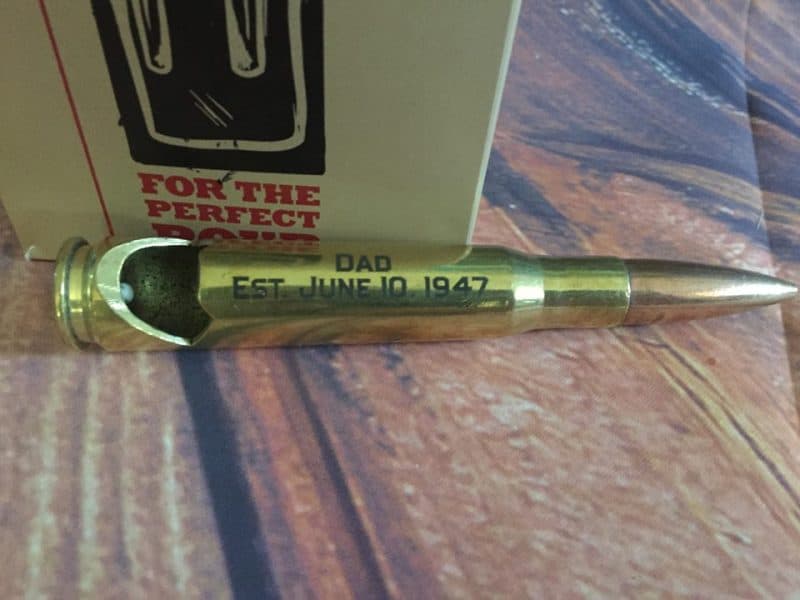 Also fun fact they are upcycled military ammunition.  Above you will see the personalized brass .50-caliber bottle opener.  I opted to have "Dad" and his date of birth on it since it is for his birthday present.  I thought this will come in handy when he has to open his bottles plus I think he will find it unique to him.  One year I got him a wallet and although he didn't say it, I don't think he was very impressed lol. Shhhh.  So this year I am hoping he enjoys these gifts.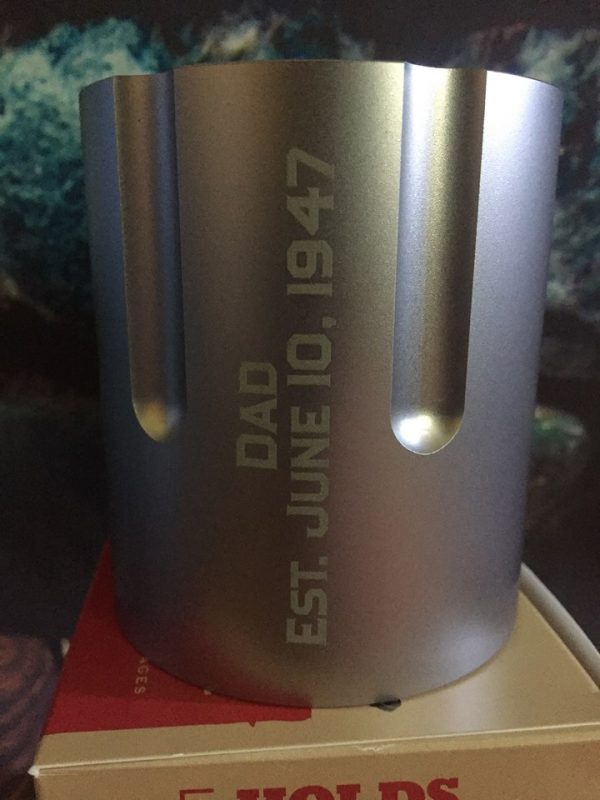 Then I had them send me the Six Shooter Rocks Glass.  I know my Dad enjoys a bit of whiskey from time to time and again I thought this was different than any glass he has.  Again I had them put Dad on it and his date of birth.  I think he will find this interesting as well.  Possibly he will start drinking his "every-so-often" Manhattan in it, time will tell.
10oz rocks glass made to resemble the classic Colt Revolver cylinder.
Care instructions: Not recommended for hot liquids. Hand wash only.
You can visit them on their social media and website, and don't forget they are great for groomsmen/women gifts too!
Facebook | Twitter | Instagram