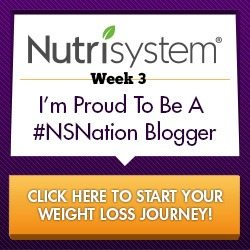 Becky
Newly middle-aged wife of 1, Mom of 3, Grandma of…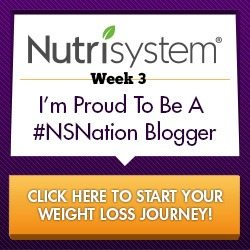 **Disclosure:I have received 3 months of food as part of the #NSNation Blogger Program. No monetary compensations has been exchanged. All opinions expressed are ours alone. PLEASE – always consult a healthcare professional, before starting any diet or exercise program.**
Week 3: My #NSNation Journey; Still Losing!
When you think of losing weight, you think diet. At least that is what I always thought. While on NutriSystem what I have started learning is portion size. I won't lie to you, before starting this program I didn't think anything about eating 6 stuffed shells or more, 4 pieces of Italian bread and possibly second helpings. I ate like this because I would go all day without eating; or eating junk, then justifying it to myself. At night when I was alone I would have ice cream. We have always ate ours in a coffee cup. Eventually I went from the smaller coffee cup to the larger one. That, sadly, wasn't where it would stop. I would go out and get a second cup and think "you are going to be mad at yourself", but I would do it anyways. I can't say eating for me is a comfort thing; it is more of a 'this tastes good, and I will worry about it later'.
After completing 3 weeks on this program I have lost 14.4 pounds. Although it is coming off a bit slower than the first week; I expected that to happen. I have always felt that it took me this long to gain the weight; it is going to take me longer to lose it. I will admit that I have already noticed clothes fitting not as tight as they were before starting. This tells me that I am losing inches also. I have measure myself once and will wait a month from when I did it to do it again.
The program has many delicious meals and instead of rushing through them; I savor them. Before I used to eat and my mind was on what is next. Now I eat and enjoy it; especially when I have a bowl of steamed vegetables to go with it. My favorites are raviolis, stuffed shells, salisbury steak with a side of macaroni and cheese. I do have more than that but those are my top 3. For lunch I do enjoy the bars that come with the program; but I really enjoy the chicken/cheese quesadilla. Its the closest thing that helps me not miss the Mexican food my daughter-in-law always makes. (I really do miss having that more often; but I know this is my choice in order to eat better.)
If you would like to check into the NutriSystem program you can click the button on my sidebar; and check into the program for yourself.
Becky
Newly middle-aged wife of 1, Mom of 3, Grandma of 2. A professional blogger who has lived in 3 places since losing her home to a house fire in October 2018 with her husband. Becky appreciates being self-employed which has allowed her to work from 'anywhere'. Life is better when you can laugh. As you can tell by her Facebook page where she keeps the humor memes going daily. Becky looks forward to the upcoming new year. It will be fun to see what 2020 holds.