Winter Heating Hacks to Try at Home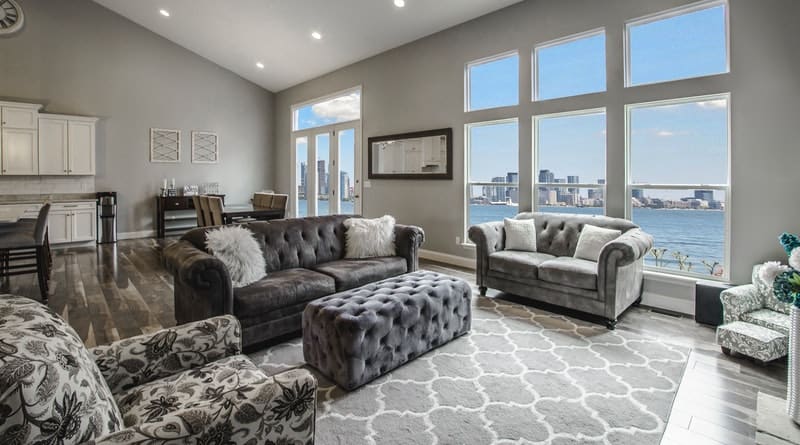 Becky
Newly middle-aged wife of 1, Mom of 3, Grandma of…
If you have a good heating system, then you might not have problems keeping warm in the winter at home. However, running a heating system all day, every day can get really expensive so you may be looking for some ways to reduce your heating bills. Luckily this list contains some winter heating hacks you can try yourself at home to keep warm and retain the heat in your home efficiently.
Put the Ceiling Fan in Reverse
Everyone knows that warm air rises, so when that warm air gets to your ceiling fan, it just stays at the top of the room. In the winter, ceiling fans don't help the situation because they are designed to keep the room cooler, so the blades are shaped to keep warm air up. However, if you put your ceiling fan on in reverse it will have the opposite effect and will start to fan the warm air back down creating a lovely flow of warm air around the room.
Service Your Heating System
The last thing you want when you get that first cold day in the winter is for your heating system to not work properly. It's a good idea to get your system checked out every couple of years to make sure it's performing at its best and won't let you down. Searching for "heating and cooling repair near me" on Porch will bring up a list of local businesses in your area that can give you professional help and advice on whether or not your heating system needs servicing or updating. Better to check now than when it's below zero outside!
Wear Warmer Clothes in the House
It's a classic winter tip but wearing an extra layer of clothes really is a very cheap way to keep your winter heating bills down and to stay warm around the house. Some of the best items of clothing to wear are thick socks and wooly hats. Around 10% of heat is lost from your head so, putting a nice wooly beanie hat on will help to keep you feeling lovely and warm.
Leave the Oven Open After Cooking
This is an often-overlooked tip, but why waste the heat from your cooker once you have finished cooking? If you've been cooking at a high temperature, then there's likely to be a whole lot of heat waiting to come out of that oven even after you turn it off. Leaving the oven door open for 20-30 minutes will make use of that left overheat and will help to take the edge off the cold in your kitchen. Of course, you should take every care to ensure that any pets and children are kept away during this time to avoid any injuries.
Move Large Furniture Away from Heating Systems
One of the easiest ways to waste heat in the winter months is to let it be absorbed into large items of furniture like a couch or a shelving unit. Placing a large item of furniture like this in front of a radiator will just block and absorb any heat that it's putting out which could be used more effectively to heat your room. It may require moving your front room around a little to make the most of the heat, but it will certainly be worth it, and you will notice a big difference.
Reflect the Heat from Radiators
Once you have moved all your furniture away from the radiators in your home there's another great winter hack you can try that will make you even more energy efficient. Installing foil strips behind the radiators in your home will help to reflect the heat back out and will stop heat being absorbed into the wall. It doesn't have to be expensive either, a little bit of aluminum foil will do the job and the best part is, once you've installed it you can just leave it and forget about it!
Identify and Repair Insulation Issues
Insulation issues are one of the most common causes of heat loss in American homes. There are a number of areas you can check for ineffective insulation including in the ceiling, the basement and in any crawl spaces you may have. Taking action to insulate these spaces in the summer will more than pay you back in the winter.
Other areas to check are windows and doors. Any drafts in these areas will mean heat leaks out and cold air comes in. Checking these common heat loss areas is quick and easy and is a top winter hack.
You may be surprised at some of the ways you can save money on your heating bill. Through thinking outside of the box and having pragmatic solutions, you can be sure your home is warm enough to get you through the winter months. Servicing your heating system is vital, and, along with implementing a few other handy tips as laid out above, your home will soon be toasty warm.
Becky
Newly middle-aged wife of 1, Mom of 3, Grandma of 2. A professional blogger who has lived in 3 places since losing her home to a house fire in October 2018 with her husband. Becky appreciates being self-employed which has allowed her to work from 'anywhere'. Life is better when you can laugh. As you can tell by her Facebook page where she keeps the humor memes going daily. Becky looks forward to the upcoming new year. It will be fun to see what 2020 holds.