7 Clever Tips to Maximize Bathroom Space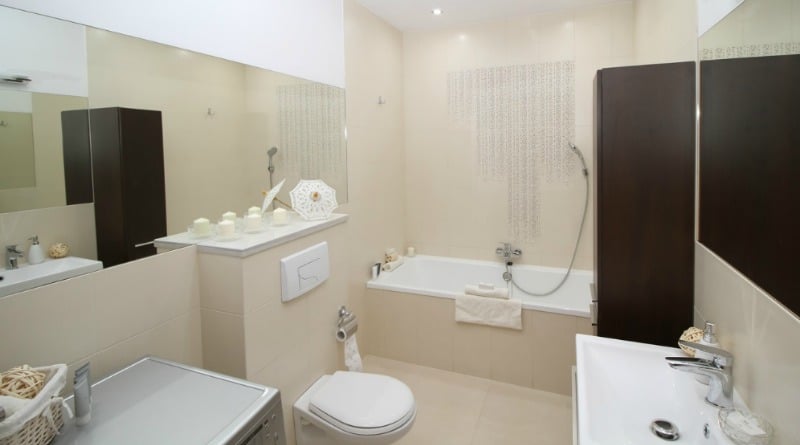 Becky
Newly middle-aged wife of 1, Mom of 3, Grandma of…
People love a bright, spacious bathroom. The airy feel makes it more conducive for a relaxing bubble bath at the end of the day. Unfortunately, most bathrooms are cramped after installing all the necessary fixtures inside. The bath and/or shower alone can eat up half the bathroom space without trying. If you want your bathroom to look bigger than it is, here are some tips and tricks you can try to maximize its space.
Choose Glass Doors
Ditch the shower curtains or frosted glass shower doors. A shower curtain or frosted glass shower door separates the shower from the whole bathroom area, making space look smaller. Use a clear glass door for your shower area to create the illusion of a seamless space and make your bathroom look more spacious. Also use reflective materials on cabinets, countertops, vanities, and shelves for a more expansive effect.
Use Light Colors
Bright and light colors make the room look larger. Bright colors reflect light better, maximizing the natural lighting and making the space look more open and breathable. To create the illusion of space, use pale or soft colors on your bathroom walls and floor.
Dark colors absorb light so they make a space look smaller. Reserve dark or saturated colors on small bathroom accessories so they don't crowd the room and make it look stuffy. Interior designers recommend using soft tones of off-white, blue, and green to make the room look fresh, welcoming, and airy. Paint the molding in a lighter color to make the walls look farther, making the room appear bigger.
Let the Natural Light In
Lighting is essential for opening up space and making it look bigger and more breathable. Install a bigger window in your bathroom to let in more natural light and expand the space. A bay window would be even better to maximize your space since you can use the alcove for storage. If it's a bay window is not possible, install a small operable window, a glass-block window to let the sun in and brighten up the room.
You can cover your big bathroom window with a pale, lightweight curtain to preserve your privacy without completely cutting off natural lighting and making the room look stuffy. You can also use shutters with wide slat design to allow natural light in and maintain your privacy.
Use Mirrors
Installing mirrors on opposite walls is a well-known trick to create the illusion of expanded space. You can also make a room look bigger by adding a huge on an entire wall. Another trick is to place the mirror behind a light source to better reflect the light and create a halo effect. A round mirror is also perfect for to contrast the rectangular shape of the room and add an expansive feel to the space.
Mirrors can also be installed on cabinet and closet doors to reflect more light and space and make a cramped bathroom appear larger.
Install Recessed Lighting
Recessed lighting, also known as a downlight, is a light fixture that is installed inside purposely made cavities in the ceiling. This type of lighting is flushed close to the ceiling, so it doesn't clutter the ceiling and take up as much visual space as hanging lights.
Use Embellishments That Expand Space
See Also
The right kind of embellishments can make a cramped look taller and wider. Install a ceiling medallion to push your ceiling upwards and "create" more visual space. Crown molding, as long scaled properly to the space, can also make the room appear larger. When used properly, chair rail and wainscoting can also achieve the same effect.
Declutter and Organize
Everything you do to maximize your bathroom space would be useless if you don't declutter and organize everything inside. Clean your bathroom regularly and throw away products that you don't need. Organize toiletries, and put them back where they belong after using.
It's not just what's visible that matters. You should also install measures to clean and organize what you don't see. Consider installing an all-purpose grinder pump to grind wastewater from all your bathroom fixtures and smoothly transfer it to your sewage system or septic tank. This helps manage the wastewater from your bathroom fixtures, preventing certain problems from arising in the future.
Final Word
You don't need to renovate or remodel to "expand" your bathroom space if you don't currently have the time and resources for it. Some simple tricks, like using a pale or light color on the wall, can do wonders to make the room brighter and more spacious.
Good lighting is crucial for making a room look bigger, so try to let in more natural light into your bathroom and install recessed light fixtures strategically. Create optical illusions using mirrors and embellishment to "enlarge" your bathroom. Finally, remember to keep your bathroom clean and clutter-free and prevent it from being stuffy.
Becky
Newly middle-aged wife of 1, Mom of 3, Grandma of 2. A professional blogger who has lived in 3 places since losing her home to a house fire in October 2018 with her husband. Becky appreciates being self-employed which has allowed her to work from 'anywhere'. Life is better when you can laugh. As you can tell by her Facebook page where she keeps the humor memes going daily. Becky looks forward to the upcoming new year. It will be fun to see what 2020 holds.