13 Best Backpack to Carry a Dog for Hands-Free Hiking [2021]
Deepak
Deepak is a lover of nature and all things sporty.…
You are a traveller and you feel bad about leaving your dog behind? What if we tell you that there is a solution to this problem? You can just buy a very efficient bag pack, confused as to what backpack is ideal for your best friend? Don't worry we have figured that out too. We have reviewed 13 best dog carriers for you to pick from.
Your beautiful dog deserves nothing less than perfect but to pick out the perfect things for them you will have to do your own research.
13 Best Dog Carrier Backpack Reviewed
This list has the 13 best backpack carriers for dogs if you love hiking and want your dog to be a part of it. Each product has product instructions, features, pros, and cons for you to have a complete idea of what you should pick for your dog and why.
There are also amazon links present in the title so in case you like what you see you waste no time in buying it, we are sure you will find whatever it is that you are looking for.
1. Outward Hound PoochPouch
Outward hound is one of the most affordable and unique pet products in the market, it is known for how durable it is and how it's a comfortable best friend for smaller breeds. The weight limit is 20 pounds which is a lot if you consider the weight scale of most smaller breeds does not exceed 15 pounds. It has a front pocket with enough space to keep treats and toys for your little pupper. It also has an integrated clip that you can attach your pup to when he slips inside. There is a lot of space for ventilation and it also gets quite warm if you guys are going to be on the road for a while. The straps are well padded too and the pup has the choice to interact with you instead of facing the back.
Features-
The Weight limit is 20 pounds
It is made up of Nylon and mesh
The dimensions are 22 x 11 x 4 inches.
Pros
Ideal for smaller breeds
Durability
Great Ventilation
A lot of extra storage
Cons
Won't recommend bigger dogs
2. Pecute Pet Carrier
This too is a backpack for smaller dogs, the weight limit for this one is 18 pounds, the coolest thing about this backpack is that it has windows on all sides so that your little puppy is always entertained on the road. The windows are also a source of ventilation so your dog always stays breezy. It is also made from very durable oxford cloth and the windows are covered by mesh. The design too is quite chic and the best part is that the backpack is foldable so you have everything you need from a backpack but it also doesn't require as much space if your pooch decides to walk amongst the mortals. It has lock-style zippers that prevent the dog from coming out of the bag. It's an ideal backpack for small breeds.
Features-
The Weight limit is18 pounds
Made up of fancy Oxford cloth and the windows are mesh
The dimensions are 5 x 13.8 x 11 inches
Pros
Windows on all the four sides
Well Ventilated
Lock Style Zipper for safety and accessibility
Cons
There have been complaints about the quality of the product
The weight limit is too less
3. Casual Canine Ultimate Backpack
This is an easy-to-carry kind of backpack, it is soft and cushioned for your pet to think they own the world which we all know they do, it also allows them a complete throning experience since it has a lot of space for their hands. This one lets you carry small to medium-sized dogs as long as you can carry them. It is designed like a backpack and the best part is that it is stain resistant.
Features
The weight limit is about 22 pounds
The material is Polyester
Dimensions are 17 x 11.5 x 18 inches
Pros
It has an easy backpack styled fold-out design
Stain-resistant and easy to clean
Side pockets are quite spacious
Cons
According to the customer reviews, it sags a bit.
4. Mogoko Dog Carrier Backpack
We can all agree that this backpack is one of the most stylish backpacks that there is and it also happens to be one of the most stylish ones that are quite affordable. It comes in vibrant colors and has a great finish, let's just say this is the kind of bag that lets your dog tag along with you on brunch. It also has a great fir and cute peephole for your pup to be admired by strangers while they are cushioned comfortably in this backpack.
Features
The Weight limit is 7 pounds
It is made up of Polyester and mesh
The dimensions are 6 x 13 x 6.3 inches
Pros
Quite Durable
Good Ventilation
Well padded
Peephole makes all the difference
Cons
Not ideal for longer trips
5. K9 Sport Sack | Dog Carrier Adjustable Backpack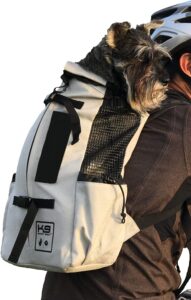 This is quite an impressive product, the weight limit lets you use this one for slightly bigger dogs, it has a lot of options for colors. If that's not enough it is quite well ventilated for your baby to have an easy-breezy ride. It has very proactive customer service which always comes in handy. Overall it has scored well in its durability and performance.
Features
The Weight limit is30 pounds
Made up of Canvas
Dimensions are 22 x 11 x 4 inches
Pros
Very Well Ventilated
The back is padded
Staps are cushioned
Cons
If your pet gets hot you should not go for this, it's not very breathable.
6. Petsfit Backpack
This is for a small or medium dog that weighs less than 15 pounds. It isn't the most affordable but it's still not completely out of your league but we would argue that it's a small price to pay for the comfort of your little pepper. This one has buckles around the chest and waist so even a medium-sized dog can feel at home in chaos. It has windows on all sides that give your baby a view as well as ventilation. Overall it is a great fit and is very reliable.
Features
The weight limit is about15 pounds
The material of Canvas
Dimensions are 13 x 11 x 17 inches
Pro
All sides have windows
Visibility at night
Buckles for waist and chest
Cons
7. Pawaboo Pet Carrier Backpack
This one is a carefully designed pet gear, it might have a lot of overbearing competitors but it has no match for its comfort. The straps let you be comfortable carrying your baby around. To clean it is also quite easy and extremely soft and comfortable for your pumpkin. You can wear this on the front of your back and the best part is that it is very easy on your wallet.
Features
The Weight limit is 5 pounds
It is made up of Polyester and mesh
The dimensions are 16 x 4.5 x 8 inches
Pros
Has adjustable straps
Extremely comfortable and
Lets your dogs tail and legs out
Cons
8. Kurgo Dog Carrier Backpack
This one is known to have all the right things going for it. This backpack is airline approved so once you have checked the airline's pet policy you can add this one to your cart and take your muffin everywhere you fly to (of course if muffin wants to come) the colors are limited but the ones it does have are extremely stylish so you won't feel like you are missing out on something. It is also waterproof and happens to be ideal for medium breeds too.
Features
The Weight limit is 25 pounds
It is made up of Polyester
The dimensions are 13 x 21 x 10 inches
Pros
It is Waterproof
It is airline-approved
A lot of space for storage
Cons
Complains against the clip-on strap on being weak
9. Pet Gear I-GO2 Backpack
This one is a multipurpose backpack, it can be used as a backpack as well as a carrier, a tote, a roller bag, and even a car seat. This is the only one that doesn't have any competitions.
Features
The Weight limit is 20 pounds
It is made up of Canvas
The dimensions are 16 x 12 x 15 inches
Pros
It is a multipurpose bag
The back expands
Handles are pretty smooth touch
Cons
Isn't the most comfortable bag
10. Apollo Walker Pet Backpack
The most important thing about this product is the fabric it's made up from, it's quite easy-breezy for your pooch. It is very easy to clean and it makes for a good travel companion for you and your dog. It is also very well ventilated.
See Also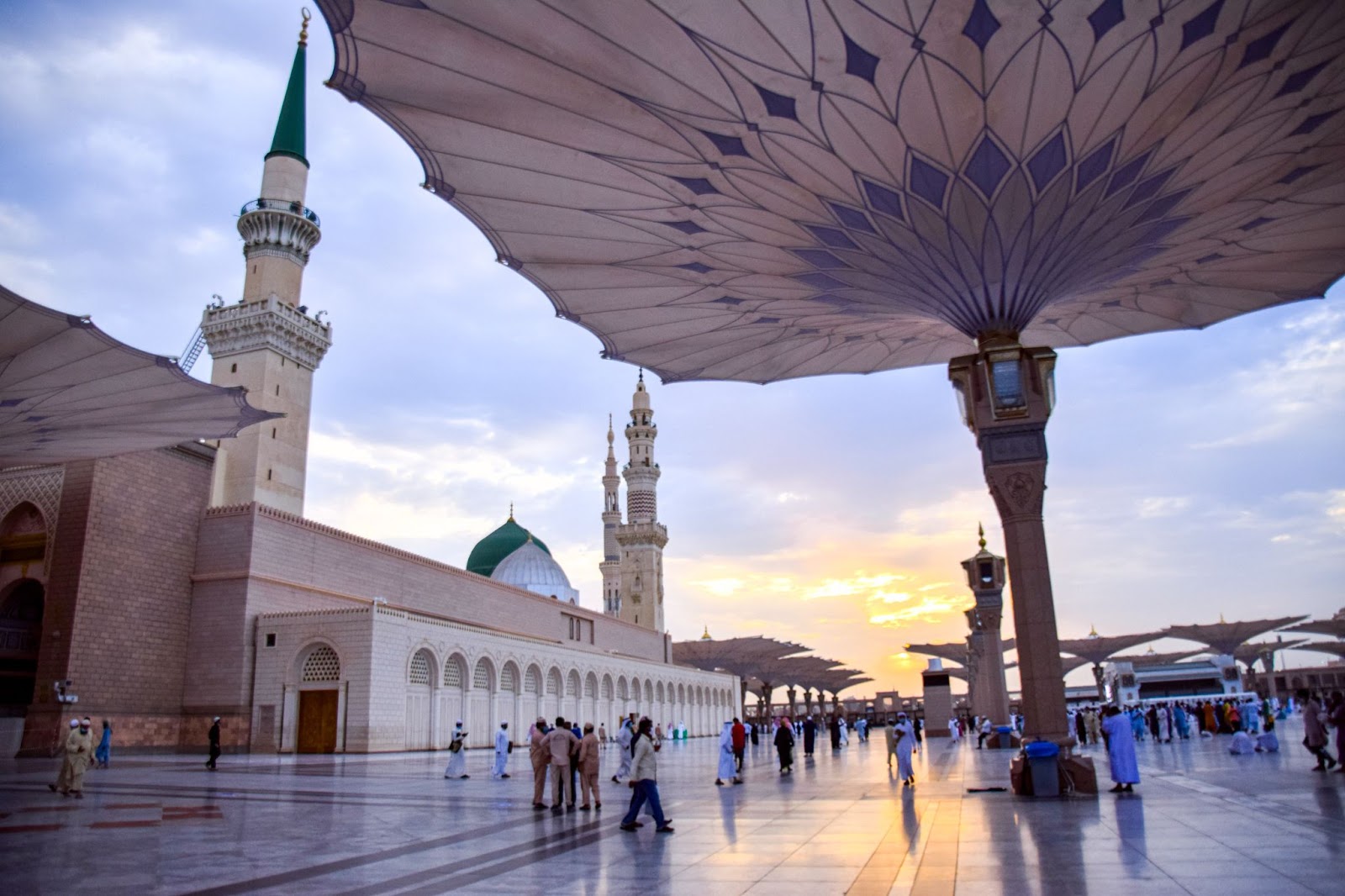 Features
The Weight limit is 25 pounds
It is made up of Canvas and mesh
The dimensions are 4 x 12.6 x 16.8 inches
Pros
It has many mesh windows
It is very well padded
Quite apt for long walks
Cons
There have been complaints of the backpack collapsing
11. Texsens Pet Backpack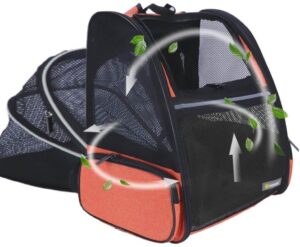 This is one of the most ideal backpacks for long journeys, it cleans easily and is designed for smaller dogs.
The expandable nature of the back gives you a great deal of freedom to configure this carrier and give your pooch the ultimate comfort when you're out in town or heading to the store.
The removable mat inside simplifies clean-up further and ensures your pet backpack stays fresher for longer.
Despite its reasonably stiff feel, this backpack is well-designed and fulfills its core competency impressively. We'd certainly suggest scoping this pet carrier out if you're stuck for ideas.
Features
Weight limit: 15 pounds
PVC and mesh
6 x 11.8 x 16.1 inches
Pros
Incredibly breathable
Removable mat
Rugged and built to last
Cons
12. SlowTon Pet Carrier Backpack
This one is a foldable carrier that's designed in a very adorable way, it's an all-in-one backpack and it's another one that is airline approved. The mesh windows can be rolled up so your pet is ventilated all the time. It has great storage too.
Features
The Weight limit is 16 pounds
It is made up of Oxford cloth and mesh
The dimensions are 13 x 11.4 x 16.5 inches
Pros
There is a massive storage
It is affordable
It is a foldable bag
Cons
Customer service is not as proactive
13. PetAmi Dog Backpack
Last but not least PetAmi Dog backpack is a very efficient backpack for dogs that are small or medium breed, the weight distribution of this backpack is impeccable it also has great ventilation for longer journeys, overall it's quite an affordable backpack that has performed well.
Features
The weight limit is 18 pounds
It is made up of Polyester
The dimensions are 5 x 10.2 x 16.3 inches
Pros
Very Apt for smaller dogs
The front strap is a great touch
The inner bedding for this backpack is Sherpa-lined
Cons
Complaints against zippers.
Things to consider before buying a backpack to carry a dog
Know whom you are buying for, see if the backpack is suitable for the size of your dog's breed. The next question you must ask yourself is what is the purpose of this backpack for you? Is it just for hiking? Do you want one for brunch? And then the most important thing is to know what your dog is comfortable with? Do you have a curious one who would want windows? Do you have a dog that gets hot so your preference should be with the well-ventilated one. Either way, you have to pick something that is best for your dog.
Conclusion
Now that you have everything that you need to know you can plan that hiking trip and not leave your dog behind this time. After all, they love nature as much as we do.
Deepak
Deepak is a lover of nature and all things sporty. He loves to spend time outdoors, surrounded by the beauty of the natural world. Whether he's hiking, biking, or camping, Deepak enjoys being active and in touch with nature. He also loves to compete and push himself to his limits. Deepak is an avid cyclist, runner, and swimmer. He has competed in several triathlons and marathons, and is always looking for new challenges to take on.