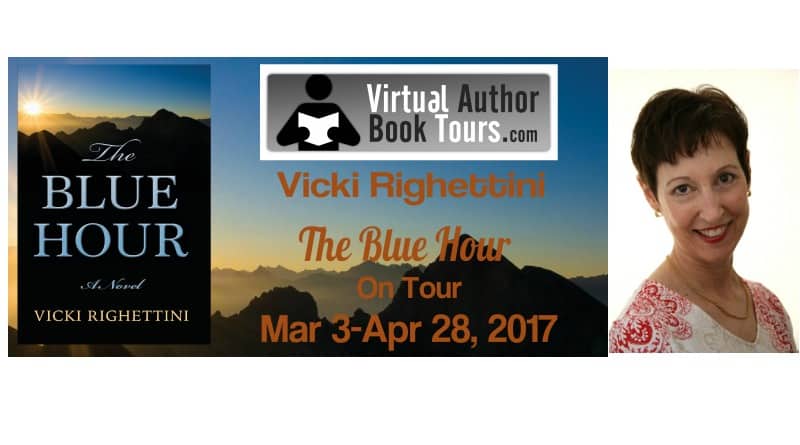 I received The Blue Hour in exchange for this post; however, all opinions are 100% my own.
I would definitely recommend The Blue Hour if you're looking for a book that will keep you enthralled. I love reading in my spare time. As a mom, I don't get too much of that these days, but when I do, I'll grab a book and read to relax. Because my reading time is so precious, I'm very picky about what I read. As soon as I started The Blue Hour, I knew that I made the right reading choice. This book kept me hooked from start to finish, keeping me entertained. Here are a few things I loved about The Blue Hour.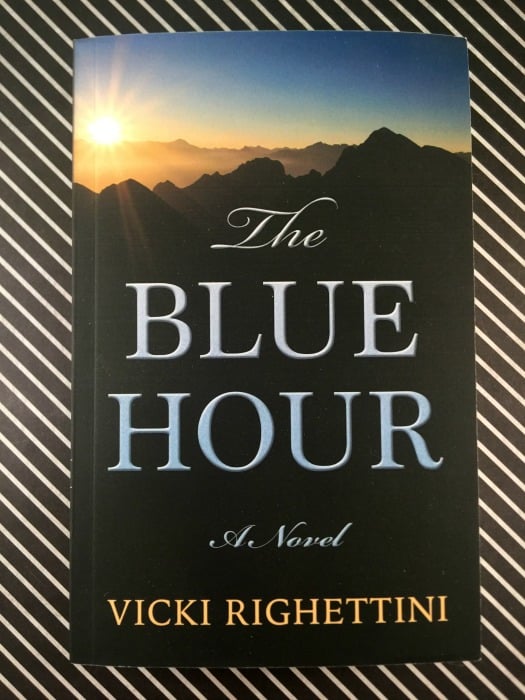 The Time Period
I love reading books that are set in a different time period. It's so interesting to be transported into the lives of dukes and duchesses in England or pioneers in the west. Vicki Righettini, the author of The Blue Hour, did an excellent job of portraying the time period accurately. I felt as if I were right there alongside Emily, the main character.
The Conflict
A good book has to have some conflict. In the Blue Hour, the conflict has to do with the main character's love life. Emily makes a serious mistake that any person could make and then has to live with it. Thankfully she gets the opportunity to have a second chance if she would only go for it.
Overall, The Blue Hour is a well-written book and it has all of the things it needs for a good story. You'll enjoy it just as much as I did!
---
Blue Hour by Vicki Righettini
Publisher: Mill City Press (Nov 17, 2015)
Category: Historical Fiction, Romance, Pioneer Woman, Strong Female Character, Western
Tour date Mar/Apr, 2017
ISBN: 978-1634138291
Available in Print & ebook, 560 pages
Description of Blue Hour by Vicki Righettini
IN THIS EPIC TALE of love, loss, and redemption, the year is 1861, a time when women are expected to be married by a certain age. At 26, spinster Emily Wainwright has no reason to believe her sheltered life will ever change until the charming Samuel Todd unexpectedly crosses her path.
Samuel yearns to homestead and start a family in Oregon, but he first needs to find a wife. Blinded by Samuel's good looks, and grasping at her final chance to have a husband and children, Emily accepts his marriage proposal. However, Samuel is not the man she thought he was, and her marriage becomes a cold, cruel prison, offering her no solace amidst the hardships of farm life.
When Samuel dies and a second chance at love and happiness arrives in the form of farmhand Cole Walker, Emily must overcome her bitter past or risk losing Cole and the life she has always dreamed of having.
Praise for Blue Hour by Vicki Righettini
All of Righettini's characters are well-rounded, in particular Emily herself, whose personal growth throughout the novel is richly detailed and memorable.-Historical Novel Society
This novel is about second chances and the courage needed to take them. The most compelling aspects of The Blue Hour are not the vivid, expansive descriptions of life on the vast (and seemingly never-ending) Oregon Trail or the well-drawn characters who dance (and often trudge) between hardship and hope. Instead, the brightest lights burst forth from nuanced moments tucked throughout the story.
Read this book if you want to immerse yourself in the wilds of western America in the 1860s or get lost in the even denser wilderness of love and loss. Maybe this recommendation needs to be simplified even further read this book. It's exhilarating to root for a character who is trying to navigate uncharted territory and make the greatest discovery of all.-Underground Book Reviews
The Blue Hour is one of the finest historical novels I've ever read. You will love the author's writing and the detailed historical references. The characters are vividly portrayed, and I felt as if I knew them well. Long after I'd finished reading, I still thought about the story. It's part adventure, part love story, and part survival. Highly recommended.-Ann Creel, Author
About Vicki Righettini
Vicki Righettini is an award-winning, nationally produced playwright, and her recently-published historical novel, The Blue Hour, was a badge winner and Pitch Perfect Pick at Underground Books. Originally from Los Angeles, Vicki lived in Oregon for over twenty years, where she developed an abiding love of the land and the Oregon way of life. Before turning to full-time writing, she worked for forty years as a singer/actress and performing arts instructor. Her blog, Between a Book and a Hard Place, focuses on the ups and downs of the creative process (http://www.vickirighettini.com). Vicki lives in San Diego with her software-developer, Jeopardy!-champion husband, and the world's shyest cat.
Facebook: http://bit.ly/2h2UZGy
Twitter: https://twitter.com/VRighettini
Buy Blue Hour by Vicki Righettini
Amazon
Barnes&Noble
IndieBound
Book Depository
Follow Blue Hour by Vicki Righettini Tour
Teddy Rose Book Reviews Plus Mar 3 Kick Off, Interview, & Giveaway
Indie Review Behind the Scenes Mar 4 12 pm cst Live Interview
Rockin' Book Reviews Mar 6 Review, Interview, & Giveaway
Second Book to the Right Mar 7 Excerpt
Book Reviews Etc.. Mar 8 Review
The Book Diva's Reads Mar 9 Guest Post & Giveaway
Satisfaction for Insatiable Readers Mar 17 Review
Secret Pearls Reviews Mar 22 Review, Excerpt, & Giveaway
Infinite House of Books Mar 23 Interview
Reviews From The Heart Mar 27 Review
A Holland Reads Mar 29 Guest Post
Rainy Day Reviews Mar 31 Review
Wall-to-wall books Apr 4 Review, Excerpt, & Giveaway
Library of Clean Reads Apr 5 Review & Giveaway
Reading Bliss Apr 7 Review, Excerpt, & Giveaway
Teddy Rose Book Reviews Plus Apr 10 Review
Hardcover Feedback Apr 18 Review
What U Talking Bout Willis? Apr 21 Review
Lisa's Writopia Apr 24 Review & Interview
Celticlady's Reviews Apr 26 Excerpt & Giveaway
A Room without Books is Empty Apr 27 Review
Turning the Pages Apr 28 Review, Excerpt, & Giveaway