Brighten Up Your Front Entry with these Home Improvement Hacks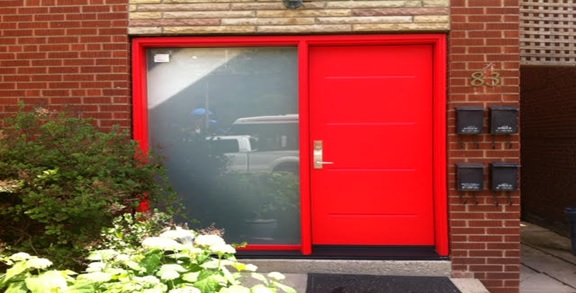 The front of your home is the "welcome spot" for your family and household. Yet often, old entry doors, too much stuff, and a lack of proper lighting, can lead to a dark, and even scary entry. Whether it is your foyer, or exterior entry alcove, both outside and inside, here are a few DIY hacks to make your front entry warm, inviting, and welcoming:
Remove Clutter
This is likely the easiest and quickest to complete; depending on how emotionally attached you are to the clutter. Both outside and inside, near your entrance door, if you have old pots, packages, or a hutch that collects all of the mail and "junk" when coming home, consider ways of placing those items behind doors; in drawers or stylish boxes. Fabric boxes you can get at most clearance retailers like TJ Maxx, Ross, and Marshalls, are not only affordable and functional by hiding these items, but are fashionable as well. Say bye to your junk mail, keys, knick-knacks, packages, and essential tools cluttering up the view. But keep them readily available in nice storage boxes.
Update your Front Door
If your door is not too old, consider painting the door a new color. Pick either a bold contrasting color like light blue, red, light grey, or semi-gloss white . . . or one that matches your trim. It brings attention and livens up the mood, while covering over the aging marks and dating on your door. If your door is old enough, you may even want to replace the door with a modern and energy-efficient steel or fiberglass door. Choose one with windows in it to let extra light in.
Install A Sidelight
Sidelights are the window panels that sit vertical along an entry door (1). They are usually matched or sold with the entry door. They let a lot of light in, while providing privacy using frosted or privacy glass. According to Edan Sher, owner of Delco Windows and Doors in Toronto Canada (2), because of their tall, narrow structure, they can often fit between two vertical studs, which eliminates the need to restructure or engineer complicated load-bearing beams.
You can find one that fits your available space and matches the design of your front door. Or, for an even better match and consistent style, choose an entirely new entry door system with built-in sidelights They can even be on both sides of the door for added natural light. If your current home does not have one, talk to a local window and door installer about options that fit the unique space you have. Nothing adds more natural light near a front door than a sidelight. And this will give your home a luxurious boost as well.
Replace your Front Window
The window closest to your front entry door can likely be old, drafty and an energy sucker. Consider replacing your front window with vinyl windows. Not only will it add warmth and insulation to your foyer, but you'll benefit from the added value of having your most visible window replaced with an updated look. Some window installers can even enlarge the size to fit your custom needs, which will allow even more natural light in.
Install a Ceiling Light in your Foyer
Adding both a ceiling light outside, and inside the opening portion of your entry door, can bring both security at night, and much needed light if there is little natural light coming from windows. If your ceiling is short, consider canned lighting, which goes into the ceiling, saving headroom. If your house has plenty of height, an elegant hanging light fixture will not only provide warm light but will create an impressive statement to your guests when they enter your home.
In conclusion, any of these simple home improvement steps can be done in less than a day. And, except for an enlarged entry door or custom sized replacement window, all can be a do-it-yourself project. By bringing more light, and making a cleaner presentation to your front entry, you'll feel the satisfaction of having the most visible part of your home, welcoming and inviting to you, your family, and your guests. A home to be proud of.
About the Author
Mike Cutler is a commentator on modern home design and DIY home improvement projects for energy efficiency. He is especially passionate about ways to turn a house into a home. LinkedIn Facebook